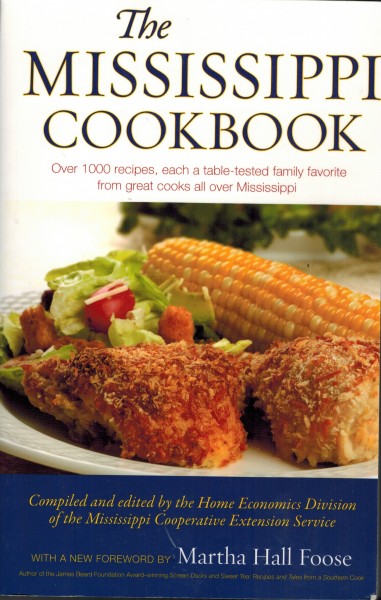 My youngest daughter Kara married a native Mississippian, but they both worked in New York City.  Kara attended NYU and her husband attended Columbia, so they were very content living in the Big Apple.  Kara bought me this cookbook, probably never thinking she would be moving there soon.  However, their work recently transferred them to Mississippi and now Kara is becoming quite the Southern cook.  Her favorite meal to prepare now is shrimp and grits!
Since Kara and her husband recently bought a 100-year old home and are the proud owners of a rescue dog, they are firmly planted on Mississippi soil.  This means I need to start polishing up my Southern cooking skills, too, so I can fit right in when I go to visit.  Why not start with this cookbook, filled with recipes from the Home Economics Division of the Mississippi Cooperative Extension Service, with over 1,000 recipes from cooks all over this great state.
I like to cook or bake with what I happen to have in the house if I can, and what I had was six very overripe bananas.  Lo and behold, there was a banana cake that just happened to use six ripe bananas.  I had found my first recipe to try from the book.  Southerners love cakes, that I do know, so it was a good choice.
To  make it  even easier, the cake is baked in a 9-by-13-inch pan.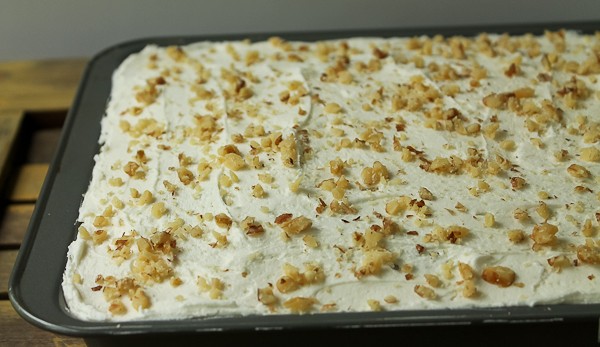 The cake is nice and moist made with lots of butter, spices, chopped nuts, and raisins.  There was no icing in the recipe so I added an easy white icing and topped it with more chopped nuts.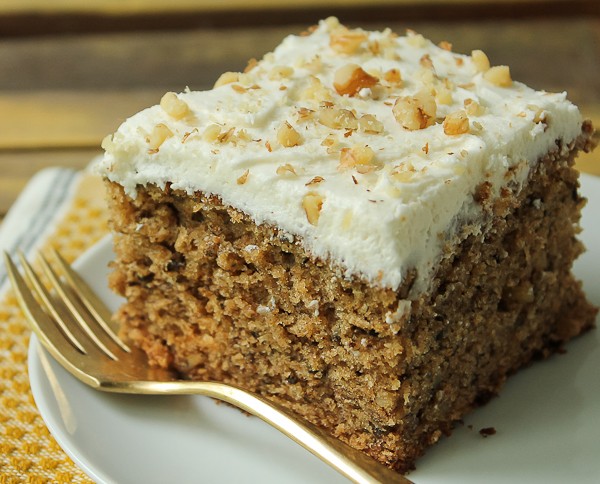 It was wonderful and a good cake to take to a pot luck or family gathering.  It's even better the next day, so if you can wait, frost it, cover it and keep at room temperature, and make it a day ahead.
The Mississippi Cookbook was written in an attempt to find and preserve the favorite recipes of fine cooks throughout the state.  Over 7,000 recipes were collected, and the Cooperative Extension Service had the painful task of cutting it down to the 1,200 best recipes.  These recipes reflect the state's culinary heritage and the masters of home cooking.  You will find every Southern classic imaginable.  I love pimento cheese and thought there might be several offerings of different recipes, but there is only one!  The one listed is also very different from other ones I have seen.  It has eggs, vinegar, quite a bit of sugar, and is cooked and cooled before using as a sandwich filling.  I must try it one of these days, as now I am very curious about it.
I told Kara she must make her shrimp and grits when I go for a visit.  I'll make the banana cake and we'll have a real Southern meal.  Maybe that will be the time to try the pimento cheese, too.  It only seems fitting to make it in a 100-year-old Southern kitchen, right?

Banana Cake
Author:
The Mississippi Cookbook
Ingredients
1 cup unsalted butter, room temperature
2 cups sugar
4 eggs
1-1/2 cups chopped nuts (pecans or walnuts)
½ cup raisins
3 cups all-purpose flour
2-1/2 teaspoons cinnamon
1-1/2 teaspoons cloves
2 teaspoons baking soda
½ teaspoon salt
6 very ripe bananas, mashed to a pulp
White Icing:
1 box (16 ounces) powdered sugar
1 stick (1/2 cup) butter, room temperature
4 Tablespoons milk
½ teaspoon vanilla
Garnish: Extra chopped nuts (optional)
Instructions
Heat oven to 350 degrees. Grease and flour a 9-by-13-inch baking pan; set aside.
In large bowl of electric mixer, cream together butter and sugar. Add eggs one at a time, beating well after each addition. Add nuts and raisins that have been tossed with part of the flour.
Mix the dry ingredients and add to mixture in bowl. Add mashed bananas. Spoon into prepared pan and bake at 350 degrees for about 35-40 minutes or until a cake tester comes out clean. Remove from oven and place on wire rack to cool completely. Spread with icing and sprinkle with more chopped nuts, if desired.
For Icing: In bowl of electric mixer, beat powdered sugar, stick of butter, milk, and vanilla together until of spreading consistency. Spread over cooled cake and sprinkle with chopped nuts, if desired.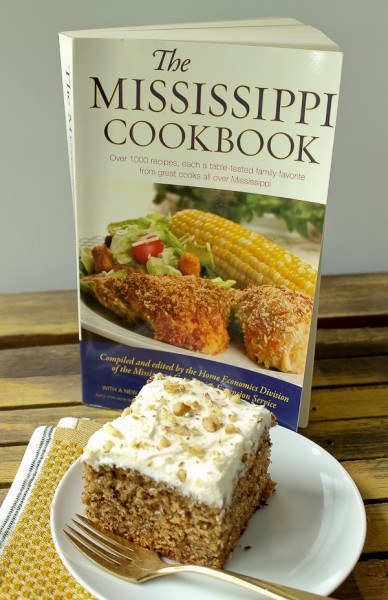 In loving  memory of "Papa" Bob, a true Mississippi gentleman.  He is sorely missed every day.