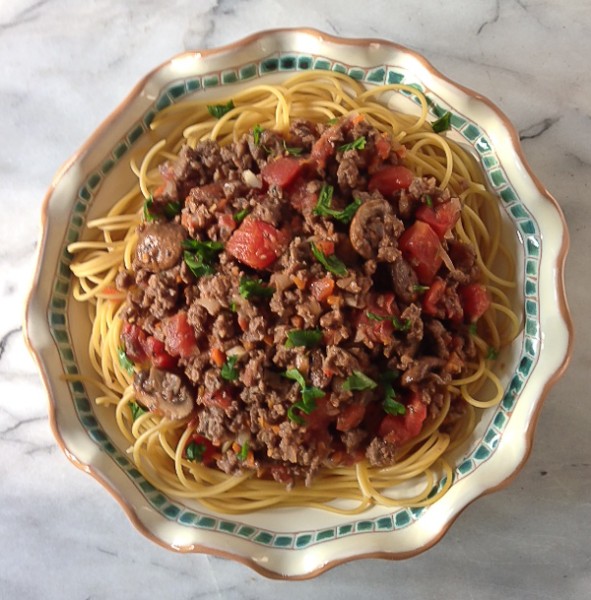 Don't get me wrong; I love traditional Bolognese sauce.  I've been to Italy.  In fact, that plate above is from my heavenly trip to Italy.  I love everything about Italy; except sometimes the calories in some of those marvelous meals. Here is a lighter version of Spaghetti Bolognese on those days when you want to eat just a little bit lighter, so maybe you can have a piece of garlic bread, right?
This recipe also uses whole wheat spaghetti, but use your favorite pasta of choice.  The sauce freezes well too.

Lighter Spaghetti Bolognese
Ingredients
¾ pound lean ground beef
1 medium onion, finely chopped
2 cloves garlic, minced
1 carrot, chopped
3 cups sliced fresh mushrooms
1 can (14-1/2 ounces) petite diced tomatoes
1 Tablespoon tomato paste
½ teaspoon dried basil
½ teaspoon dried oregano
¼ cup fat free or low fat half-and-half (or skim milk)
½ teaspoon salt
½ teaspoon freshly ground black pepper
pinch of red pepper flakes
½ pound whole wheat spaghetti
Fresh basil or flat leaf parsley, for garnish
Instructions
Cook beef over medium-high heat in a large skillet until no longer pink. Add onion, garlic, and carrots; cook about 5 minutes. Stir in the mushrooms, tomatoes, tomato paste, basil, and oregano. Bring to a boil. Reduce heat and simmer, covered, for 10 minutes. Add the half-and-half or milk and simmer, uncovered, until thickened, about 15 minutes. Stir in salt, pepper, and red pepper flakes.
Meanwhile, cook the spaghetti until al dente. Drain and divide among four plates and top each evenly with sauce. Garnish with chopped fresh basil or parsley. Serves 4.