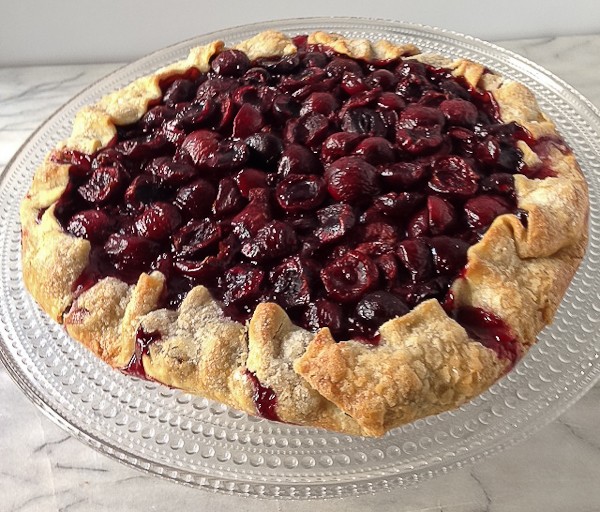 Galettes are such fun to make, and the perfect pastry for a beginning cook.  I have friends who like to cook but are afraid of baking.  I always tell them, start with a galette.  It's very forgiving.  You can tear the crust, it leaks out, you don't have to do the pleated edges Martha Stewart perfect, and it still tastes wonderful while looking homey and comforting.
A galette is a free form rustic tart and much less fussy than a regular tart or two-crust pie.  Plus you get that great big bite of crispy sugary crust on the edge.  Galettes are wonderful for fresh summer fruit, but they can also have a savory filling. If you have a bunch of leftover vegetables, toss them on a crust, sprinkle on some cheese, fold in the sides and bake.  Your family will think you made up a new recipe and you can sit back and know it's just leftovers.  (Hey, imagine what you can do with a Thanksgiving leftovers galette!)
With all the Farmer's Markets open now, see what fresh fruit you can find to make a galette.  You can always make your own crust, which I usually do, but when I run out of time like I did yesterday, a refrigerated crust works great.  All you have to do is roll it out into a little larger circle; and don't forget to line a large cookie sheet with parchment paper because it will leak and you don't want a mess on the bottom of your oven.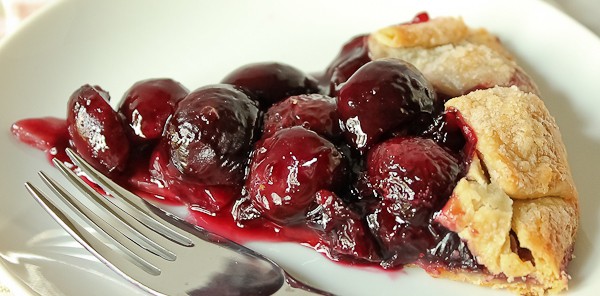 You can serve a fruit galette as is, or with a dollop of whipped cream, ice cream, or Greek yogurt.  I'm looking forward to our local Farmer's Market opening on June 20th to see what my next galette will be.  I'm thinking a peach-apricot.

Easy Cherry Galette
Ingredients
1 refrigerated pie crust (from a 15-ounce box)
½ cup plus 2 Tablespoons sugar
1 Tablespoon cornstarch
1-1/2 teaspoons finely grated lemon zest
1-3/4 pounds sweet cherries, pitted and halved
½ teaspoon almond extract
Instructions
Heat oven to 400 degrees. Line a large baking sheet with parchment paper. Take out one rolled up crust from package and set out on counter for 15 minutes.
On a lightly floured work surface with floured rolling pin, roll crust into a 13-inch round. Transfer to the parchment-lined baking sheet.
In a large bowl, whisk together ½ cup of the sugar, cornstarch, and lemon zest. Add the cherries and almond extract; toss gently to mix. Spoon the filling onto the center of the crust, spreading out carefully and leaving a 2-inch border.
Fold edges of dough over filling, pleating it as you go around. Lightly brush the edges of dough with water, milk, or half-and-half, and then sprinkle evenly with the remaining 2 Tablespoons of sugar.
Bake until the filling is bubbly in the center and the crust is nicely browned, about 35 minutes. Let galette cool for 10 minutes on the baking sheet on a wire rack. Slide the galette with the parchment paper onto the rack. Using a spatula, separate the crust from parchment, slip out the parchment, letting the galette slide onto the rack. Discard parchment paper. Let galette cool completely. Slice into 8 or 10 pieces and serve.