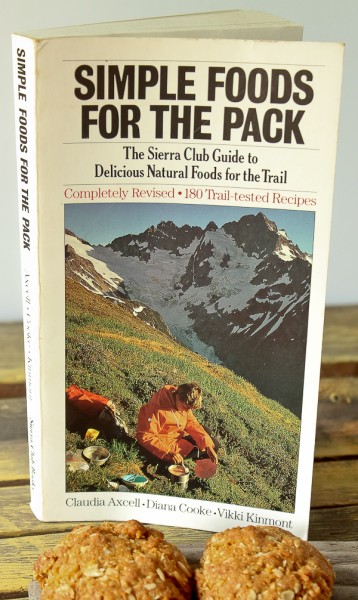 Our newspaper recently had an article about how many people across the country are taking to the roads this summer, visiting national monuments, renting cabins by a peaceful lake, or hiking up mountains and through forests.  I read that celebrity chef Guy Fieri is taking his oldest son who just graduated from high school on a backpacking trip through Europe for a month.  That got me wondering – what does a celebrity chef take on a backpacking trip?  I doubt Guy Fieri is going to find any Diners, Drive-In's or Dives.  So of course this sent me on a mission to my Culinary Cellar.  Just how many camping and outdoor cooking books do I have?  Turns out, not very many!  But I quickly found a favorite.
Simple Foods for the Pack has 180 trail-tested recipes.  It is penned by professional writer Claudia Axcell, Cordon Bleu graduate Diana Cooke, and former trail guide Vikki Kinmont, who happens to be the mother of the incredible Ben Kinmont, a bookseller from California who I wrote about in a past blog.  This is the updated version of the original cookbook and includes exotic delicacies, an expanded dessert section, tips on packaging and packing foods, and suggestions for tools, utensils, and staple ingredients for successful and enjoyable hiking adventures.  The authors suggest that a simple way to package ingredients is by putting all dry ingredients for one recipe in a zip-locking type bag, labeling it, and adding the liquids at camp.  Wide-mouth plastic bottles are good for packing liquids and condiments.
There are even four menu plans listed:  one for a 10-day trip; one for a weekend or 3-day trip; a no-cook menu; and one for special occasions and celebrations along the way.  One of the chapters called "Pocket Foods" caught my attention because it has the kind of recipes I make for my husband when he goes fishing and camping for a weekend with his cousins.  He likes items he can grab for nourishment at any time, whether he is standing in a river fishing, or in the tent at night.  With my husband that usually means some kind of cookie.  I found the perfect one in the book for cookies called Anzacs.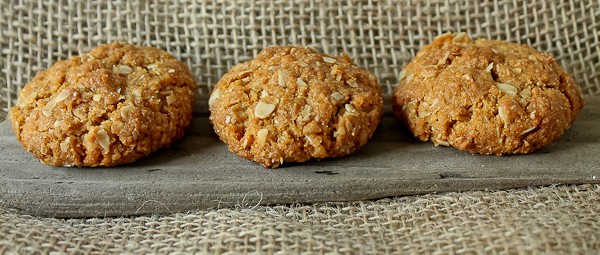 Anzac stands for Australian-New Zealand Army Corps.  The recipe in the cookbook is an original Australian recipe from World War I, when Australian women baked these biscuits (cookies) to send to their men on the beaches of Gallipoli.  The authors say the cookies have survived an 8-week boat trip!  I can tell you that they are delicious.  The cookies are made using whole wheat flour, unsweetened coconut, brown sugar, rolled oats, butter, and a special golden syrup, but honey or molasses can be substituted.  However, it's worth trying to find the Lyle's Golden Syrup because it has a marvelous flavor.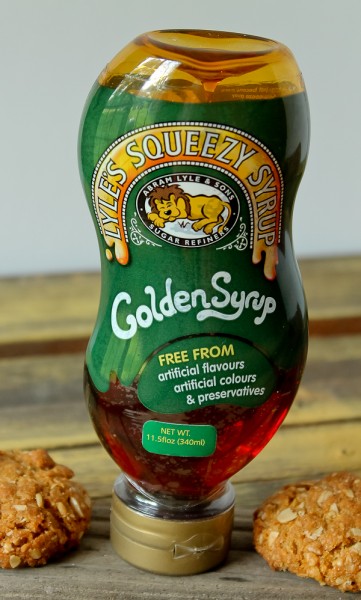 The cookies are really good.  My husband loved them and has requested them to take along on his next fishing excursion.  I bet even Guy Fieri would like them on his backpacking trip.  I think they pack better than a cheeseburger.

Anzac Biscuits (cookies)
Anzac stands for "Australian New Zealand Army Corps." Australian women baked these cookies to send to their men on the beaches of Gallipoli in World War I.
Ingredients
1 cup whole wheat flour
1 cup unsweetened coconut
1 cup packed light brown sugar
1 cup rolled oats (old-fashioned oats)
½ cup butter
2 Tablespoons water
1 Tablespoon golden syrup (or molasses or honey)
½ teaspoon baking soda
Instructions
Heat oven to 350 degrees.
Combine the flour, coconut, brown sugar, and oats in a large bowl; mix well. In a small saucepan, melt the butter with the water, golden syrup, and baking soda. Add this to the dry ingredients and mix well with your hands. Shape into cookies and bake on an oiled cookie sheet (or lined with parchment). Bake for 15-18 minutes or until cookies are nicely browned. Let sit on cookie sheet for a minute or so, then transfer to wire rack to cool completely.
Note: You can initially mix the dough in a stand mixer, but it will not hold together. You must squeeze and form a ball of dough using your hands. The dough needs the warmth of your hands to hold together. I formed it into one large ball, then pulled off pieces about the size of a walnut and formed into 24 balls, pinching and squeezing to form a nice shape.