Flashback to 1704.  In search of husbands, 25 "Cassette" girls, so named because of the small trunks (cassettes) they have brimming with gifts from Louis XIV, land in Mobile, Alabama from France.  They spurred the beginning of Cajun cuisine by combining French ingredients (roux) with staples from Congolese slaves (okra) and Choctaw Indians (crawfish, crabs, pepper, and sassafras leaves) to develop such classics as gumbo and jambalaya.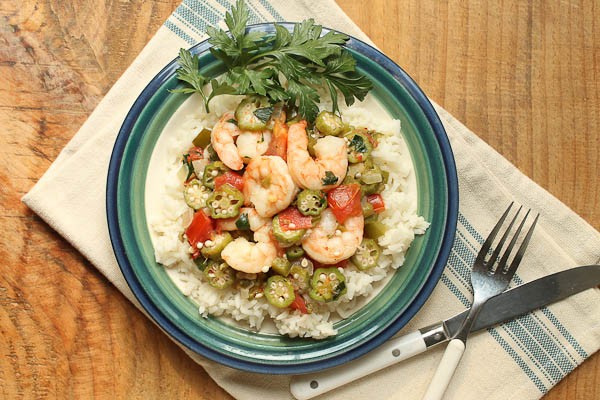 A gumbo is a spicy cross between a soup and a stew.  There are many variations, but all begin with a roux, a combination of flour and fat, slowly browned.  As an old Creole saying goes, "Don't hurry the roux; you'll spoil the gumbo."  Okra produces a thickening agent when cooked as does file powder, which is dried sassafras leaves. I know some people turn their noses up at okra, but fresh okra is so wonderful!  Don't substitute canned or even frozen.  There is nothing like the fresh.

Seafood Gumbo
Ingredients
½ pound fresh okra, thinly sliced
1 large onion, thinly sliced
1 green bell pepper, seeded and sliced
2 celery stalks, sliced
2 garlic cloves, crushed
2 Tablespoons olive oil
2 Tablespoons all-purpose flour
3 cups water
2 bay leaves
1 teaspoon dried thyme
½ teaspoon cayenne pepper
½ cup canned tomatoes, drained
½ pound large shrimp, peeled and deveined
½ pound lump crab meat
¼ teaspoon salt
Freshly ground black pepper, to taste
Rice, if desired
Gumbo File Powder, Hot Sauce, Worcestershire Sauce, to pass at table
Instructions
Spray a skillet with nonstick spray and set over medium-high heat. Add okra, onion, bell pepper, celery, and garlic; saute about 5 minutes. Transfer to a bowl and set aside.
To make the roux, add the oil to the skillet, then the flour. Stir until well blended. Cook, stirring, until the flour is a rich brown color, but not black, about 10 minutes.
Add the water in a thin stream, stirring continuously to remove any lumps, and bring to a simmer. Stir in the bay leaves, thyme, and cayenne; then add tomatoes. Return the vegetables to the pan and simmer for 5 minutes. Add the shrimp and crab meat and simmer just until the shrimp are opaque in the center, about 2-3 minutes. Discard bay leaves. Season with salt and pepper.
You can serve as is, or with rice. Pass the file powder, hot sauce, and Worcestershire sauce so people can add their own as desired.