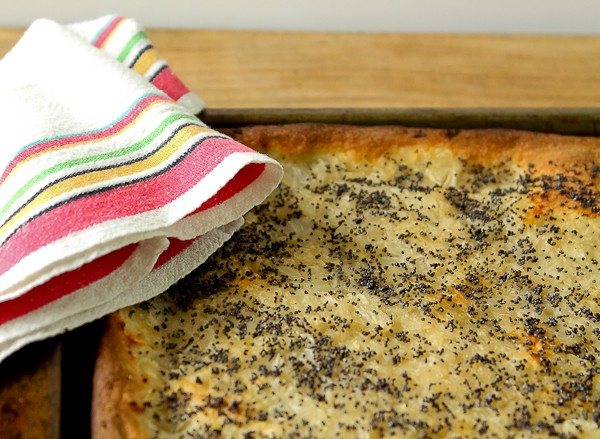 This flatbread couldn't be easier.  It starts with refrigerated pizza crust dough patted down into a jelly roll size pan, topped with sautéed onions and garlic, and sprinkled with poppy seeds.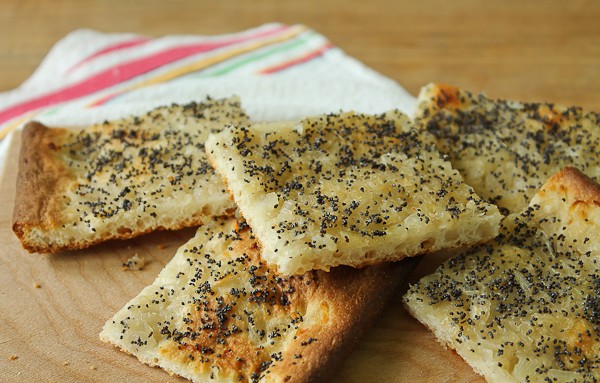 That's it!  It tastes great and nice to have with a salad, soup, or alongside a juicy summer grilled steak.
I love the crispy edges.  I use my very old but favorite jelly roll pan that has been used in about a million recipes over the years and looks like it, but it never lets me down.  Sometimes I actually prefer the old baking pans to the new ones simply because of their history.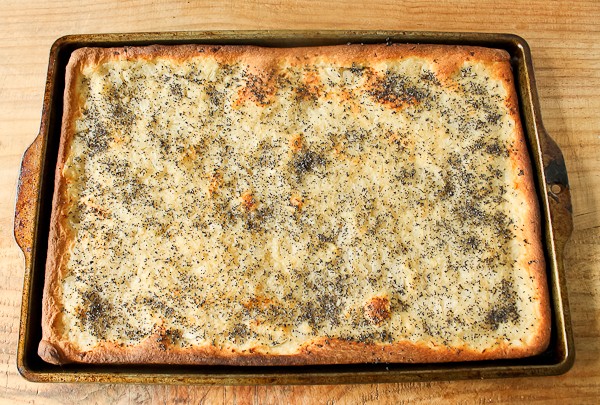 Easy Onion-Poppy Seed Flat Bread
Ingredients
1 Tablespoon butter
1 teaspoon olive oil or canola oil
2 cups finely diced onions
2 cloves garlic, minced
Salt and pepper, to taste
1 tube refrigerated all-ready pizza crust dough
1-1/2 teaspoons poppy seeds
Instructions
Heat oven to 425 degrees. Melt butter and oil in a skillet; add onions and garlic. Saute over medium-high heat for about 5 minutes, stirring frequently, or until onions are golden and translucent; remove from heat and set aside.
Line a nonstick jelly roll pan (15-by-10-by-1/4-inch) with the pizza crust dough, patting down evenly to edges of pan. Spread onion mixture evenly over surface, leaving about ½-inch around the edges. Sprinkle evenly with poppy seeds. Bake until dough is a nice golden brown, about 18-20 minutes, watching carefully. Cut into desired size slices. (I cut into 20 small slices) Serve hot.