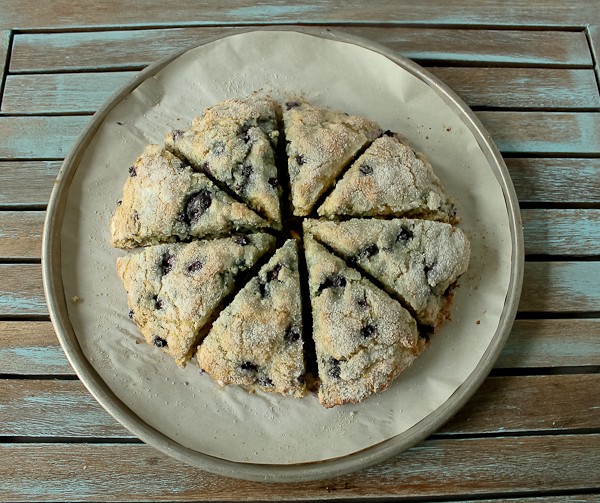 I love scones for breakfast!  These delicious multigrain blueberry scones from the Weight Watcher's cookbook, Power Foods, is sure to become a favorite.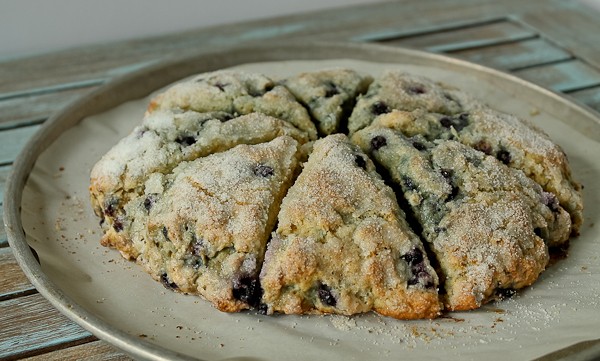 I would rather have a scone than a doughnut with a nice steaming cup of coffee any day.  These scones are not only multigrain but are lower in fat and sugar than many scones.  Any kind of berry is good in a scone along with a citrus zest.  Blueberry-lemon is wonderful, or try cranberry-orange.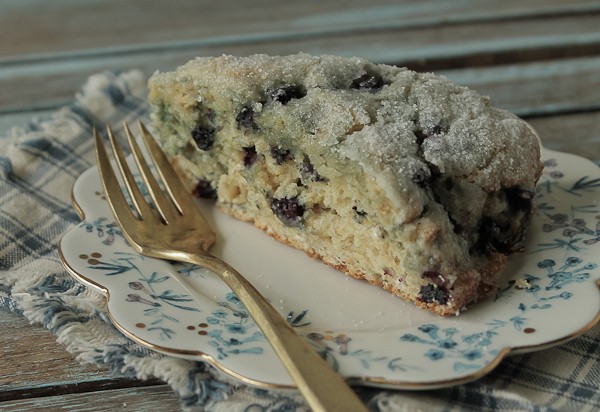 The scone is tender with a crunchy sugary top and edges.  It has so much more character than a doughnut, don't you think?  And of course better for you, which is always an added plus.

Multigrain Blueberry Scones
Author:
Weight Watchers Power Foods Cookbook
Ingredients
1 cup all-purpose flour
¾ cup whole wheat pastry flour
¼ cup old-fashioned oats
1 Tablespoon cornmeal
2 teaspoons baking powder
¼ teaspoon baking soda
¼ teaspoon salt
¼ cup plus 2 Tablespoons sugar
2 Tablespoons unsalted butter, melted
1 large egg
½ cup low-fat buttermilk
1 teaspoon grated lemon zest
¾ cup fresh or frozen blueberries
Instructions
Heat oven to 400 degrees. Line a large baking sheet with parchment paper; spray paper with nonstick cooking spray.
In a medium bowl, whisk together flours, oats, cornmeal, baking powder, baking soda, and salt. Stir together ¼ cup of the sugar and butter in another medium bowl until well mixed. Add egg, buttermilk, and lemon zest to sugar mixture and whisk until smooth.
Add half of flour mixture to sugar mixture and stir just until combined. Add remaining flour mixture and blueberries and stir just until moistened.
Spoon dough into center of parchment-lined pan. With well-floured hands, pat dough into a 7-inch round. Spray a long, thin knife with nonstick spray. Cut dough into 8 wedges, cutting into but not through the dough. Sprinkle scones with remaining 2 Tablespoons sugar.
Bake until a toothpick comes out clean when inserted into the center, about 20-22 minutes. Let cool on baking sheet on wire rack for 5 minutes. Cut into wedges and to serve. Serve warm or at room temperature.
Per serving: 1 scone: 256 calories; 13 g fat, 35 mg cholesterol; 275 mg sodium; 31 g carb; 9 g sugar; 2 g fiber; 5 g protein; 55 mg calc; 7 points on Weight Watchers