Deep in one of my bins in the pantry I found a package of soba noodles.  I also had some leftover chicken that we grilled before it started raining here in the Chicago area.  I wanted to make something fast and good with items I had in the refrigerator and settled on an Asian noodle salad.  It turned out delicious!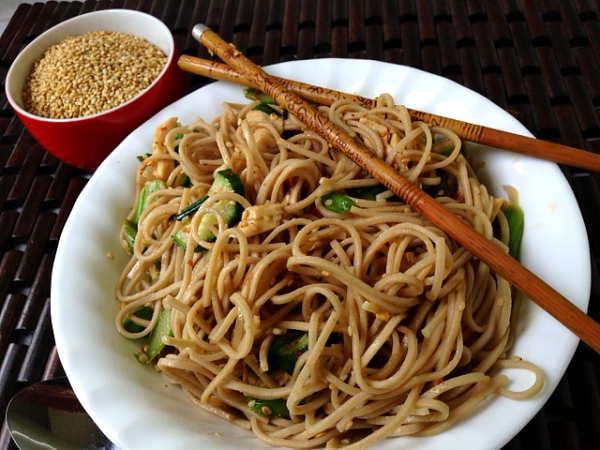 I happened to have asparagus, but snow peas could be substituted.  I love cilantro, but there are some who don't care for it, so it can be omitted.  I had leftover chicken on hand, but a grocery story rotisserie chicken would work, too, or if you want meatless, just add more vegetables.   The salad can be made ahead and chilled, but be sure to gently toss it and serve at room temperature for the best flavor and consistency.  It's perfect for summer parties where the food can sit out on a buffet table.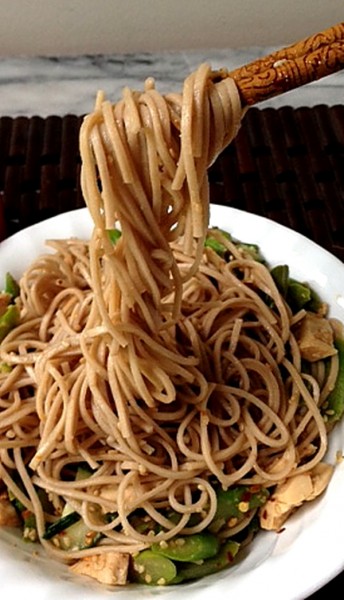 Chicken and Soba Noodle Salad
2-1/2 cups sliced cooked chicken
2 cloves garlic, chopped
2 teaspoons chopped fresh ginger
1/4 cup light brown sugar
1 Tablespoon red wine vinegar
1 Tablespoon chunky peanut butter
3 Tablespoons mirin
3 Tablespoons soy sauce
6 Tablespoons sesame oil
1 Tablespoon hot chile oil
4 Tablespoons toasted sesame seeds
1 bunch thin asparagus spears, trimmed and sliced diagonally
1/2 bunch green onions (about 4 or 5) sliced diagonally
1/2 of an English cucumber, halved, seeded and sliced thin
1/4 cup chopped fresh cilantro (optional)
8 ounce package soba (buckwheat) noodles
Additional sesame seed for garnish
Red pepper flakes (optional, but add if you like an extra spicy kick!)
Place the sliced chicken in a serving bowl and set aside.  In the bowl of a food processor or blender place garlic, ginger, brown sugar, vinegar, peanut butter, mirin, and soy sauce; process until smooth.  With the motor running drizzle in the sesame oil and chile oil until blended.  Pour over chicken in bowl along with the sesame seeds.  Blanch the asparagus pieces in boiling water for 1 minute; drain and rinse over cold water then add to chicken mixture in bowl.  Add the green onion, cucumber, and cilantro; stir gently.  Cook the noodles according to package directions until al dente.  Drain and rinse with cold water.  Shake off excess water and add to chicken mixture; toss gently and thoroughly.  Serve immediately or it can be chilled if made ahead, but bring to room temperature before serving.  It doesn't taste the same when it's cold!  Before serving, sprinkle some extra sesame seeds on top and offer red pepper flakes to those who like a little more spice.  Serves 6.