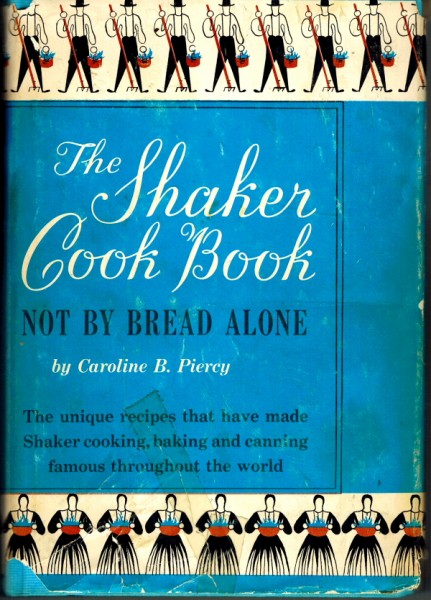 Shaker cookery has been well-known since the early Federal period.  The "Kitchen Sisters," who dedicated their "hands to work and their hearts to God," devised the essential American way of not only feeding their own families but also sharing with the community.  The Shakers were the first in our country to can food commercially because their reputation for fresh ingredients and food safety was known nationwide.  The Shakers made important contributions to the development of American cookery when our land was still very young.  The Shaker kitchens were as vital and sacred to them as were their meeting houses and assembly halls.
The Shaker kitchen was ahead of its time, with running water, stone sinks, specially built ovens and stoves, revolving ovens to hold many pies and breads; cupboards and pantries were neatly stacked, ceiling were high, and the basements kept cool.  There was even a "baking" kitchen and a "cooking" kitchen," and of course, cleanliness was of utmost importance.  Huge copper kettles  could turn bushels of raw food into a supply to last all winter long.  The long, trestle tables were filled with food three times daily where families gathered for sustenance and fellowship.  Even now in our modern times, we constantly hear how important it is for families to have meals together.  I think we could learn a lot from our country's Shaker communities.  Family, food, and fellowship are a comforting combination.
I adore this cookbook, and this might be the second time I have written about it.  The recipes are for basic, simple, fresh  food, and fulfilling to body and spirit.  In our home, pancakes are usually the Sunday morning fare.  When I came across the bag of stone ground cornmeal, this cookbook came to mind.  I knew there were many recipe using corn and cornmeal, and sure enough, I found a recipe for cornmeal griddle cakes.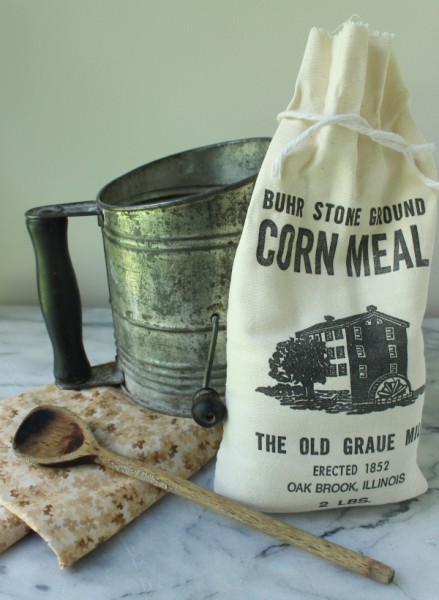 In the spirit of the Shaker way of cooking, I used my great aunt's sifter, my mother's old wooden spoon, and stone ground cornmeal from an 1852 mill that still functions to this day.  The Old Graue Mill is a place here in the Chicago area where my grade school class used to go on field trips every year.  I love that old place.  I also have some of their stone ground whole wheat flour, but that will be for a future blog.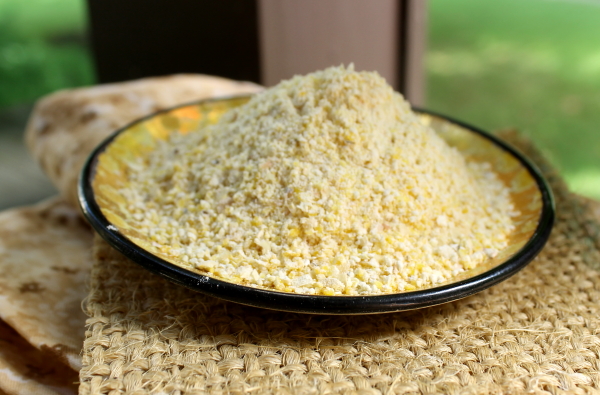 Pure stoneground cornmeal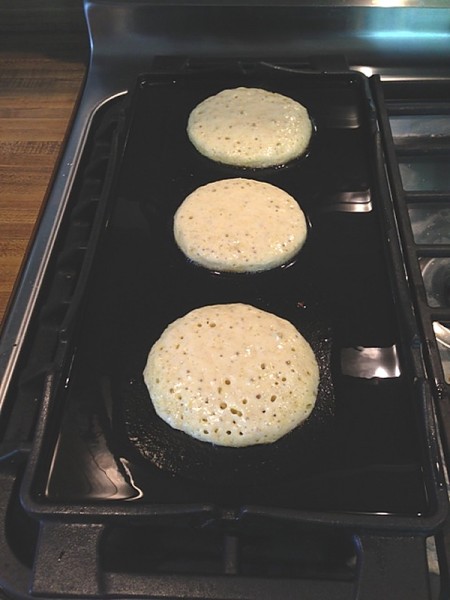 I got out my cast iron griddle pan and turned on the heat while preparing the ingredients.  The griddle cakes are a simple combination of the cornmeal, flour, salt, baking powder, baking soda, eggs, butter, and buttermilk.  The egg whites are whipped separately and folded in.  And then there is the syrup.  Pure maple syrup is boiled briefly to thicken and then a little bit of unsalted sweet butter is added and stirred into the syrup.  It's a breakfast to die for.  Old-fashioned, grandma's cooking, pure comfort food.  Don't skip the syrup – and use all the real stuff – stone ground, not regular cornmeal, pure maple syrup, and real butter.  The Shakers knew what they were doing.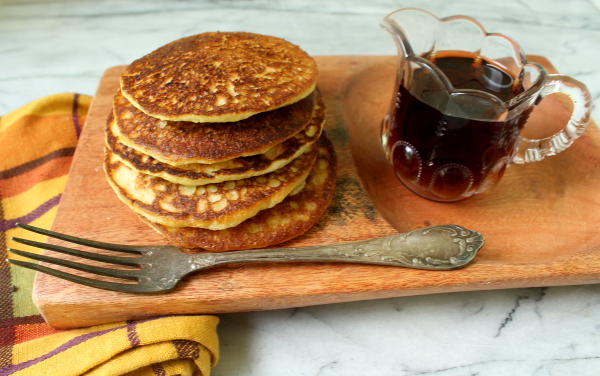 Shaker Cornmeal Griddle Cakes with Buttery Maple Syrup
1 cup stone ground cornmeal
1 cup white flour
1 teaspoon baking powder
1/2 teaspoon baking soda
1/2 teaspoon salt
2 eggs, separated
2 Tablespoons melted butter
2 cups buttermilk
Buttery Maple Syrup- instructions follow
Sift together cornmeal, flour, baking powder, baking soda, and salt; set aside.  Beat the egg yolks in a mixing bowl; stir in melted butter and buttermilk.  Add cornmeal mixture and mix well.  Beat the egg whites until stiff peaks form and fold gently and thoroughly into cornmeal mixture.  Drop by 1/4-cup measures (or larger, if desired) onto very hot greased heavy griddle pan.  (The cookbook says to use some bacon grease, but I didn't have any and canola oil worked fine).  When the tops of the pancakes are very bubbly, flip over and cook other side.  Serve hot with the warm buttery maple syrup.  Serves 6-8.
Buttery Maple syrup:  Place 2 cups of pure maple syrup into a heavy saucepan over medium-high heat.  Boil for 5 minutes.  Remove from heat and add 2 Tablespoons unsalted sweet butter; stir to melt and serve warm with hot griddle cakes.