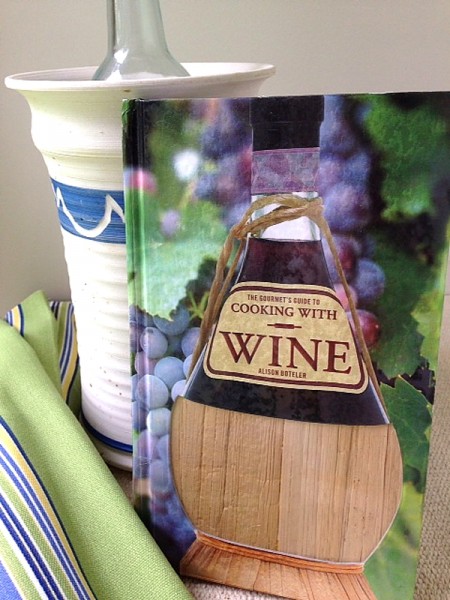 After collecting so many cookbooks over the years, it doesn't take long for me to decide if I want to keep or buy a cookbook.  It took me about thirty seconds to know I wanted this wine cookbook that I found at a library sale a few weeks ago.  In fact, I liked the author's recipes so much, I searched Amazon to see if she had other cookbooks and ordered one.
As a college student, author Alison Boteler hosted a radio show called Alison's Restaurant.  One of her first guests was Julia Child!  Julia had a wonderful quote about cooking with wine: "If you put rot-gut in, you'll get rot-gut out."  In other words, if you don't like the wine enough to drink, don't pour it on your food.  Alison took this to heart when writing the cookbook.  Needless to say, don't ever use "cooking wine," but there is no need to break the bank either.  In the book, Alison describes wines along the way and suggestions for use.
As I mentioned, there are dozens of recipes I can't wait to try, like a Coq Au Vin Blanc using Chardonnay instead of red wine, and includes parsnips, which I adore.  Others are beef ribs in a molasses-mustard-madeira glaze;  grilled pork chops with plums and port wine; and a pecan pie with port wine.  You will be seeing more recipes from this book in future blogs.  But for now, and since it is summer, I decided to make two cold soups- a Chablis Vichyssoise and a Chianti Gazpacho.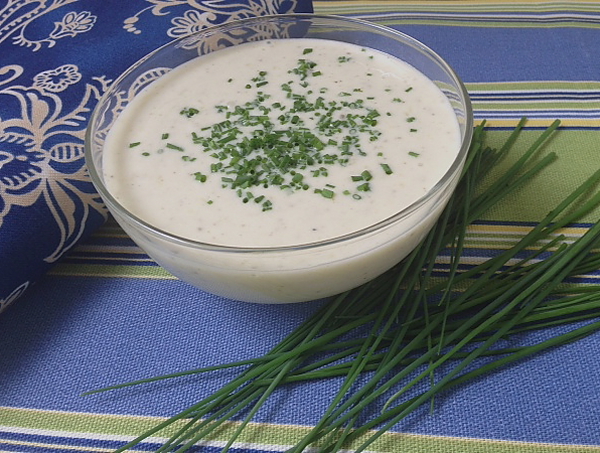 The chives are from my garden!  The soup was delicious.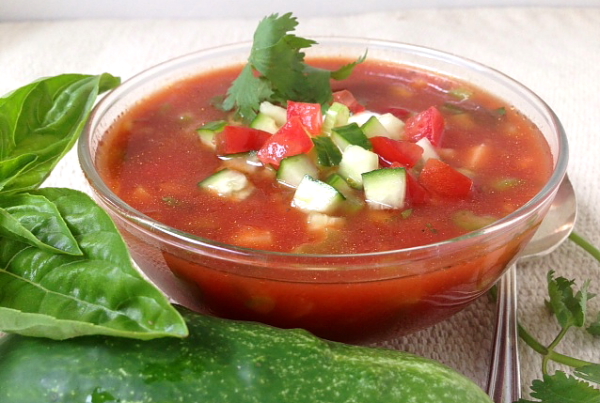 The herbs and cucumbers were from my garden, too.  The Spicy V-8 base adds a nice kick to the soup, and the fresh vegetables stay nice and crunchy.
Chablis Vichyssoise
6 medium potatoes, peeled and diced
3 celery stalks, sliced
8 medium onions, sliced
1/2 cup minced fresh parsley
1 teaspoon salt
1/2 teaspoon pepper
2 cups chicken stock
2 cups Chablis
1 cup water
1-1/2 cups heavy cream
Minced fresh chives, for garnish
In a large stockpot, combine all of the ingredients except heavy cream and chives and bring to a boil.  Cover and simmer for 40 minutes, or until tender.  Cool and puree soup in blender in several batches.  Blend in heavy cream and adjust flavor with salt and pepper.  Chill for at least 4 hours or overnight.  Serve in cups, sprinkled with chives.  Makes 8 servings.
Chianti Gazpacho
1 bottle (46 ounces) spicy vegetable juice cocktail
2 Tablespoons extra virgin olive oil
1 Tablespoon red wine vinegar
1/4 cup Chianti
1 Tablespoon minced fresh (flat leaf) Italian parsley
1 Tablespoon minced fresh cilantro
1 Tablespoon minced fresh basil
1 cup peeled, diced English cucumber
1 cup seeded, diced fresh tomato or drained canned tomatoes
1 cup diced celery
2 medium Vidalia onions, grilled,* then chopped
Salt and pepper
Sour cream and fresh chives for garnish (or I used some additional diced cucumbers and tomatoes)
Combine vegetable juice cocktail, olive oil, vinegar, Chianti, parsley, cilantro, basil, cucumber, tomato, celery, and grilled onions.  Season with salt and pepper to taste.  Chill overnight.  Serve in cups garnished with dollops of sour cream and chives.  If desired, serve with grilled shrimp on the side of the cup.  Makes 8 servings.
*To grill onions in oven:  Preheat oven to 425 degrees.  Slice onions 3/4 inch thick.  Line a baking sheet with nonstick aluminum foil.  Spray foil with garlic-flavored cooking oil spray.  Arrange onion slices on foil and bake for 10-12 minutes, until undersides of onion slices have browned.  Cool.