Whenever I miss my usual M-W-F postings, I start getting emails, text messages, and phone calls asking things such as-  Are you okay? Are you on vacation? Are you taking a break from your blog?  Answers – I'm fine, I am not on vacation, and I am not taking a break from the blog.  I am simply working all the time on my Culinary Cellar, and now that includes my garage.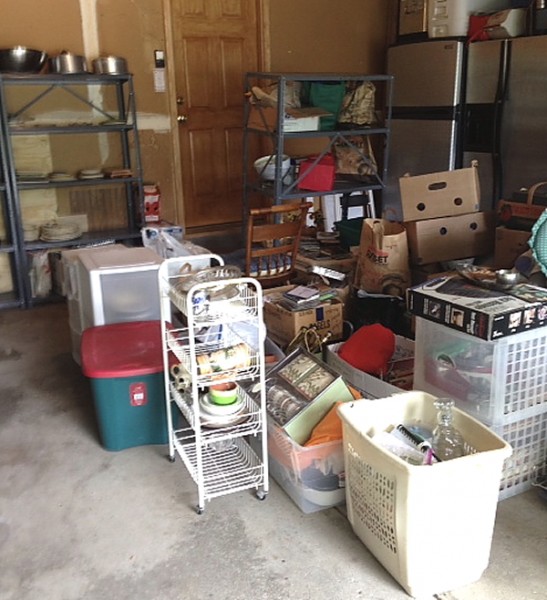 All of these dishes, gadgets, and everything in between was in my basement.  The metal shelves will now be in the garage to hold not only all the props I use for food photos, but also large items I use all the time but don't want to climb up and down the stairs anymore.  It's a disaster at the moment, but I'm working on it!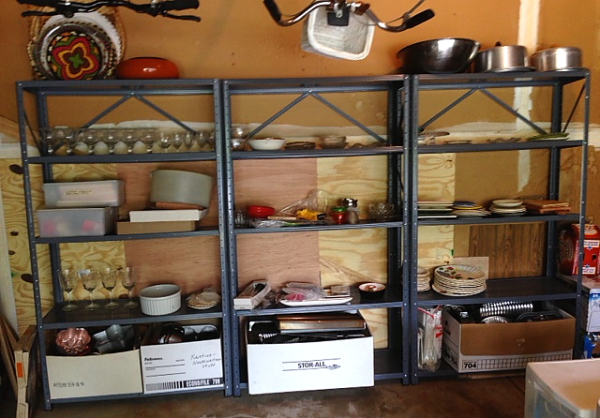 The large boxes on the bottom shelves are filled with all my molds, bread pans, muffin tins, bundt pans, springform pans, every size and shape of tart pans, and more.  Probably the funniest molds I have are called "Henny Penny" molds, shaped like half a chicken.  Has anyone ever heard of these?  I found them at a garage sale about 30 years ago and thought they were so strange and couldn't pass them up.  I would go and take a photo of them for you, but I'm too tired at the moment!  I think they are from the time when "Hot Chicken Salad" was all the rage.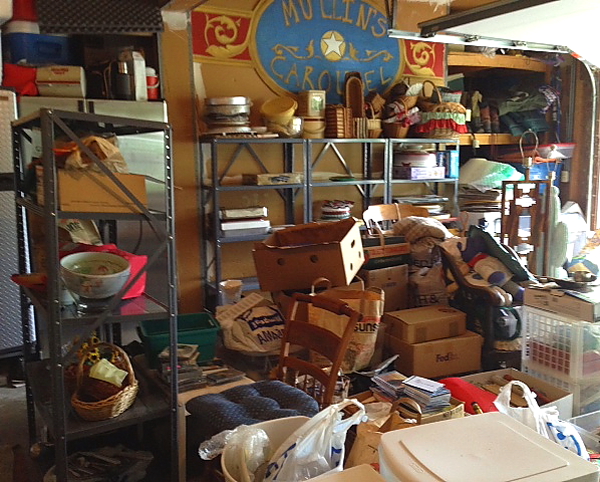 Yes, it is a never-ending process.  My poor garage.  Bill cannot even pull his car in yet.  Not that the garage was ever very clean anyway, and some things have been there for years.  Look at the wall where you will see a blue, red, and yellow sign that reads "Mullin's Carousel."  Those of you who know musicals,  Carousel has the character of Mrs. Mullin, who my daughter Kristina played in her high school production about fifteen years ago and it's still on the wall.  We were going to toss it after the play, but both my girls got used to it being there and used the letter "O" to gauge when they pulled the car in far enough, so Mrs. Mullin will probably be there for a long time.  Anyway, we are used to it now.
So now you know why my blogs are rather sporadic, and probably will be for a while.  Whenever I don't post, you know I'm going back and forth between the basement and garage.  My only visitors so far have been a chipmunk, a bird, a couple of spiders, and curious passers-by who think I am getting ready for a garage sale.
Now it's time to start dinner and leave Mrs. Mullin for the day.  And, of course, take a shower first.
Watch for more updates…
P.S.  Check out this link from some of the work on the cookbooks in the cellar:  https://theculinarycellar.com/weekend-work-on-the-cellar/