This rich dark chocolate decadence is so easy to make it's sinful.  All you need to make is a creamy fudge frosting that you spread over amaretto-soaked ladyfingers and stack them up to look like a little cake.  Refrigerate overnight and your dessert is ready for your special Valentine.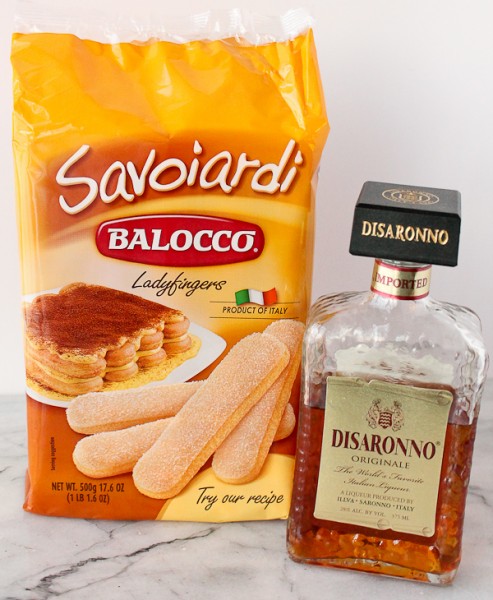 I like the longer crisp ladyfingers rather than the smaller spongy ones which I think get too mushy.  For the liqueur, I used Amaretto but you can use rum, Kirsch, Kahlua, or even just some brewed espresso.  Since I used Amaretto, I decided to sprinkle the top with lightly toasted sliced almonds, but since it's Valentine's day you can use your imagination; strawberries, raspberries, candied hearts, or anything that you think will look festive.
First make the easy fudge frosting.  Next take the ladyfingers and one at a time, dip them quickly in a mixture of water and Amaretto and start stacking.  Spread frosting between each layer, then frost the entire cake.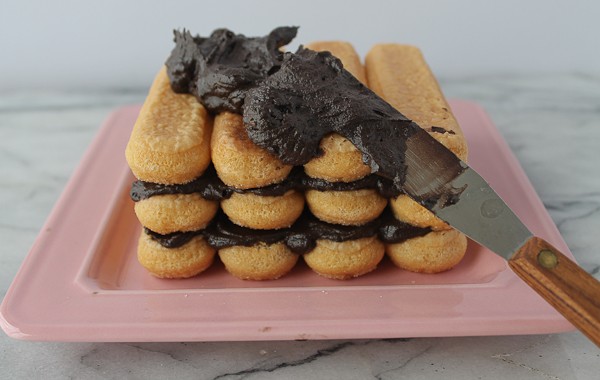 The one above is for a smaller dessert for 4 people.  You can also make a larger one and place on a long oval platter like the one below for 8 people.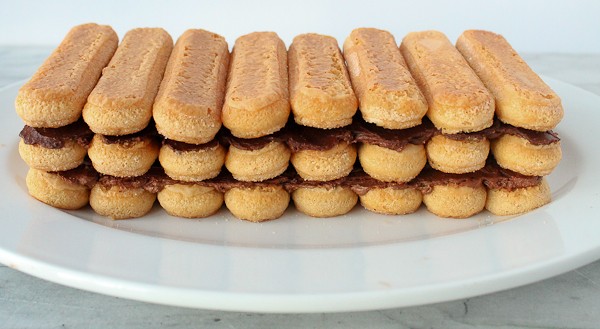 I used Hershey's Special Dark Cocoa Powder for the frosting because it seemed more decadent and rich for a Valentine's Day dessert, but you can use the regular unsweetened cocoa powder if you don't like dark chocolate.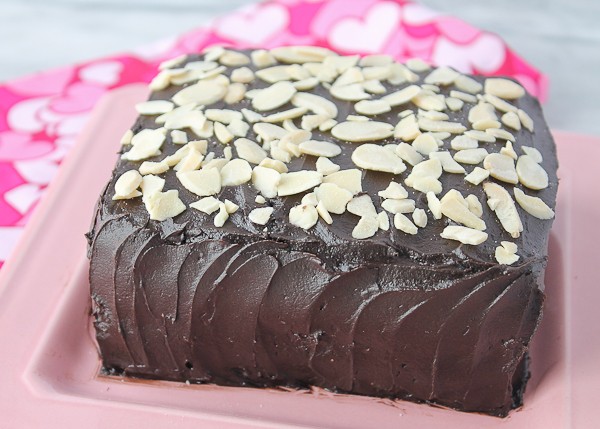 After the dessert has chilled (at least a few hours, but overnight is best and easier!) let it sit out while you are having dinner to soften up a bit before slicing.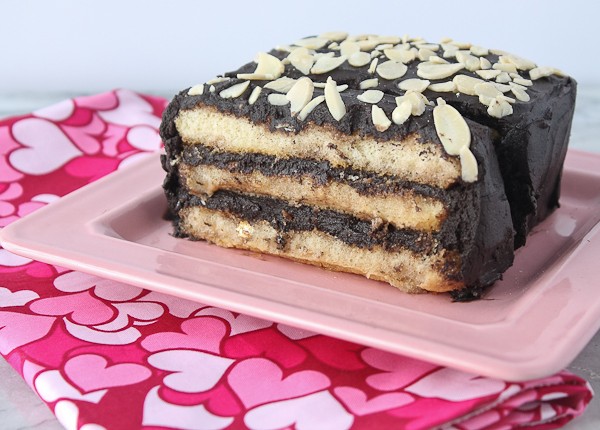 After tasting this, kisses are guaranteed!  Have a Happy Valentine's Day on Saturday!
Dark Chocolate and Amaretto Ladyfinger Dessert
Ingredients
3-1/2 cups confectioner's sugar
1 cup unsweetened cocoa powder (dark chocolate or regular)
1-1/2 sticks (12 Tablespoons) unsalted butter, room temperature
½ cup milk, room temperature
2 teaspoons vanilla extract
3 Tablespoons Amaretto or other liqueur (rum, kirsch, kahlua; or strong brewed espresso)
½ cup cold water
24 long ladyfingers (hard type, not soft and spongy type)
Lightly toasted sliced almonds for garnish (optional; or other, if desired)
Note: These amounts are for the large size dessert. To make the smaller size, I still made the same amount of frosting and froze any leftovers, but the liqueur is reduced to 1-1/2 Tablespoons and ¼ cup water, and 12 ladyfingers are used instead of 24.
Instructions
Sift the confectioner's sugar and cocoa powder into large bowl of electric mixer. Add the butter, milk, and vanilla. Beat until smooth and fluffy, about 4-5 minutes; set aside.
To assemble dessert: Stir together the Amaretto and cold water in a deep bowl (use half amount of both if making a smaller dessert). If making the larger version, find a platter to hold 8 ladyfingers across; if making the smaller version, find a plate to hold 4 ladyfingers across. Dip each ladyfinger one at a time (either 8 or 4) quickly on both sides and shake off excess. Arrange them in a row, with sides touching on chosen platter or plate. (see photos) Spread a layer of chocolate frosting on top. Repeat the procedure with the remaining ladyfingers to make a three-tiered loaf. Frost the sides and top with chocolate frosting. Garnish the top with almonds, if using. Cover loosely and refrigerate at least 3 hours or overnight, but bring to room temperature before serving. Cut into slices to serve.