I am a potato salad fanatic, always in search of the next greatest potato salad. Turns out this simple Nordic-style version with dill and sour cream is my favorite.  Well… at least so far.  I have been known to change my mind, but this one seems to have lasted the longest as my favorite, and perfect for the 4th of July weekend.  It's lasted so long as my potato salad of choice, I actually have blogged about it before but that was several years ago and it needs repeating every once in a while in case you missed it.  And you don't want to miss this potato salad.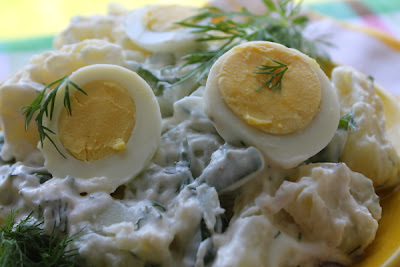 This potato salad has a dressing of sour cream, mayonnaise, fresh dill, cucumber, red onion, salt and pepper. That's it.  So easy.  It's folded into still warm waxy-type potatoes and immediately chilled.  Top it will hard-boiled eggs and more dill.  It's great with 4th of July fare like hot dogs, brats, burgers, chicken, steaks, or just about anything.  I like it best with hot grilled spicy sausages or brats.
Have a safe and happy 4th of July weekend!!

My Favorite Potato Salad
Ingredients
4 cups pared and sliced (not chopped) waxy potatoes (like red potatoes or Yukon gold)
1 cup sour cream (full fat, not reduced or fat-free!)
½ cup real mayonnaise (again, not reduced fat or fat-free and definitely not Miracle Whip!)
¼ cup finely chopped fresh dill
1-1/2 cups seeded and sliced English cucumber
⅓ cup thinly sliced red onion
1-1/2 teaspoons salt
⅛ teaspoon freshly ground pepper
Hard-boiled sliced eggs, for garnish
Fresh dill sprigs, for garnish
Instructions
Bring a large pot of water to a boil. Add pared and sliced potatoes and cook just until firm-tender, about 10 minutes. Do not overcook. Drain, but do not cool.
While potatoes are cooking, whisk together in a mixing bowl the sour cream, mayonnaise, and chopped dill until smooth. Stir in the cucumber, onion, salt, and pepper.
Add the warm cooked potatoes to the sour cream mixture; toss gently until well-combined.
Cover and refrigerate until completely chilled, at least several hours. Garnish with hard-boiled egg slices and sprigs of fresh dill. Serves 6-8.