After writing my previous blog about the Pennsylvania Dutch cooking and baking from Sphere magazine, I knew I would be trying more of the intriguing recipes. One that captured my attention was simply the title:  "Chocolate Funny Cake Pie."  How can one resist something with a name like that?  So of course I had to make it. Plus it has chocolate.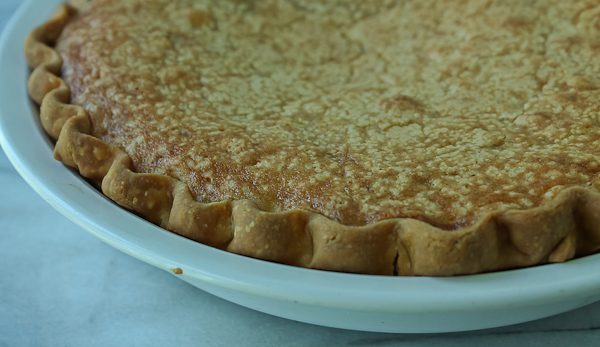 It looks just like a plain old pie on the outside; could be almost anything on the inside.  But when you cut into it, there's the layer of chocolate on the bottom.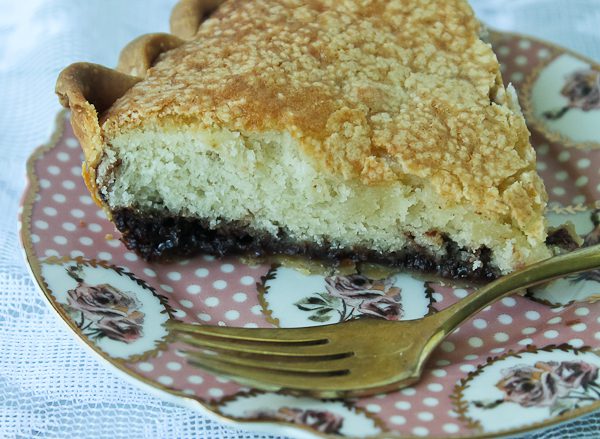 After a one-crust pie layer is made and placed in a pie plate, a simple mixture of sugar, unsweetened cocoa powder, water, and vanilla is mixed together and poured into the pie shell.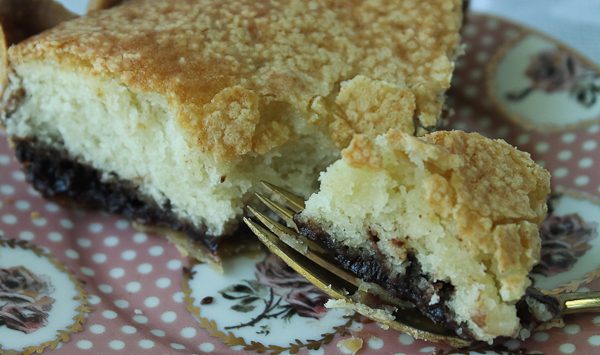 The chocolate layer is topped with a mixture of flour, sugar, baking powder, butter, egg, milk, and vanilla.  When baked, this layer turns soft and cake-like yet the top has a thin layer of nice crunchiness.  Such simple ingredients, like so many Pennsylvania Dutch recipes happen to be.
I can just see some women sitting around a kitchen table after coming up with this recipe and wondering what to name it.  I don't know, they say.  It's sort of a funny-chocolate-cake-pie.  Good name.

Chocolate Funny Cake Pie
Author:
Sphere Magazine, June 1974
Cuisine:
Pennsylvania Dutch
Ingredients
Pastry for a 9-inch one-crust pie (your favorite recipe)
Chocolate Layer:
½ cup granulated sugar
¼ cup unsweetened cocoa powder
6 Tablespoons water
¼ teaspoon vanilla
Cake layer:
1 cup all-purpose flour
1 cup granulated sugar
1 teaspoon baking powder
¼ cup cold salted butter, cut into small pieces (or if use unsalted butter, add ¼ teaspoon salt)
1 egg, beaten
½ cup whole milk
½ teaspoon vanilla
Instructions
Prepare your favorite pie pastry for a one-crust pie, and line a 9-inch pie pan. (Or you can use one refrigerated pie crust, if desired.) Set aside.
Heat oven to 350 degrees.
In a small mixing bowl, prepare chocolate layer by whisking together the chocolate layer ingredients; set aside.
For cake layer, in a medium mixing bowl stir together the flour, 1 cup sugar, and baking powder. (and salt if using unsalted butter as noted). Cut in the cold butter using a pastry blender until mixture forms small pieces. Stir in the egg, milk, and ½ teaspoon vanilla; mix well. Spoon mixture carefully in dollops over chocolate, and evenly smooth out, trying to keep the chocolate layer from peeking through.
Bake until the center is done and a pick inserted in the center comes out clean, about 35-40 minutes. Cool pie on wire rack before cutting into wedges. Refrigerate any leftovers.