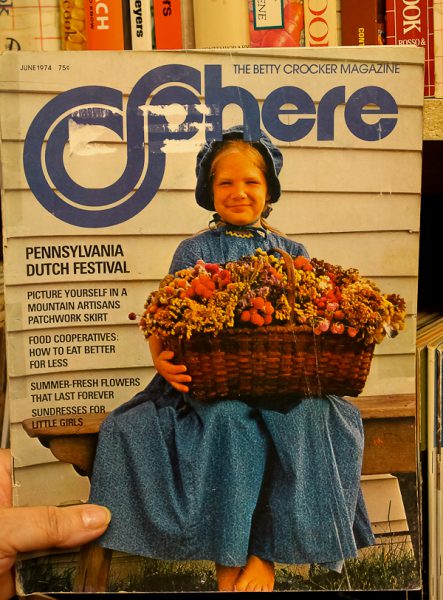 In the midst of Berks County, Pennsylvania, about halfway between Allentown and Reading, lies Kutztown, known for the Kutztown Folk Festival.  When this issue of Sphere was written in June of 1974, the festival was celebrating its 25th anniversary.  Of course I had to google it, and it turns out, this year will be the 67th annual festival!  I was pleasantly surprised that it is still going strong, and probably stronger than ever.  I loved how Sphere picked up on this festival and the food of the region back in '74.  This is a great issue, and also very timely that I waited until the end of June to write about it, as the festival is this coming 4th of July weekend.  One of the highlights of the festival is visiting the world-famous Quilt Barn, where 2,500 quilts and quilted wall-hangings are on display for sale. There is also an auction of 24 of the "Best-of-the-Best" quilts, most going for thousands of dollars.
In addition, look at all the crafts that are available to view and buy:
Blacksmithing
Weaving
Woodcarving
Clothing
Metalworking
paper-cutting
Pottery
Decoy Carving
Redware
Baskets
Crochet
Treenware
Leather
Jewelry
Chair Caning
Tole Painting
Furniture
Soapmaking
Pewter
Tinning
Brooms
Stained Glass
Toys
Old World Santas
Bonnets
Hex Signs
And Much More!
I think we all know how wonderful Pennsylvania Dutch cooking and baking can be, and apparently one's senses go into overdrive at the festival with the aroma of freshly baked bread continuously filling the air.  This issue of Sphere has pages of items to make such as cherry fritters, shoofly pie, funnel cakes, sausage scrapple, funeral pie, cinnamon buns, cinnamon flop, square doughnuts, Moravian sugar cake, soft pretzels, coleslaw, lemon pie, onion pie, and spareribs with sauerkraut and dumplings.  Pennsylvania Dutch also love "sweet-sours" like chili relish, spiced peaches, summer mincemeat, chow-chow, red beet eggs, mustard beans, and sweet-sour bacon dressing.
Since my husband loves something sweet for breakfast with his coffee, I decided to try the "Crumb Buns," which really weren't buns at all, but a delicious non-yeast coffee cake baked in a jelly roll pan and cut into squares and served warm.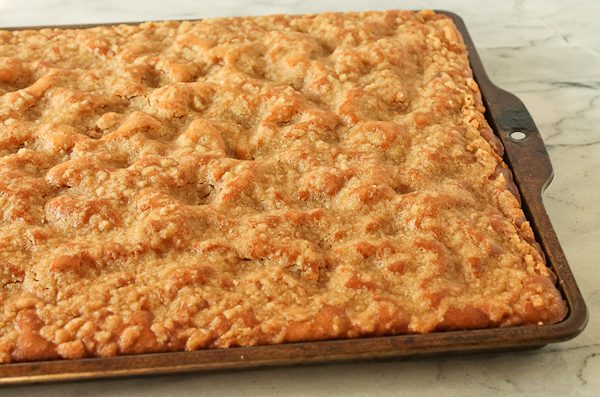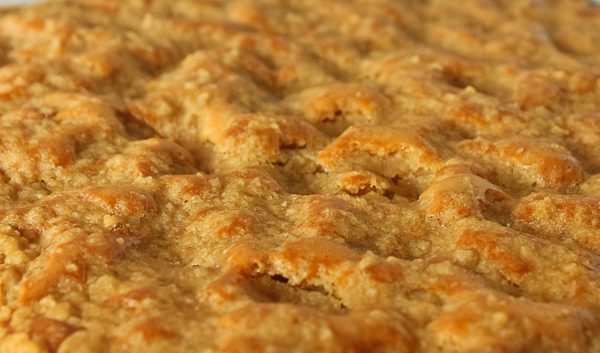 The ingredients are simple and you probably have them in your pantry and refrigerator.  The base is simply a thick batter of flour, brown sugar, buttermilk, eggs, butter, baking soda, salt, and nutmeg, and topped with a crumble of more brown sugar, butter, and flour.  I love that it has nutmeg, which smells so wonderful while baking.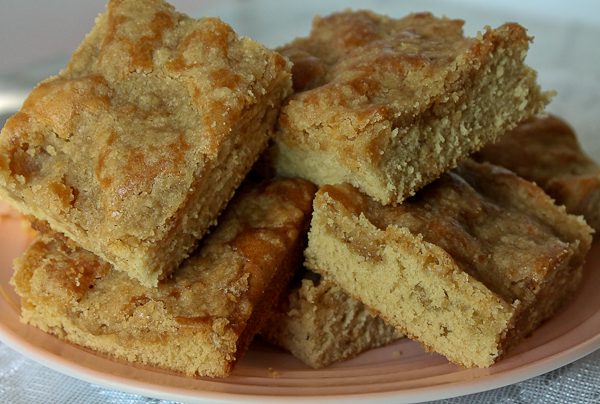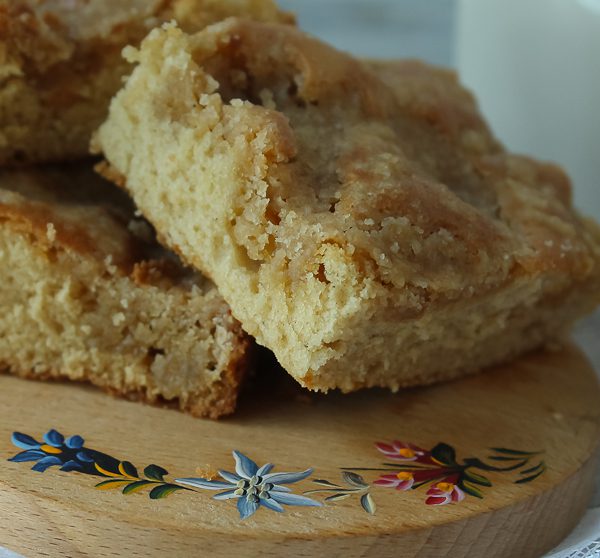 Since these are made in a jelly roll pan it makes a lot, so they are great for a crowd, especially if you are having guests this 4th of July weekend.  Leftover squares can be reheated the next day in the microwave for about 15 seconds to get them all nice and warm again.  I froze some too.
There are so many other recipes I want to try from this issue.  More of them may be popping up in later blogs.  Even though the festival article took up a good portion of the magazine, there were still other great articles and recipes.  A section on cooking with strawberries included a strawberry souffle, strawberry-pecan shortcake, strawberry-banana pie, fondant-dipped strawberries, fritters, a punch, and a dipping sauce for strawberries with pineapple, ginger, cream, and cream cheese.  The monthly "His Dish" page featured a lobster-shrimp kabob with a barbecue sauce made with coffee, orange juice, brandy, molasses, oregano, and other ingredients.
Someday I would love to attend the Kutztown Folk Festival, and it sounds like it will be around for a long time to come.  In the meantime, here is the recipe for the coffee cake to get you started on some Pennsylvania Dutch baking and become a "feinschmecker" which is "someone who knows what good is!"

Crumb Buns
Author:
Sphere Magazine, June 1974
Cuisine:
Pennsylvania Dutch
Ingredients
Topping:
1 cup packed light brown sugar
¾ cup all-purpose flour
⅛ teaspoon salt
½ cup cold unsalted butter
Base:
2 cups all-purpose flour
1 cup packed light brown sugar
1 cup buttermilk
2 large eggs
½ cup unsalted butter, room temperature
1 teaspoon baking soda
½ teaspoon salt
½ teaspoon ground nutmeg
Instructions
Heat oven to 350 degrees. Grease a jelly roll pan, 15-1/2-by-10-1/2-by-1-inch; set aside.
For topping: In a medium bowl, toss together the 1 cup brown sugar, ¾ cup flour, and ⅛ teaspoon salt. Cut in the cold butter using a pastry blender or two knives until crumbs the size of marbles are formed. Set aside.
Measure all the base ingredients together at once in large bowl of electric mixer. Blend for ½ minute at low speed to combine, scraping bowl along the way. Beat for 3 minutes at high speed, scraping bowl occasionally. Spoon the thick batter into the prepared jelly roll pan and spread out evenly. Sprinkle evenly with the reserved crumbled topping.
Bake until a wooden pick inserted in the middle come out clean, about 20 to 25 minutes. Cut into rectangles to serve. Serve warm. Will make about 15 squares, depending on what size you want to cut them.