Today is the official first day of summer!  It certainly feels like it too here in the Chicago area where it is supposed to go over the 90 degree mark.  Father's Day yesterday was the hottest Father's Day in nine years.  I know it's always to be expected in this part of the country, but I am not a summer girl and never like the extreme heat.  I am definitely a fall/winter girl.  However, this is where I was born and have lived for most of my life, so that's that.
This hot summer day reminded me of a summer job I had in high school at a Baskin-Robbins scooping ice cream and making malts and banana splits.   I didn't mind the endless scoops and got used to the powerful machine for making malts and shakes, even though at first I splattered more than one customer, including two football coaches from my high school which was really embarrassing since I was one of the cheerleaders.  And yes, they remembered.
I have never liked banana splits.  To me, it's a way to wreck good ice cream.  I never did understand placing three scoops of ice cream on top of a split banana and then topped with three kinds of sauce, whipped cream, and a cherry.  It used to give me a stomach ache just making them.  They are colorful to look at, but eat?  No thanks.  I'll take ice cream scoops in a cup or cone any day.
Now fast forward many years later when my girls were young and a cooking contest was announced from Entenmann's where products from Chiquita bananas, Smucker's jams, Baker's Chocolate, and Diamond Walnuts had to be used in a baked good.  If I remember correctly, all of them didn't have to be used but probably at least a couple.  Well… to me these ingredients somewhat reminded me of my banana split-making days, but of course I would not enter an actual banana split.  Instead, I came up with the idea of a banana split cake.  I spent a few days perfecting it and mailed it in.  Soon I received a call that I was one of five or six finalists in the contest.  Do you know I can't even remember what the prize was?  All I remember is we cooked in a test kitchen in downtown Chicago and I was beat out by a muffin, but had a great time.  Bill and the girls were with me and we made a fun day of it.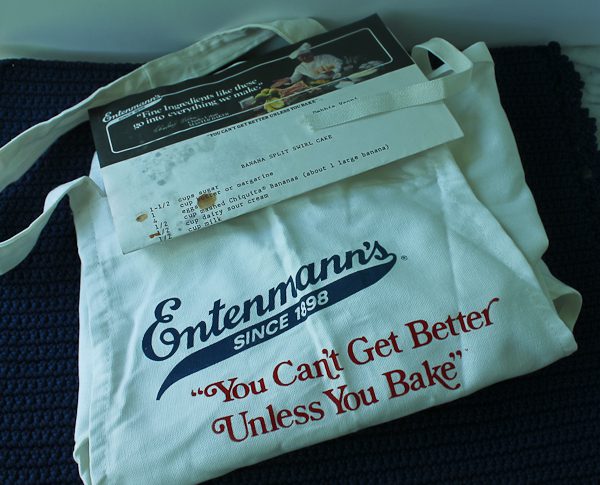 I went into my files and found the original recipe from the contest, all stained and yellowed, and even found the apron that all the contestants wore while preparing our entries.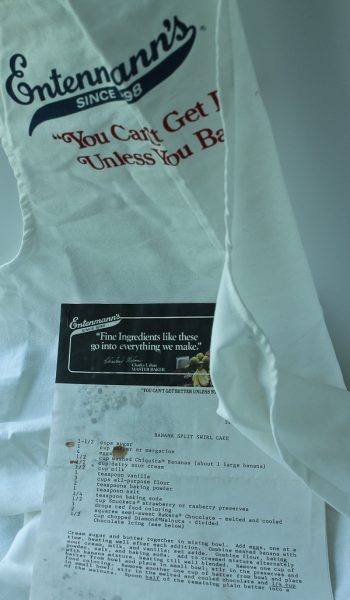 First a banana batter is made, then 1 cup is scooped out and mixed with strawberry jam for the swirl.  Another cup of batter is mixed with melted chocolate and walnuts, then the batters are layered into a tube pan and baked. After cooling, a chocolate icing is drizzled on the cake and topped with more chopped walnuts.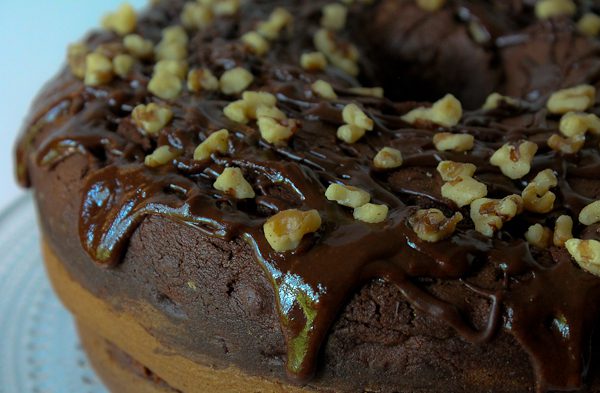 To serve, slice cake with a sharp knife and you will see the strawberry swirl.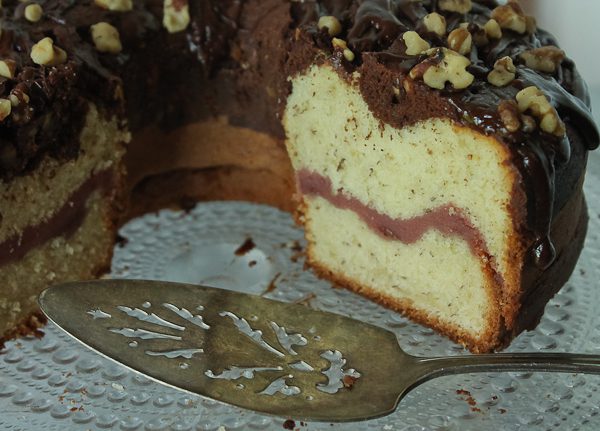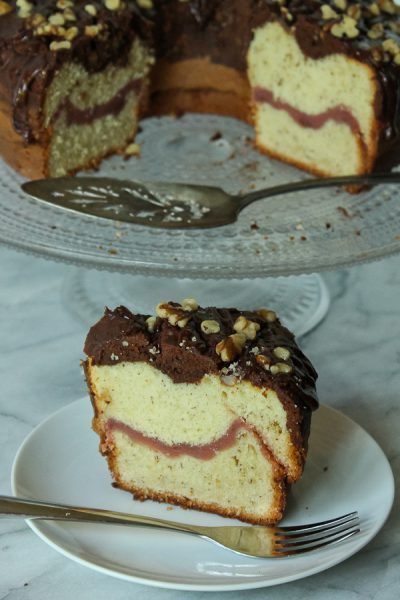 If desired, each slice can have a dollop of whipped cream and a maraschino cherry and/or a scoop of vanilla ice cream.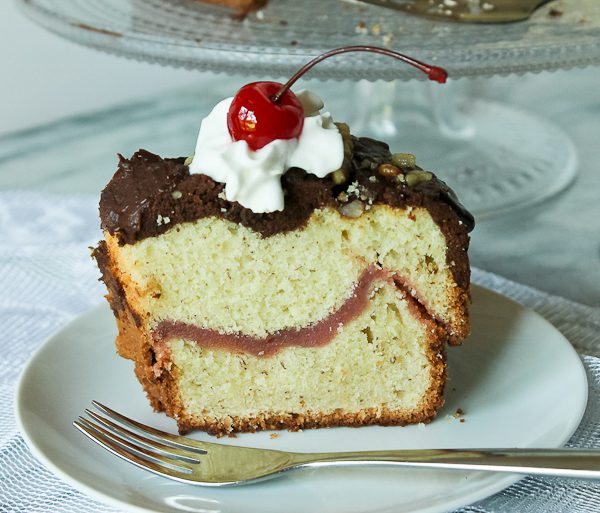 I'll take the cake any day over a banana split, but probably with a scoop of vanilla ice cream.  Anyway, I think I made enough banana splits in my Baskin-Robbin days to last me a lifetime!

Banana Split Swirl Cake
Ingredients
1-1/2 cups granulated white sugar
1 cup unsalted butter, room temperature
4 large eggs
½ cup mashed ripe bananas
½ cup dairy sour cream
½ cup milk
1 teaspoon vanilla
3 cups all-purpose flour
2 teaspoons baking powder
1 teaspoon salt
¼ teaspoon baking soda
½ cup strawberry or raspberry preserves
3 drops red food coloring
2 ounces semisweet chocolate squares, melted and cooled
½ cup chopped walnuts, divided
Chocolate Icing ingredients:
1 ounce semisweet chocolate squares
1 Tablespoon butter
½ cup powdered sugar
1 Tablespoon water
Instructions
Heat oven to 350 degrees. Grease and flour a 10-inch tube pan; set aside. Cream sugar and 1 cup butter together in large bowl of electric mixer. Add eggs, one at a time, beating well after each addition.
Combine mashed banana with sour cream, milk, and vanilla; set aside.
Combine flour, baking powder, salt, and baking soda. Add to creamed mixture alternately with the banana mixture, beating until well-blended.
Remove 1 cup of batter from bowl and place in a small bowl; stir in the preserves and food coloring; set aside.
Remove another 1 cup of batter from bowl and place in a small bowl; stir in the melted and cooled chocolate and ¼ cup of the walnuts; set aside.
Spoon half of the remaining plain batter into the prepared tube pan. Spoon the strawberry batter over the plain batter and smooth the top.
Top with the remaining plain batter and smooth carefully over strawberry batter.
Top with the chocolate batter and smooth over.
Bake for 1 hour 5 minutes, or until a tester inserted comes out clean. Cool in pan for 10 minutes on wire rack, then remove from pan and cool completely on rack.
For chocolate icing: In a small pan over low heat, melt together the 1 ounce of chocolate and 1 Tablespoon of butter until just melted. Remove from heat and quickly stir in the ½ cup powdered sugar and 1 Tablespoon water until it is smooth and glossy. Drizzle immediately over the cooled cake and sprinkle on the remaining ¼ cup of chopped walnuts. Makes 12-15 servings.