I love experimenting with all kinds of breakfast dishes on the weekends.  I found a beautiful block of feta cheese with basil and sun-dried tomatoes at my local grocery store and knew it would be on my breakfast agenda.  I love using my cast iron skillets and thought the 10-inch one would be perfect for this delicious frittata.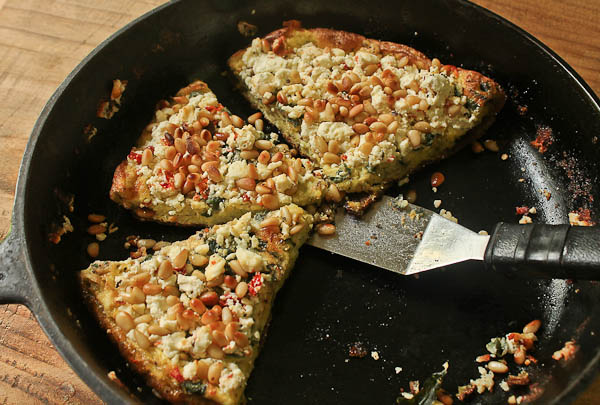 The frittata is ready in about 20 minutes.  The egg-basil mixture is poured into the hot skillet with olive oil, covered and cooked for around 10 minutes.  The crumbled feta cheese and pine nuts are scattered on top and slipped under the broiler for a few minutes to toast the pine nuts and soften the cheese.  I think I would eat anything that has toasted pine nuts.  Heavenly.  Cut into wedges and serve hot.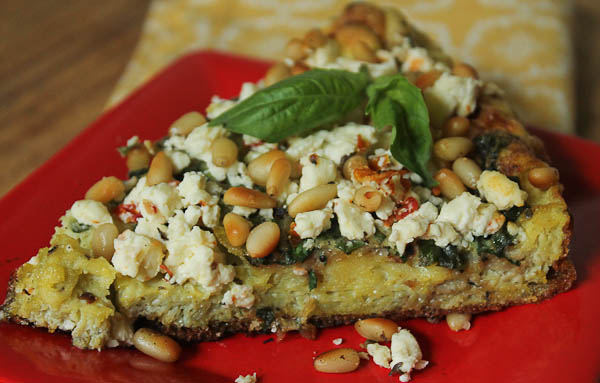 Feta and Pine Nut Frittata
Ingredients
2 Tablespoons olive oil
8 large eggs
¼ cup whipping cream or half-and-half
¼ cup slivered fresh basil
½ teaspoon salt
¼ teaspoon freshly ground black pepper
⅛ teaspoon crushed red pepper flakes (optional)
1 package (4 to 6 ounces) feta cheese with Mediterranean herbs and sun-dried tomatoes, crumbled (olives can also be in the cheese, if desired)
¼ cup pine nuts
Instructions
Heat the olive oil over medium heat in a 10-inch cast iron skillet or other heavy oven-proof skillet. Tilt the skillet to evenly distribute the oil and have some run up the sides of pan. While pan is heating, whisk the eggs, then whisk in cream, basil, salt, pepper, and red pepper flakes. Pour mixture into hot skillet. Cover and cook for 8 to 10 minutes or until eggs are set around the edge. The center will be a little wet. Sprinkle the eggs evenly with the crumbled feta and pine nuts. Transfer the frittata to broiler. Broil about 4 to 5 inches from heat source for 2 to 3 minutes or until the center of frittata is set and the pine nuts are toasted. Watch carefully. Cut into wedges and serve.