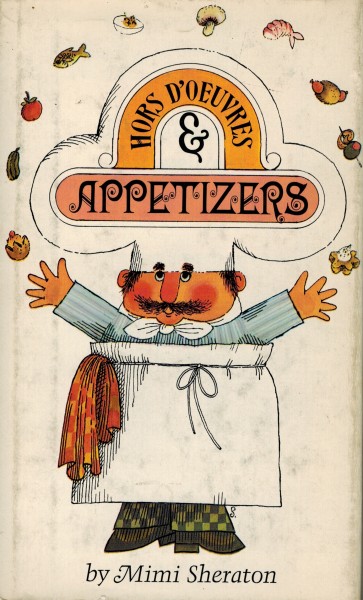 This very small cookbook from 1967 was written by Mimi Sheraton before she was the food critic for the New York Times, a job she began in 1975 and continued for eight years.  This is a little gem of a cookbook that I found a couple weeks ago at a book sale.  I didn't even know it existed.  It was published by Hallmark Cards which makes me wonder if it was sold during the holidays.  I am a fan of Mimi Sheraton cookbooks, my favorite being "Visions of Sugarplums," of which I have the first edition.
Before I give you the recipe for this delicious pasta dish, I must warn you; it's time-consuming to pipe the filling into all those rigatoni's plus there are quite a few dirty dishes.  But it's worth it in the end and I would definitely make it again.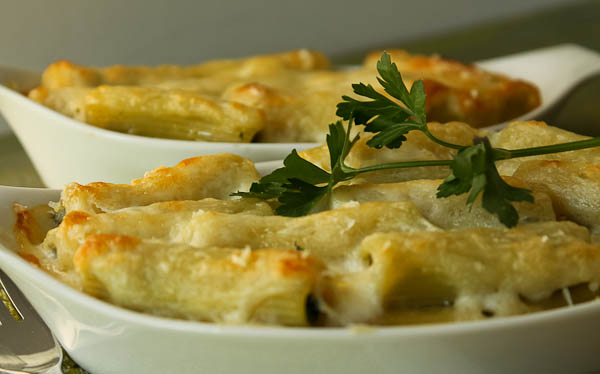 Each rigatoni is filled with a mixture of buttery fresh-cooked spinach mixed with ricotta, freshly grated Parmesan, and a dash of nutmeg.  They are layered with a Parmesan-infused white sauce, more grated Parmesan, dotted with butter, and baked to perfection.  The dish can be served in gratin dishes alongside some meatballs in a red sauce or made in one casserole dish to be served buffet style.  I found that the recipe filled exactly six 1-cup gratin dishes.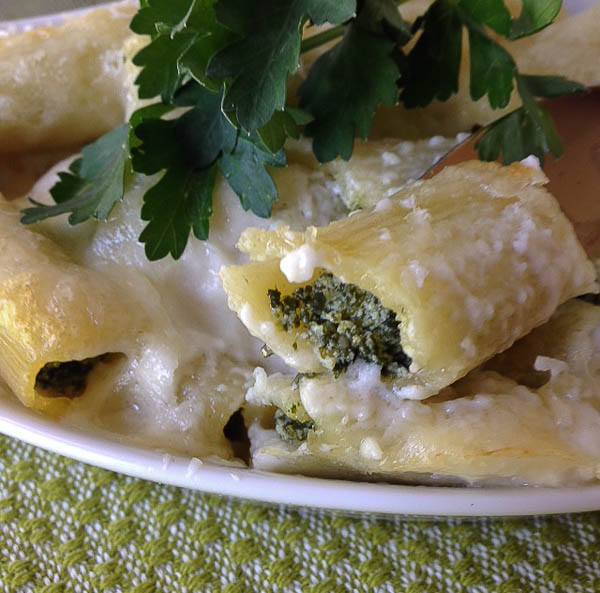 There are many classic hors d'oeuvres featured in the cookbook such as a French country pate, bagna cauda, beef tartar, and deviled eggs.  Others that sounded wonderful include a bleu cheese and chive mousse, coconut shrimp luau, curried lobster quiche, and a Saucisson en Croute using Italian coteghino sausage and Paula Peck's cream cheese pastry dough recipe.  There is a lot packed into this little 60-page book.
Try the Rigatoni Primavera, but set aside a little time for it.  You'll be glad you did.
Rigatoni Primavera
Ingredients
¾ pound rigatoni
Filling:
1-1/2 pounds fresh spinach
3 Tablespoons butter (I used unsalted)
¾ pound ricotta cheese (1-1/2 cups)
1 egg
¼ pound freshly grated Parmesan cheese (about 3 cups)
Dash of nutmeg
Salt, to taste (I used about a ½ teaspoon)
White Sauce:
3 Tablespoons butter (I used unsalted)
2-1/2 Tablespoons all-purpose flour
2 to 2-1/2 cups milk
Salt, to taste (I used about a ½ teaspoon)
Instructions
Cook rigatoni in boiling salted water until al dente.
While pasta cooks, wash spinach well and cook until tender, about 5 minutes, using only the water that clings to the leaves from washing. Drain well in colander, pressing out excess water. Put spinach in a tea towel and twist to squeeze out remaining water. Puree through a sieve or food mill. (I used a food processor). Place spinach in a small saucepan and add 3 Tablespoons butter and simmer for a minute or two. Mash ricotta cheese with spinach, add egg and half of grated cheese. Season with nutmeg and salt. Beat with a wooden spoon until very smooth.
Drain rigatoni and rinse with cold water until cool enough to handle. Using a pastry tube that will fit inside the pasta, fill each rigatoni with the spinach mixture; set aside.
Make the medium thick white sauce by melting the butter in a saucepan, then stirring in the flour to combine. Gradually whisk in the milk until combined and cook until very smooth; stir in salt to taste.
Spoon a layer of sauce on the bottom of six 1-cup gratin dishes, or use a baking dish, 11-by-8", or 12" round baking pan. Add one layer of stuffed rigatoni, another of sauce, some grated Parmesan, and keep alternating until dishes are filled, ending with grated Parmesan. Dot each dish with some butter (I used about 2 Tablespoons total for the 6 gratin dishes). Bake in a 350 degree oven for about 30-35 minutes or until the top is golden brown and the sauce is bubbly.