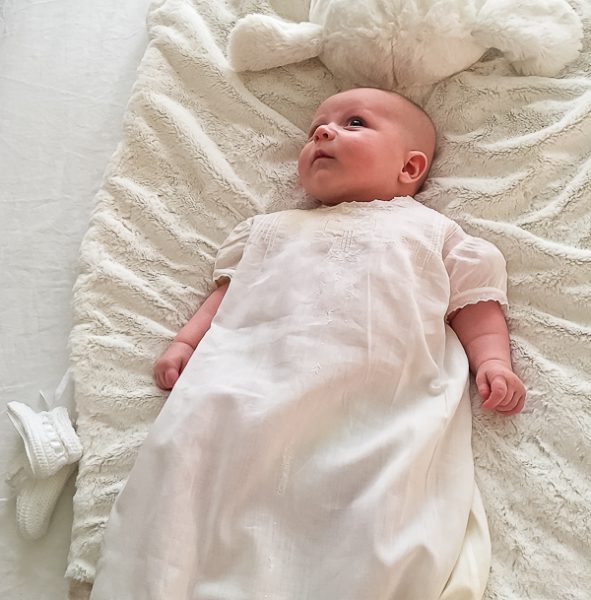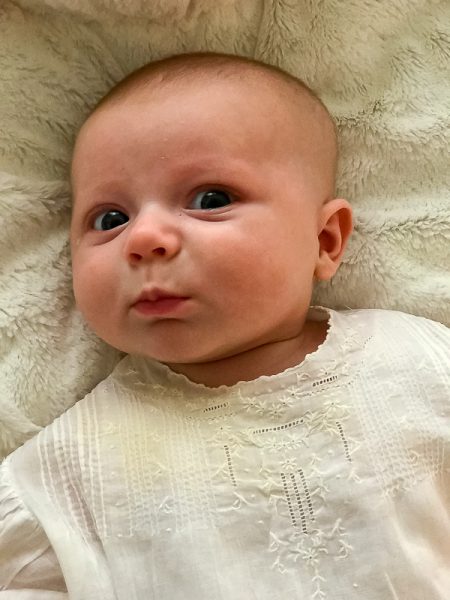 Every time I see a photo of our sweet granddaughter and first grandchild, Virginia Rose, I want to kiss the screen.  My arms actually ache because I want to hold her.  All grandma's who live away from their grandchildren will understand these feelings.  Virginia Rose lives in Mississippi with my daughter Kara and her husband.  Thank goodness there is a short, direct flight from Chicago to Jackson so we will be able to visit often.  Recently, Virginia Rose was baptized in a charming and small Mississippi church that was filled to capacity to celebrate her baptism.  Also baptized the same day was Kara's best friends' baby.  They both gave birth on the same day, at the same hospital, just a few hours apart and a few doors down from each other.  And to make it even more special, the minister is the father of the other baby!  Indeed, it was a special day for both families and the entire church family.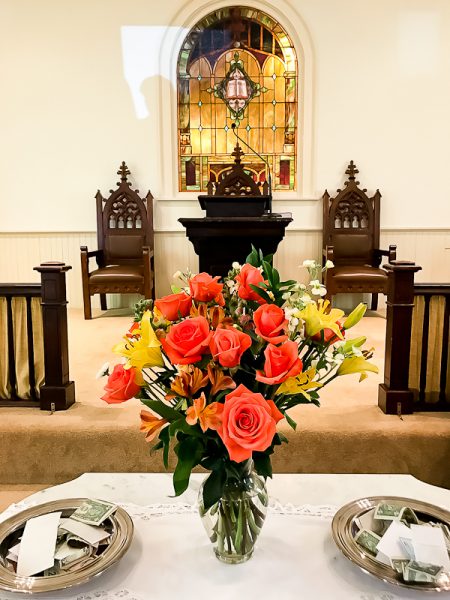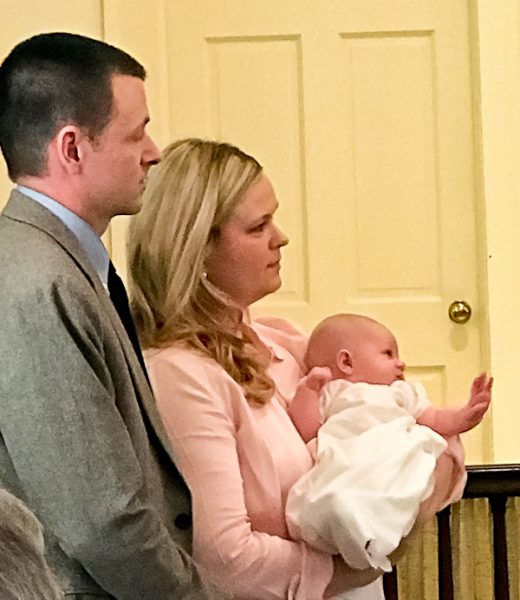 Virginia Rose wore the baptismal gown that was worn by my husband Bill and both of our daughters.  It was yellowed in spots, but Kara loved how it gave the gown character.  It was bought by Bill's Finnish-American aunt who found it at the original Marshall Field's in Chicago.  It is now tucked away awaiting another future grandchild!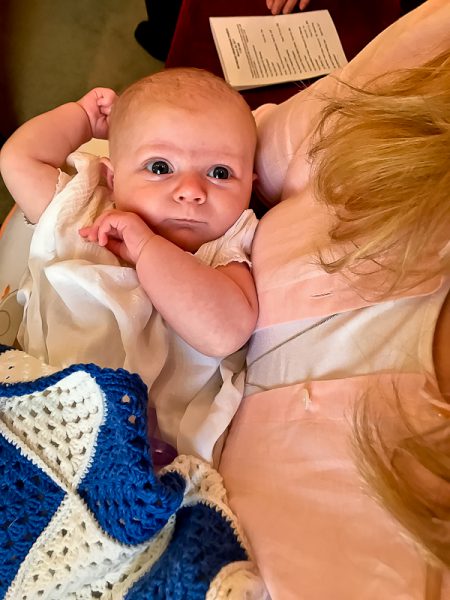 Virginia Rose was wrapped in the blanket made by cousin Leena in Finland, with the colors of the Finnish flag.  The Finns call Virginia "Vivi," the Finnish equivalent, a nickname we love!
After the baptism, a celebration party was in order back at Kara's charming and renovated Southern home, built in 1903.
Kara and Kristina decorated the house the night before with beautiful flowers everywhere.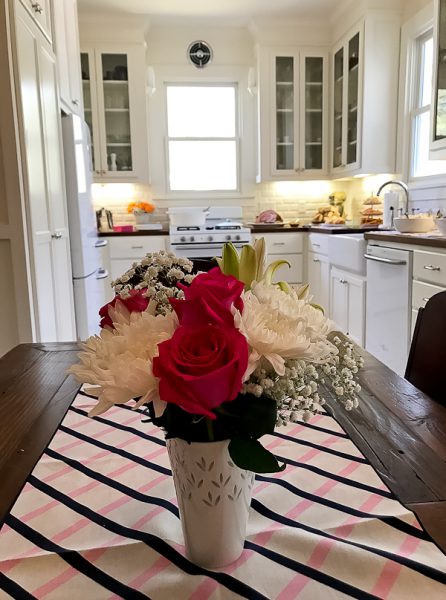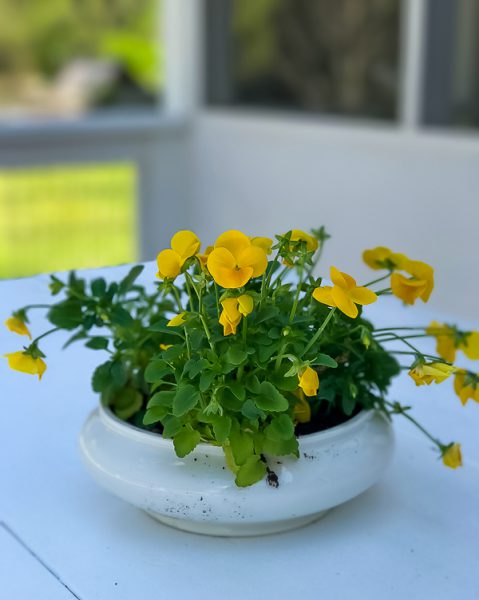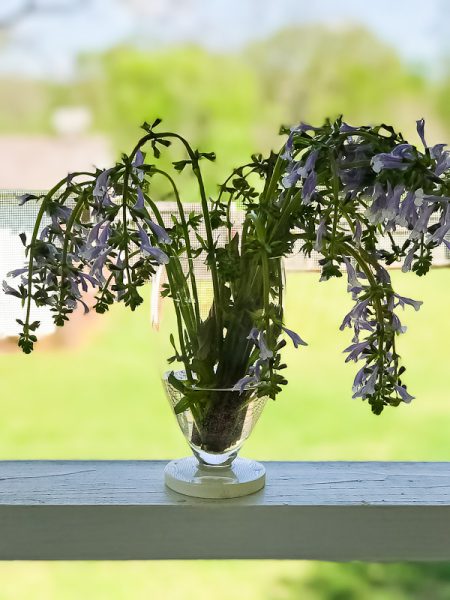 The patio awaits the guests.  If you see the old shed in the background, which is being torn down, it contains a  beautiful but very heavy old portable (and empty) bank vault from the late 1800's that came with the house.  I would have taken a photo of it for you, but who knows what lurks in old sheds…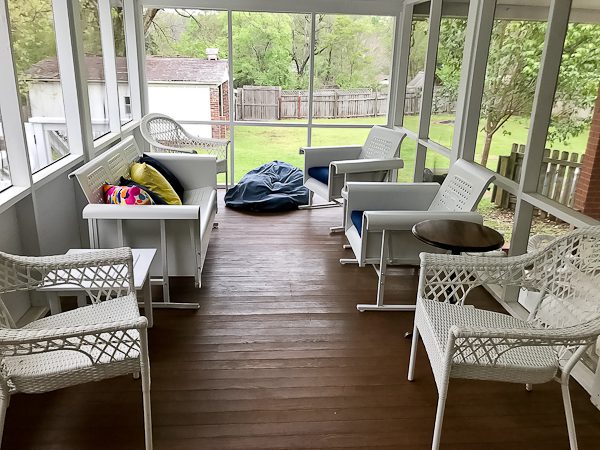 Kristina got busy putting all the prepared dishes out on the counter and table.  We thought she looked quite the part of a Southern lady cook in heels!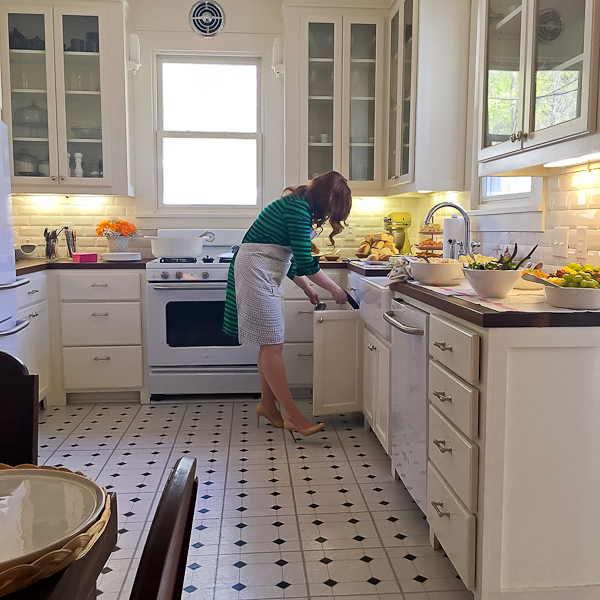 We changed Virginia Rose out of her baptismal gown and into this darling dress that her great-auntie Ellen and Uncle Alan from Oklahoma bought for her.  Now the party could begin!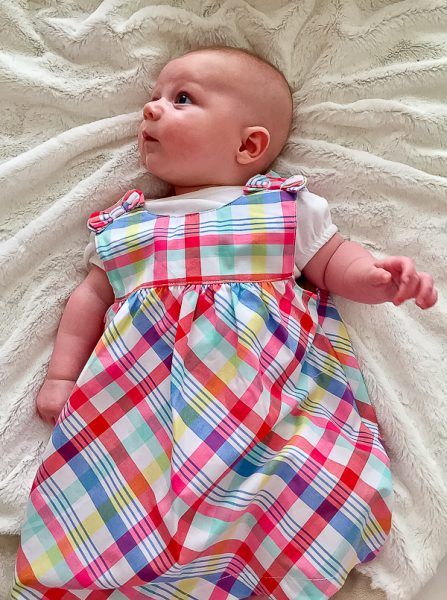 The buffet-style menu was several kinds of salads, ham, breads, cheeses, and cheese straws.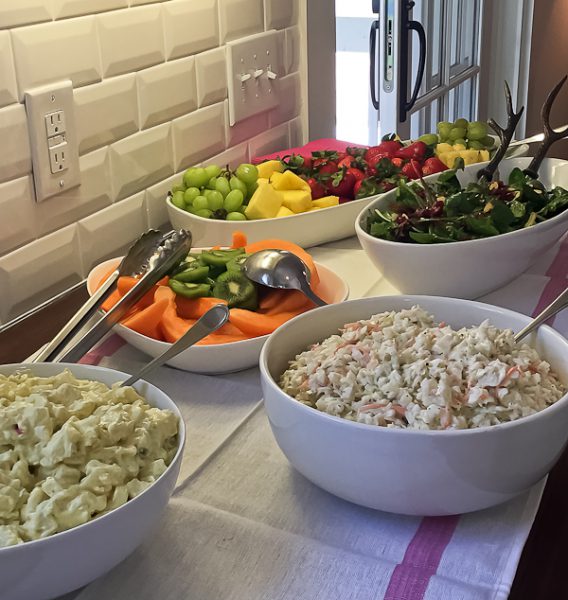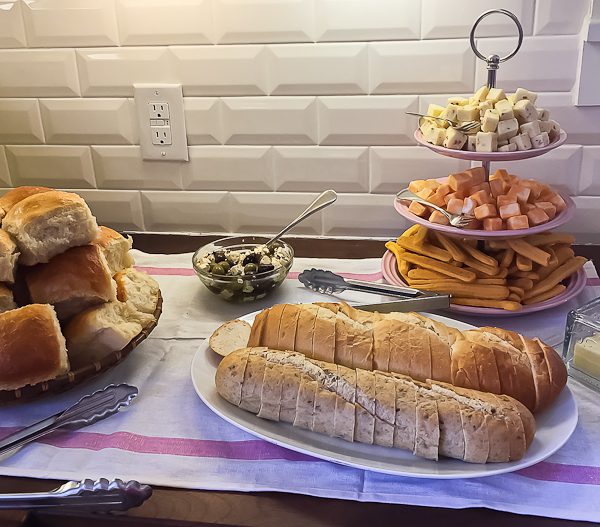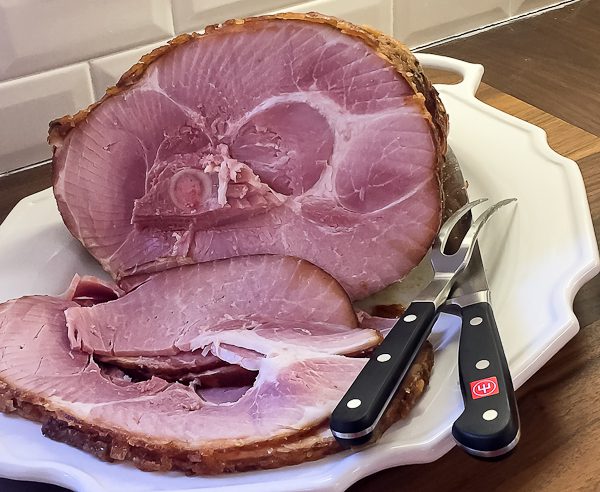 Of course, there had to be a beautiful cake!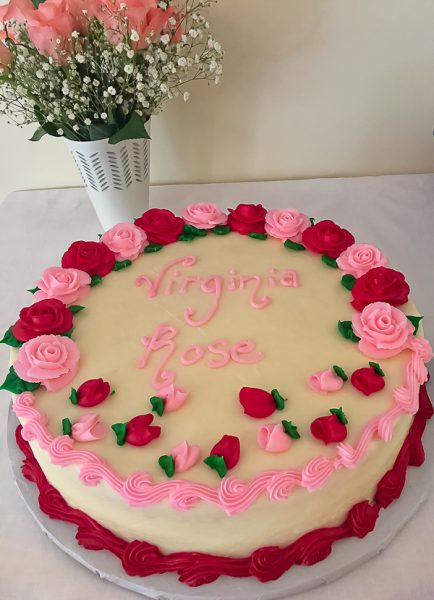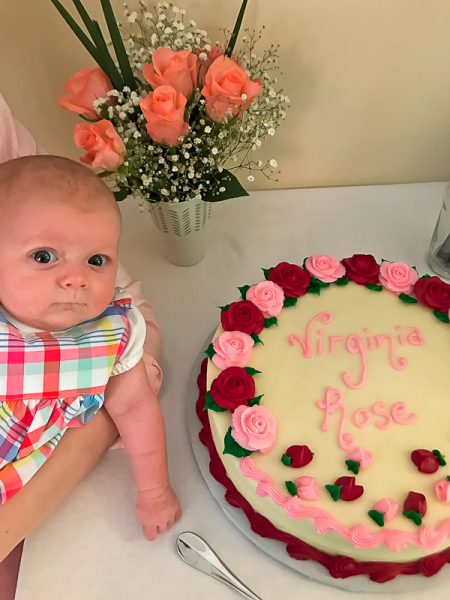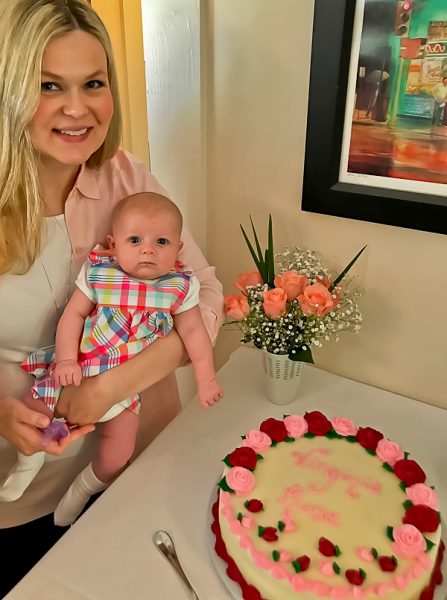 We spent the joyous afternoon with everyone oohing and ahhing over little Vivi, who was by far the hit of the celebration.  She took it all in, wide-eyed and curious about all the people and noises.  Later when everyone was gone, she slept like an angel, wrapped once again in a blanket made by more Finnish cousins, Anna, Eeva, and Liisa. I think Virginia Rose is very blessed and very well-loved, don't you think?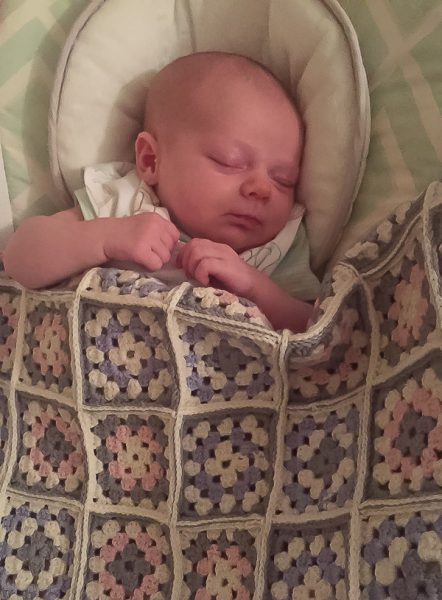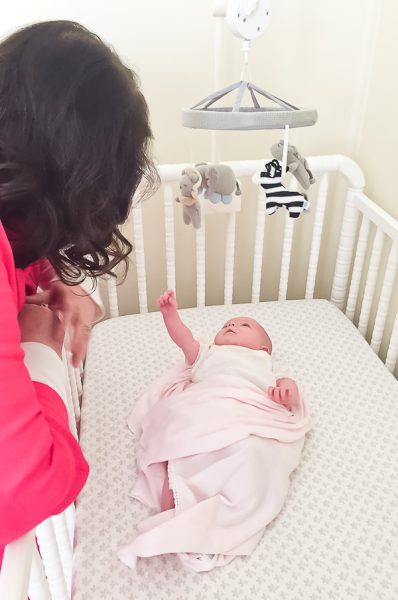 (That's me, grandma, with our precious girl)