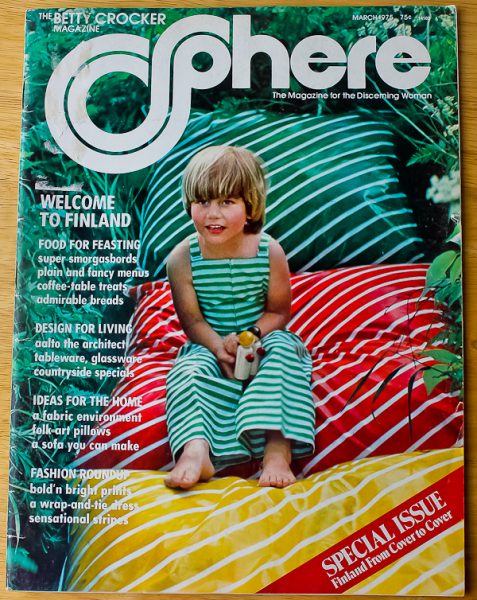 Tervetuloa!  Welcome.  You will see this greeting posted on many a Finnish door or mat.  Finns can be on the shy and quiet side, but always love welcoming guests into their homes.  I have been waiting for this issue of Sphere to come into the timeline of my monthly reports because the entire issue is dedicated to Finland.  If you are one of my faithful readers, you already know that my husband's side of the family is from Finland.  He has many relatives there and we have had the joy of visiting them in Finland, and many have also come to visit us here in the USA.
Even though this issue is from way back in 1975, so many things written are exactly the same as today.  The traditional foods are just as we tasted, many of the same designers are still active, and of course the country is as beautiful as ever, but even more vibrant and prosperous.  The Finnish theorem has always been simple and practical, yet beautiful, functional, and sophisticated. Finns enjoy the gifts of nature from the landscape to the food.  Forests cover about 3/4 of the country and there are 60,000 lakes.  There are plenty of saltwater and freshwater fish, endless varieties of wild berries, incredible dairy products (our family owns an organic dairy farm), and hearty grains for the best breads you will ever taste.
Photos of the family dairy farm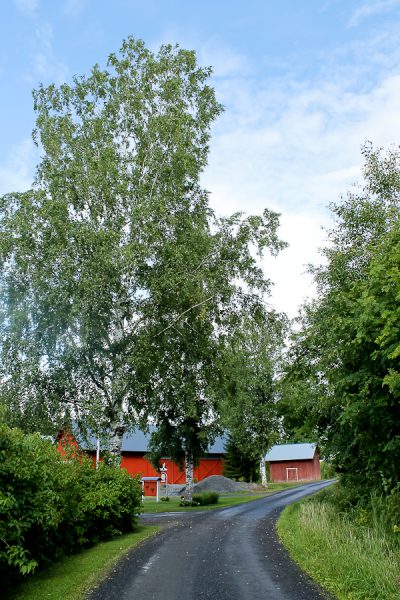 First thing one must learn about Finns and Finland is the sauna, the little wooden bathhouse found in just about every home and hotel.  In fact, some say that Finns will build their sauna before they build their house; that's how important it is to their culture.  This issue of Sphere dedicated an article to the sauna.  Enjoying the sauna experience is usually a bi-weekly ritual.  Sitting in a sauna to sweat out dirt and strain is basically what a sauna is all about.  A sauna quickens circulation, rids the body of toxins, and induces a condition of mellowed relaxation.  Finnish politicians even invite their foreign counterparts to the hospitality of a sauna experience, where they find hostility tends to melt away.  (Hmmm…. should our politicians try this method?)  The national slogan might be, "Whatever the problem, sweat it out." There is also a Finnish saying that a woman looks most beautiful an hour after a sauna.  A true sauna participant is undeterred by weather, and in winter will take a fast roll in the snow or plunge into a special hole in the ice called the "avanto." The claim is you come out loving the whole world!  Another fun part of the sauna is that while in the sauna, special sausages called "makkara" are wrapped in foil and placed near the hot rocks to warm up to enjoy eating after the sauna is completed.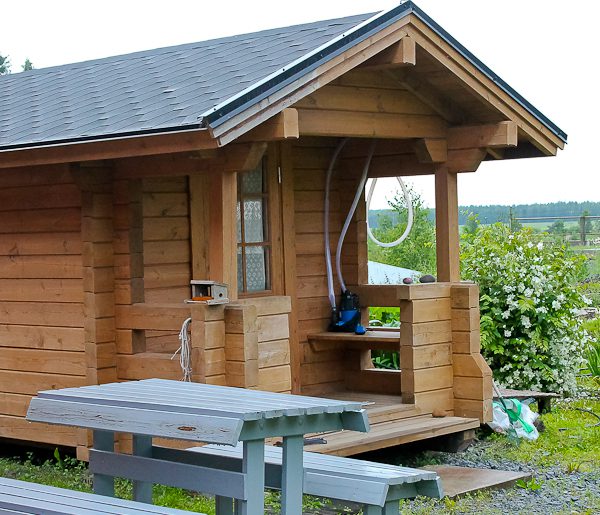 This is the sauna on our family's farm in Finland.  My husband's grandmother was actually born IN a sauna on this very property. That particular sauna is long gone, but the family knows exactly the spot where it stood.
Now for the fun part, and the majority of the magazine articles – the food!  Oh, the food.  If you want a true experience of local, fresh, farm-to-table, and everything wonderful you read and hear about organic and made from scratch, then you must visit a home in Finland.  There is truly nothing like it.  When we visited our family, the tiny potatoes were pulled from the ground an hour before being boiled, berries were on bushes outside the door, mushrooms foraged from the woods, bread freshly baked, and the best organic milk I have ever had in my life, right from the barn a few steps away.  In Finland, food is valued.  Finnish cooks treat it with respect.  They delight in making regional specialties, one being the delicious Karelian Pies, little open-faced hand pies with a thin rye crust, a rice filling, and spread with an egg butter, usually served on the side.  The pies are found everywhere in Finland.  They are time-consuming to make and take a lot of practice to get the dough super thin and the just the right fluting of the crust, but so delicious.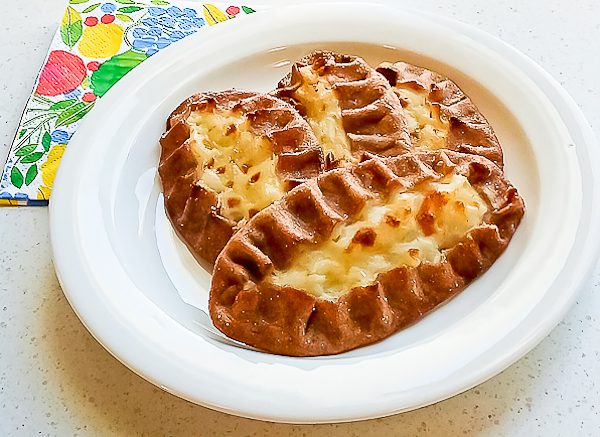 When we were in Finland, we discovered very quickly that at 4:00 everything stops.  Suddenly there is movement in the kitchen.  Coffee cups appear, a lavish spread of breads, pastries, smoked salmon, quiches, and other treats are placed on beautiful dishes on beautiful linens or mats on the table, which will have wildflowers in tiny vases.  Everyone sits down and enjoys the food and each other.  How I missed coffee time when we returned home.  Coffee time is a tradition throughout Finland and is as sacred as the sauna.  Meal times are different and I came to get used to it and even preferred it to our American "three squares a day" concept.  Finnish breakfasts are large and hearty with a mix of savory and sweet, like smoked salmon on rye with a spread of cream cheese and topped with dill, sliced tomatoes, and cucumber, and maybe a little pastry with some jam in the middle.  No lunch, but then coffee time.  No big dinner, but maybe a cup of soup or something very small later.  I was afraid to step on the scale when I got home and was pleased to find that this method of eating actually resulted in a three-pound weight loss!  Here are a few favorite coffee time treats: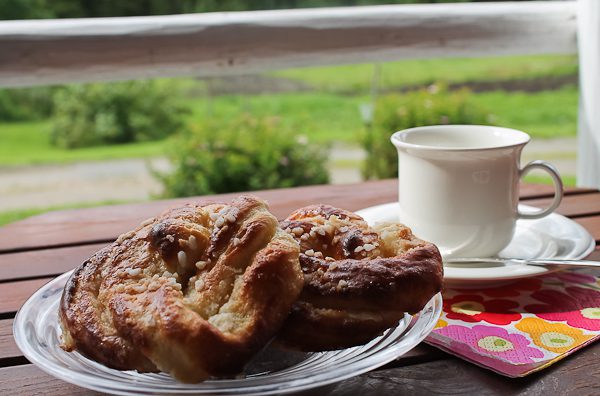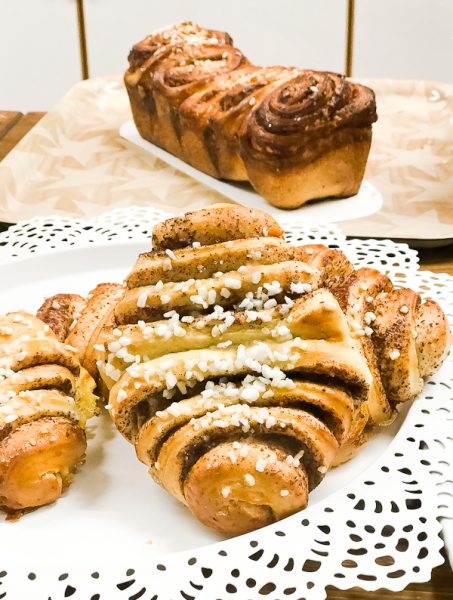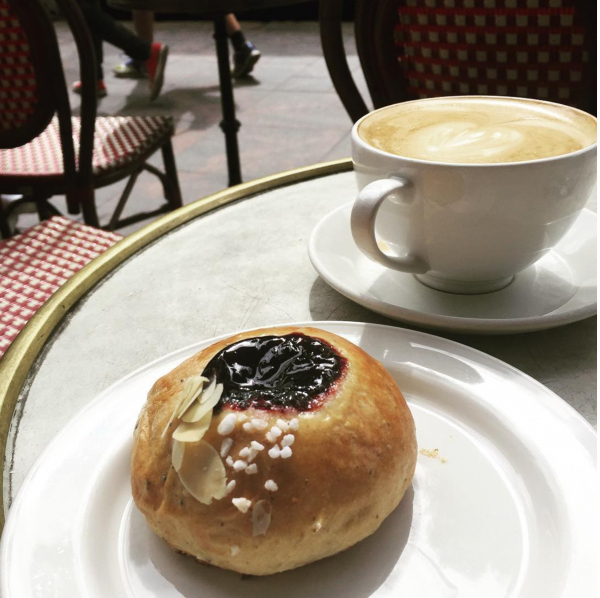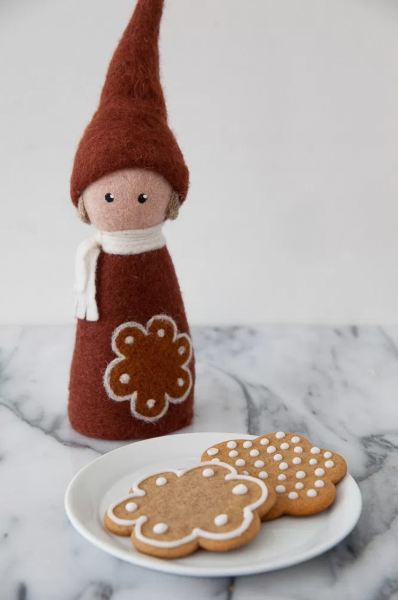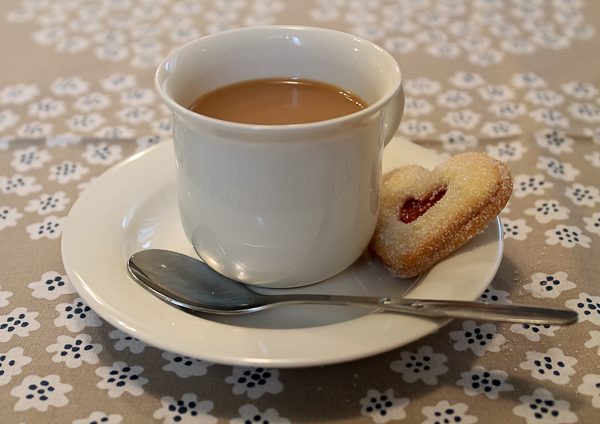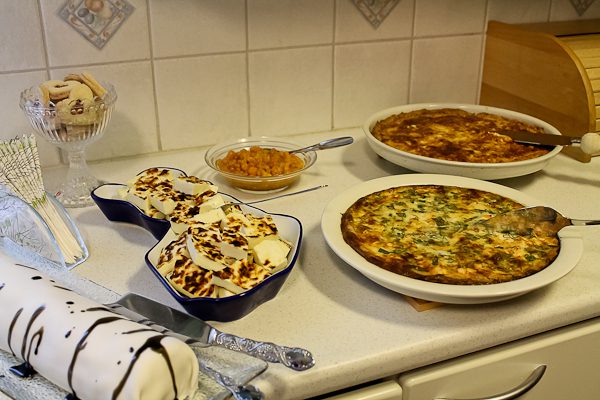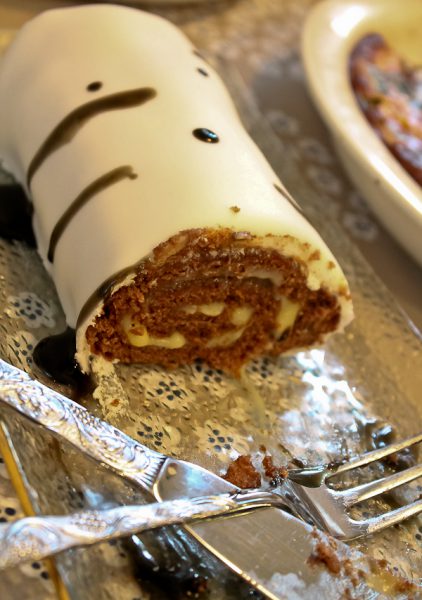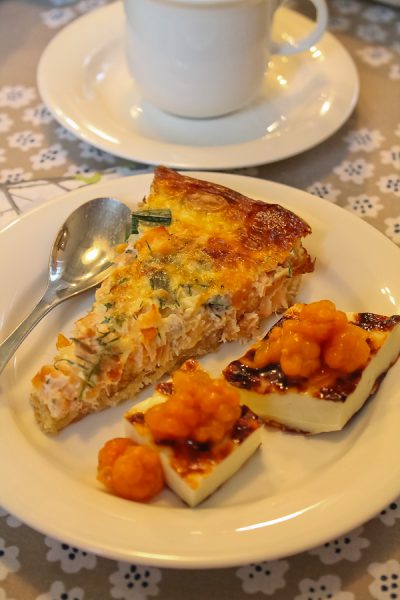 I loved every single item, but especially the homemade cheese seen above topped with the beautiful cloudberries.  The cheese is called Juusto or "squeaky cheese," and it is broiled at a special fireplace inside the house.  The wedge is a fabulous salmon quiche.  Speaking of salmon, it can even be found to buy freshly caught by local fisherman in the parking lots of grocery stores.  He'll even cook it for you!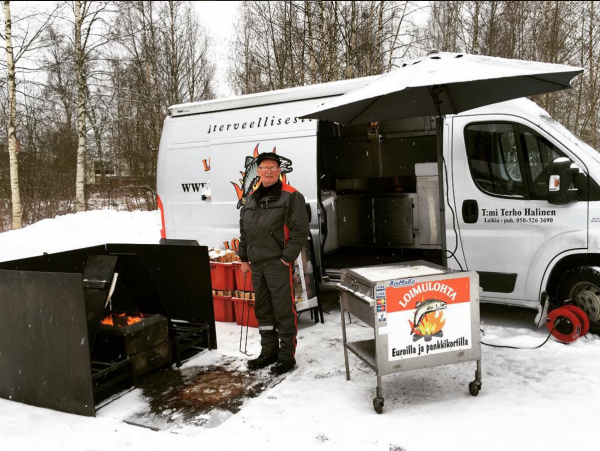 Another article in the magazine is all about Finnish breads, leipa. In Finland, breads are natural, healthy, hearty, delicious, and mostly rye.  A favorite rye is round and flat with a traditional hole in the middle, poked with little holes, and wonderfully crusty.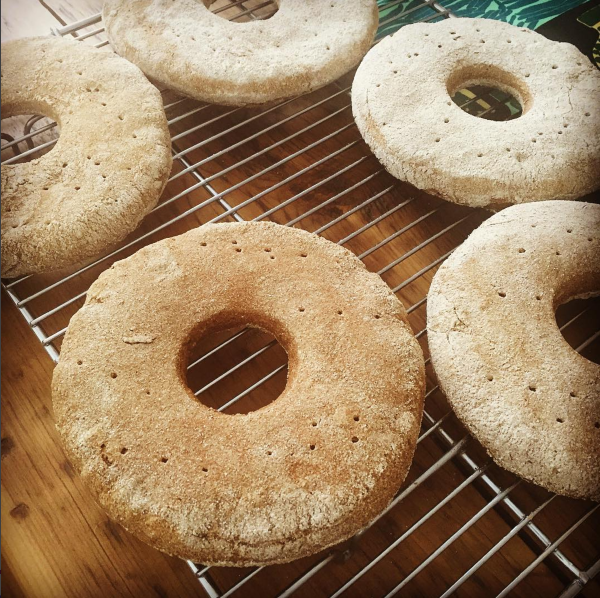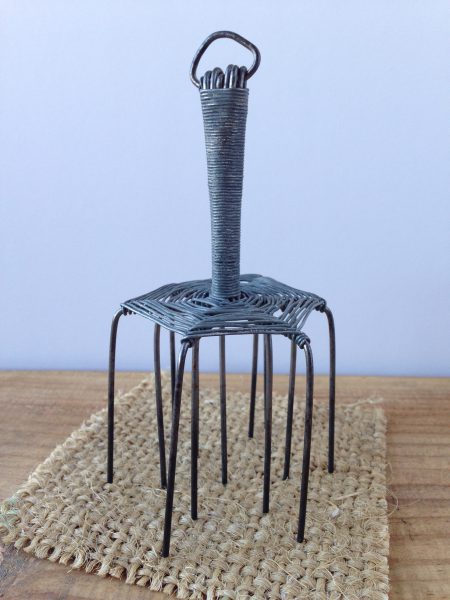 This odd-looking gadget is used to make the tiny holes in the bread before baking.
Rye bread is also made into rounds and loaves, all wonderful, served with butter or homemade jams.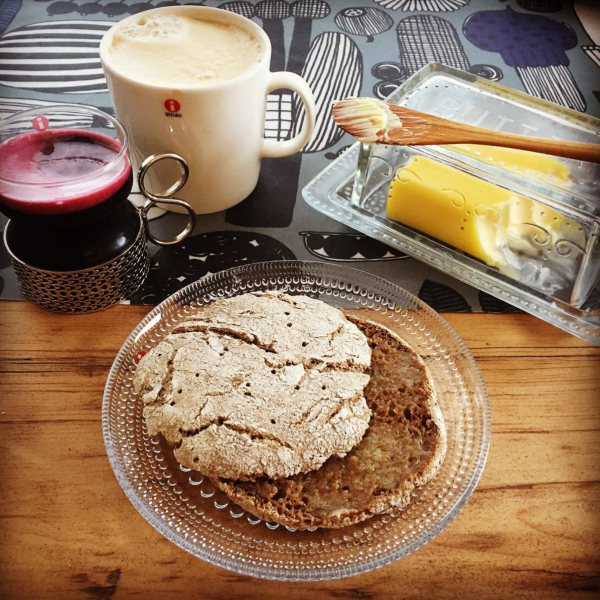 I love everything about Finland and miss it so much, but beyond anything I miss our family there.  They are all the most loving, giving, warm people you will ever meet.  Reading this issue of Sphere made me miss them even  more.  They have had such an influence on us, that our daughter Kristina is working on a cookbook of our Finnish family recipes.  She has traveled to Finland for every season of the year to make the dishes seasonally.  You can follow the adventure along with her team at HomeFarmLife . There are dozens of recipes in the magazine, way too many to give you here, but here is a traditional Finnish ginger cookie that was seen in a photo above and another here.  They are great without the icing too.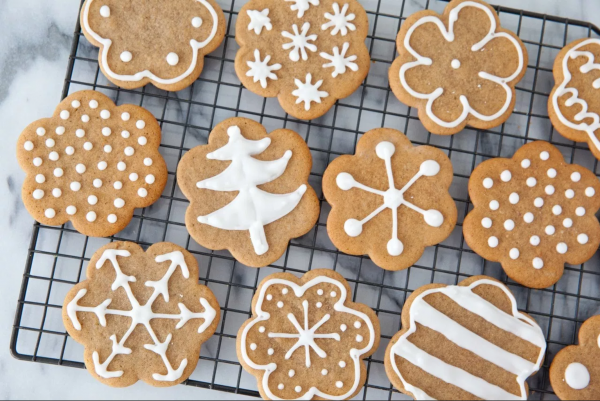 Finnish Ginger Cookies
Author:
Sphere Magazine, March 1975
Ingredients
¼ cup butter, softened
¼ cup packed dark brown sugar
¼ cup whipping cream
¼ cup molasses
1-1/2 teaspoons ground ginger
1-1/2 teaspoons ground cinnamon
½ teaspoon baking powder
¼ teaspoon salt
1-1/2 to 1-3/4 cups all-purpose flour
Instructions
Mix butter, sugar, cream, and molasses in mixing bowl. Stir in remaining ingredients; cover. Refrigerate at least 3 hours.
Heat oven to 375 degrees. Divide dough into 4 parts. Roll each part ⅛-inch thick on lightly floured cloth-covered board. Cut into 2-1/2 inch circles with a scalloped cookie cutter. Place 1-inch apart on greased baking sheets or lined with parchment.
Bake until light brown, about 8 minutes. Cool on wire rack. Makes about 3-1/2 dozen.