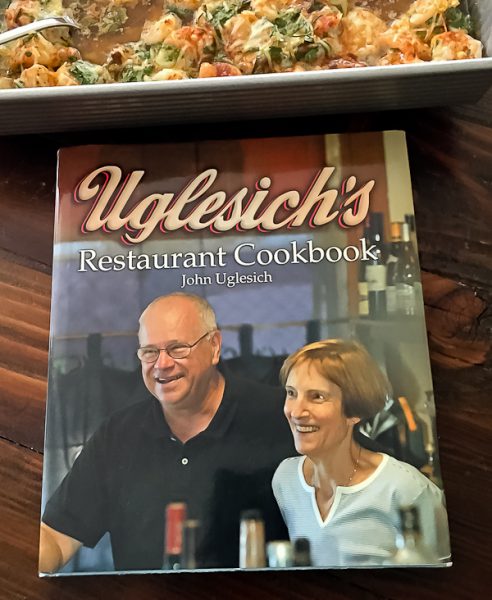 Uglesich's Restaurant in New Orleans at the corner of Baronne and Erato streets was legendary.  Founded in 1924,  Uglesich's (pronounced yoo-gul-sich) had a loyal and very devoted following for more than eighty years before closing.  In 1920, Sam Mate Uglesich came to New Orleans from Yugoslavia and found work in the restaurant business, and in four years saved enough money to open his own seafood and po'boy restaurant.  He sold the restaurant to his son and daughter-in-law in the 1960's.  Anthony and Gail Uglesich worked there together since their marriage, and closed the restaurant together.
The Uglesich's worked hard all those years, serving fresh and local ingredients and never skimping.  No corners were cut when it came to ingredients.  They arose early in the morning to make all the sauces with Gail measuring everything by the teaspoon.  It was real home cooking.  There was nothing fancy about the restaurant with its ten formica-topped tables sitting on cement floors in a single room.  But it was all about the food and the lovely people who made it the legend it was for decades and is sorely missed by many.
I learned of this marvelous cookbook while visiting my daughter Kara and family last week in Mississippi.  We were there for the baptism of our first grandchild (blog to follow later on that!) and I saw the cookbook sitting on the kitchen counter.  Kara declared it one of her favorite cookbooks and said she wanted to make her favorite recipe from the book, Baked Shrimp with Garlic.  I turned to the page and had to laugh.  When it came to cookbooks, my daughter had become her mother.  There was the beloved recipe, with scribbles all over the page with her comments and memories.  I had a proud momma moment…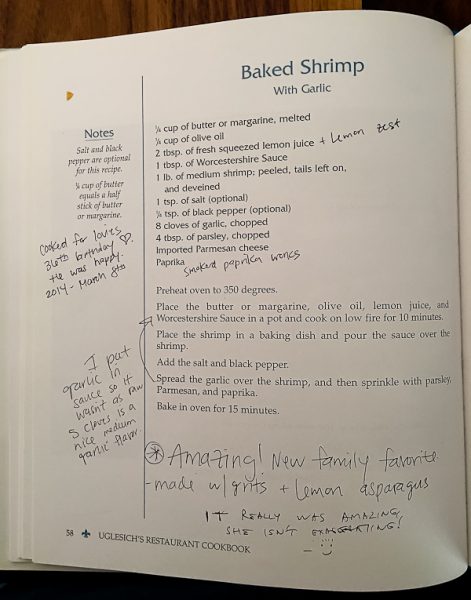 Of course, with a two-month old baby, Kara was rather busy so she asked me to peel and devein the shrimp and asked Kristina to make it.  Kara wanted to serve it with grits, but it can also be served with a nice warm loaf of French bread for dipping into the buttery, garlic sauce.  Oh my, it was good.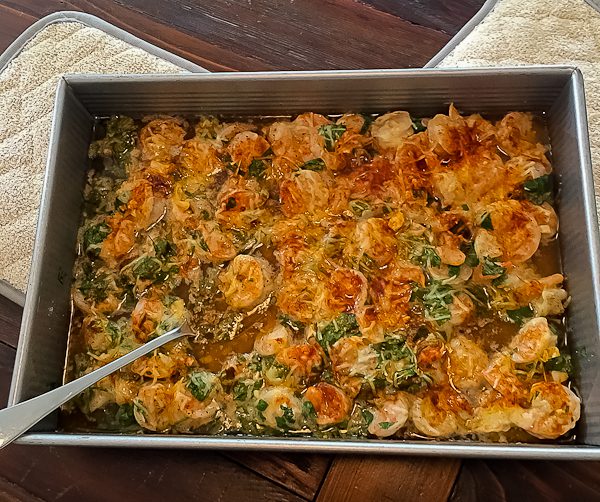 Baked Shrimp with Garlic
Author:
Uglesich's Restaurant Cookbook
Ingredients
¼ cup butter, melted
¼ cup olive oil
2 Tablespoons freshly squeezed lemon juice (Kara likes to add some zest too)
1 Tablespoon Worcestershire sauce
1 pound medium shrimp; peeled, deveined, tails left on
1 teaspoon salt
¼ teaspoon black pepper
8 cloves garlic, chopped
4 Tablespoons chopped parsley
Imported Parmesan cheese, grated
Paprika (Kara sometimes uses smoked paprika)
Instructions
Heat oven to 350 degrees.
Place the butter, olive oil, lemon juice, and Worcestershire sauce in a pot and cook on low heat for 10 minutes.
Place the shrimp in a baking dish and pour the sauce over the shrimp. Add the salt and black pepper. Spread the garlic over the shrimp, then sprinkle with parsley, Parmesan, and paprika.
Bake for 15 minutes. Serve with grits and/or hot crusty bread.