My husband Bill's birthday is July 5th, so naturally when he was young, he used to believe that the fireworks on July 4th were a preview for his birthday.  Oh, wait… he still does..
Needless to say, to Bill it's a happy time and his birthday goes on for several days. He always requests something different for a treat each year, and this year it was his childhood favorite cookie, Chocolate Top Oatmeal Cookies.  I am not sure where his mom found the recipe, but it appears from the yellowed recipe that it was from a magazine.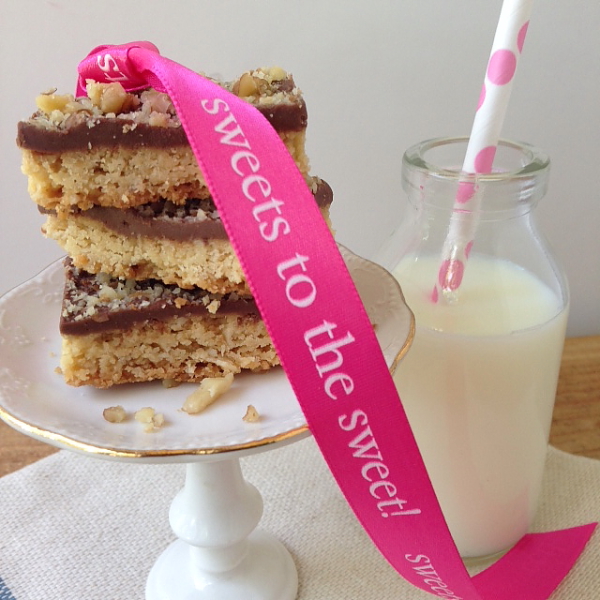 The base is wonderfully buttery, and how can you lose with melted Hershey bars for a topping?  I think they taste better the next day, but I have yet to see Bill wait.  However, they must at least cool and the chocolate needs to harden; then good luck having your own cookie monster wait.  Cut into desired-sized bars and serve.  I won't even tell you the size bar Bill cuts…
Chocolate Top Oatmeal Cookies
1 cup salted butter, room temperature
1/2 cup packed light brown sugar
1/2 cup granulated white sugar
2 egg yolks
1 cup sifted flour
1 cup old-fashioned rolled oats
6 (1 ounce each) Hershey's milk chocolate bars* separated into small pieces (see note below)
2 Tablespoons butter
1/2 cup finely chopped walnuts
Heat oven to 350 degrees F.  Grease and flour a 9-by-13-inch baking pan; set aside.
In bowl of electric mixer, cream together 1 cup butter and the sugars thoroughly.  Beat in egg yolks.  Add flour and rolled oats and mix well.  Spread evenly into prepared pan.
Bake for 20-25 minutes or until deep golden in color.  Remove from oven and let cool on a rack for 10 minutes, no longer.  The base must be slightly warm in order for the chocolate mixture to spread quickly.
Melt the chocolate and 2 Tablespoons butter together in a small pan over low heat, stirring constantly until just melted. Quickly spread evenly over oatmeal base to the edges.  Sprinkle with the chopped walnuts.
Let cool completely on wire rack until chocolate hardens.  Cut into 1-1/2 inch bars to serve.  Store between pieces of waxed paper in airtight container.  Makes 48 bars.  (unless you are Bill)
*Note:  Since this is an old recipe, maybe that's why I couldn't find 1 ounce Hershey bars.  Instead I used 4 bars of the milk chocolate that are 1.55 ounces each and it worked just fine.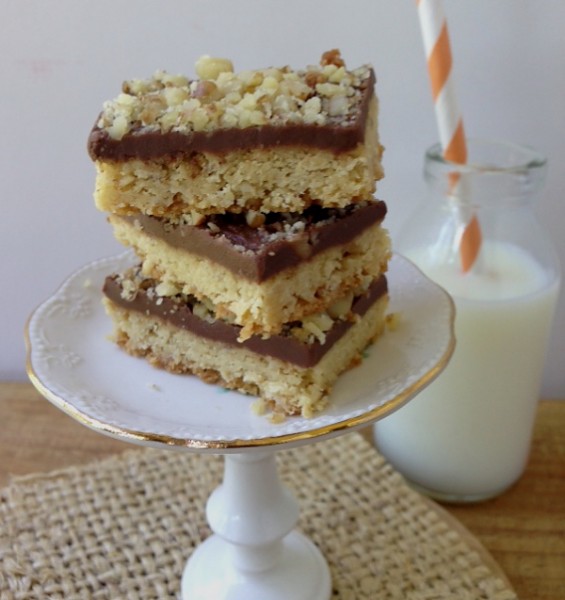 Betcha can't eat just one.