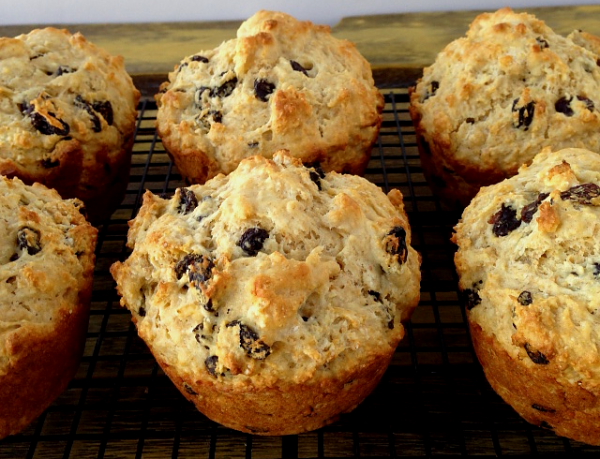 I love Irish soda bread and like to try a new recipe every year for St. Patrick's Day.  This year I thought I would try it in the form of over-sized muffins and we loved them!  The dough is part whole wheat, and the addition of buttermilk always makes them moist.  They are best served warm with lots of butter, but they can be made ahead and stored in an airtight plastic bag and reheated before serving.
Irish Soda Bread Muffins
1-1/2 cups all-purpose flour
1 cup whole wheat flour
2 Tablespoons sugar
2 teaspoons baking powder
1/2 teaspoon baking soda
1/2 teaspoon salt
2 Tablespoons unsalted butter, cut into bits;  room temperature
1 cup dark raisins
1-1/4 cups buttermilk
1 large egg
1 teaspoon grated orange zest (optional)
Heat oven to 400 degrees.  Grease (or use cooking spray) a six-cup over-sized muffin tin.
In a large bowl, whisk together flours, sugar, baking powder, baking soda, and salt.  Add butter to bowl and using your fingertips, blend the butter into the flour until crumbly.  Stir in the raisins.
In a medium bowl, whisk together buttermilk, egg, and orange zest until well blended.  Add to flour mixture and stir just to blend.  Spoon batter evenly into prepared muffin cups.  Bake muffins until a tester comes out clean when inserted into the center, about 18-20 minutes.  Remove muffins from pan and serve warm with butter.
Look at all those beautiful plump raisins!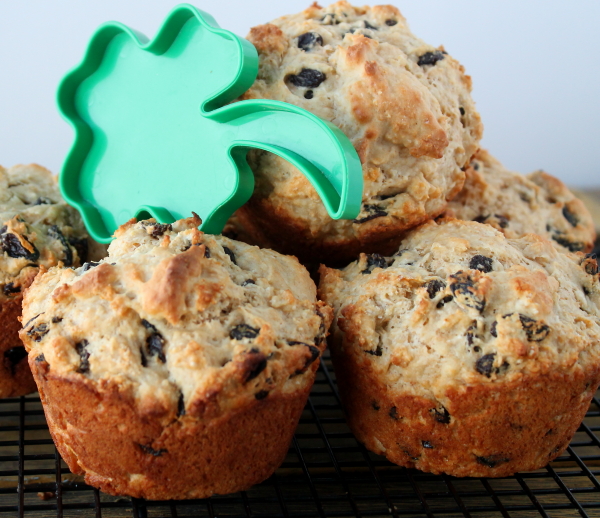 Happy St. Patrick's Day!!