Living in the Midwest, it truly isn't summer, tailgates, or picnics without someone bringing bratwurst.  People all over the country may love brats, but in the Midwest it's practically a religion.  And Wisconsin? Well, nobody knows brats better than Wisconsin, specifically Sheboygan County, the brats capital of the world, and home to the 62nd Annual Brat Days, coming up in Sheboygan on July 30 through August 1st.
The Festival features a carnival, parade, live entertainment, the "Brat Trot" for runners and walkers, and food that is "Brat-Fastic."  The food includes grilled brats as far as the eye can see, brats-on-a-stick, brat pizza, brat egg rolls,  and brat tacos, quesadillas, and nachos.  For dessert that is not a brat, is another Wisconsin tradition, the Cream Puff.
Before you try all the ways to cook and eat brats, first be familiar with how to prepare a basic brat link.  First of all, don't ruin it by having the heat too high or by sticking it with a meat fork.  Never puncture a brat. Ever.  Slow-cooking over medium heat is the key to its juicy goodness.  If you are grilling brats for a crowd, learn to create a "brat hot tub."  You will need an 8-by-4-1/2 inch aluminum foil baking pan per dozen brats.  First heat the grill.  Pour three cans of beer into the foil pan that you have placed on the grill along with 2 Tablespoons of unsalted butter and one small sliced onion.  Grill the brats next to the pan and either serve immediately or place them in the steaming hot tub of beer ingredients.  If people want seconds or thirds, or people show up late, they can grab a brat out of the hot tub.
Johnsonville Sausage is one of world's leading makers of bratwurst.  It's sold all over the USA and in over 40 countries.  They also have this wonderful cookbook.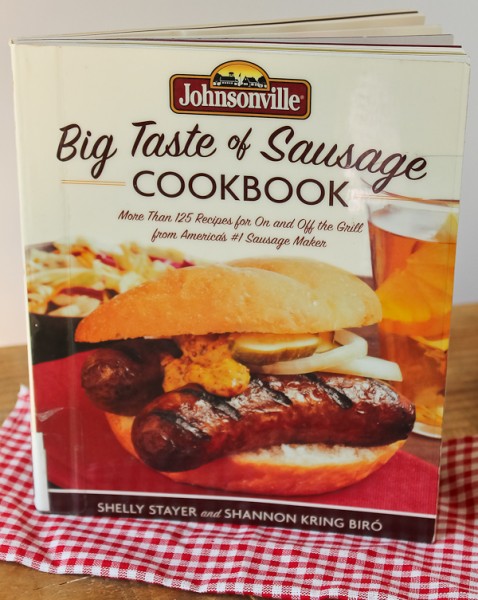 Grilling whole brats is probably the most well-known and popular way to serve brats, but you will be amazed at all the meals you can make with crumbled up bratwurst meat out of the casings.  There are recipes for Wisconsin grilled cheese and brats soup, a Cajun pepper soup with garlic croutons, a hearty rustic German soup with brats, and another hearty German soup with bratwurst meatballs.  Brat chili, gumbo, Irish stew, Reuben pizza, strudels, tacos, burritos, taquitos, and so many more dishes made with bratwurst meat.  I decided to try the "Smoky Joes," using bratwurst meat, onions, mushrooms, and barbecue sauce, served topped with cheddar cheese.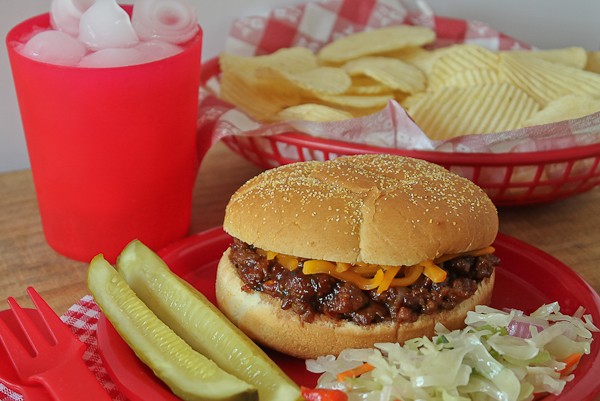 It was really good!  I served it with potato chips, cole slaw, pickle spears, and sparkling water, although my husband preferred a beer.  If you decide to simply grill some whole brats this summer, just remember, no puncturing with a fork!  Or go and enjoy Brat Days and let them do the cooking for you.  Enjoy the summer!

Smoky Joes
Author:
Johnsonville Big Taste of Sausage Cookbook
Ingredients
One 19-ounce package Johnsonville Bratwurst Links* (casings removed)
2 teaspoons olive oil
1 small yellow onion, sliced
1 cup sliced fresh mushrooms
1-1/2 cups of your favorite barbecue sauce
6 Kaiser rolls, split
1-1/2 cups shredded sharp cheddar cheese
*You can also use Hot 'n Spicy Bratwurst, or even hot Italian sausage, if desired
Instructions
In a large skillet, cook and crumble the sausage over medium heat until browned. Remove meat from pan and drain on a paper towel-lined plate; set aside.
Wipe out pan with a paper towel, then add olive oil to pan. Add onion to pan and saute until translucent, about 2 minutes. Add mushrooms and saute 3 minutes. Add drained sausage and barbecue sauce to pan. Simmer until hot, about 5 to 8 minutes. (add more barbecue sauce if you think it needs a little more).
Spoon sausage mixture onto the bottom half of each roll. Top each with cheese and the top half of bun. Serves 6.