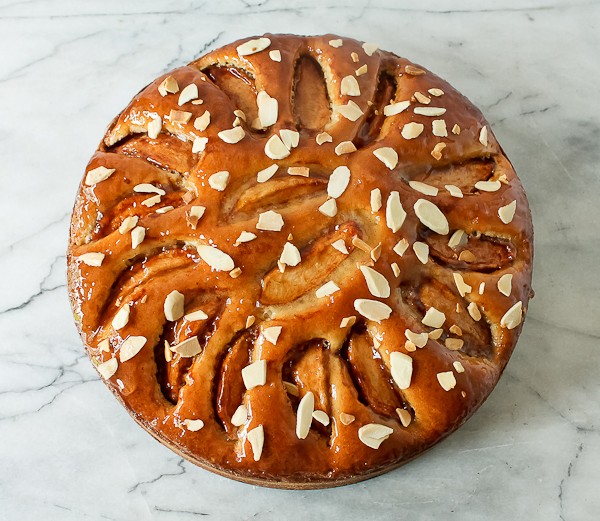 This gorgeous apple cake has been a family favorite for many years.  I won a grand prize in a baking contest over twenty years ago with this recipe and we still enjoy it every fall.  There is something about glazing the top with melted apple jelly that makes it look so inviting.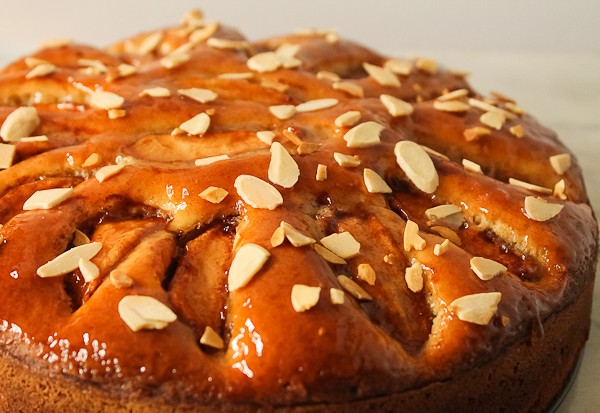 The cake is baked in a springform pan so it has beautiful straight sides and a distinctive top.  The cake itself is a fluffy and moist butter cake with a little almond extract, although you can use vanilla if preferred.  Fresh apples wedges are tossed with cinnamon-sugar and pressed into the top before baking.  The melted apple jelly is brushed on the warm cake and sprinkled with toasted almonds.  It can be served warm or cooled, and with whipped cream or a scoop of ice cream, if desired, or just by itself.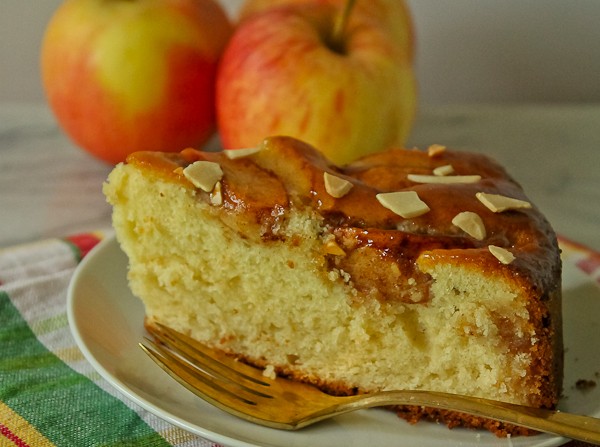 It's apple season!  There is so much to bake and have the house smell wonderful.  Start with this or one of your family favorites this weekend.

Jelly-Glazed Apple Cake
Ingredients
3 medium-sized apples
2 Tablespoons sugar
1 teaspoon cinnamon
2 cups all-purpose flour
1-1/2 teaspoons baking powder
¼ teaspoon salt
¾ cup (1-1/2 sticks) unsalted butter, room temperature
1 cup sugar
3 eggs
1 teaspoon almond or vanilla extract
½ cup sour cream
¼ cup apple jelly
2 Tablespoons sliced almonds, toasted
Whipped cream or ice cream, for serving (optional)
Instructions
Heat oven to 350 degrees. Grease a 9-by-3-inch springform pan.
Pare apples and cut each into 6 wedges; remove cores. Place wedges in a bowl and sprinkle with the 2 Tablespoons of sugar mixed with the 1 teaspoon of cinnamon. Toss until wedges are coated; set aside.
Sift together flour, baking powder, and salt; set aside.
In large bowl of electric mixer combine butter, 1 cup sugar, eggs, and almond or vanilla extract. Beat at high speed, scraping often, until mixture is very light and fluffy, about 3 to 5 minutes. Stir in half of flour mixture and beat on low speed until just combined. Stir in sour cream until combined. Add rest of flour, mixing until well blended. Pour batter into prepared pan.
Arrange the coated apples on top of batter, slightly pushing pieces partly into batter, just enough to anchor them. Bake for 50 to 60 minutes or until a tester inserted into the center comes out clean and the sides have started to pull away. Remove from oven and place on a wire rack for 10 minutes. A few minutes before the 10 minutes is up, melt the apple jelly in a small pan or skillet over medium-low heat, stirring constantly, until completely melted. Carefully loosen the cake around the edges with a knife, release the spring and carefully lift off side of pan. Using a fine pastry brush, brush the entire top of cake with hot melted jelly, trying to keep jelly from running over edges. Sprinkle top with toasted almonds. Serve warm or cooled by itself, or with whipped cream or ice cream, if desired.