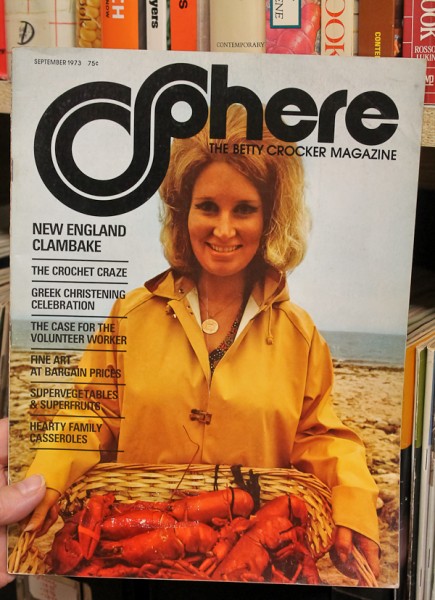 In every issue of the vintage Sphere magazines, there was almost always a section in celebration of an ethnic dinner.  It would include full menus and a timetable for preparation, table decoration ideas, history or interesting facts about the selected country or area, and even clothing to wear, sometimes with patterns.  In addition, even music (records, of course!) was available for purchasing to liven up your dinner party.  The theme for this issue was a Greek dinner party complete with Saganaki (flaming cheese), Avgolemono (lemon soup), Psito Arni (Roast Spring Lamb), Dolmades (stuffed grape leaves), Pastitsio (macaroni with beef and cheese), Spanakopita (spinach cheese pie), and Kouradiedes (crescent cookies).
The "Cape Cod Clambake" article gives full instructions from beginning to end on how to have a fun meal at the beach, an experience I would love to have someday.  I have never been to an authentic New England clam bake.
There were pages on the "Crochet Craze," with everything from jumpsuits, hats, pillows and dresses, to even vegetables and fruits like carrots, clusters of grapes, and a bowl filled with crocheted apples and pears.  I remember in college in 1973, all the girls loved crocheted hats, scarves, and ponchos.
There are a couple pages of casseroles, the most interesting being a "Chowder Bake" that sounds like a bowl of whitefish chowder in casserole form.  The "Meatball Medley" article offers a basic meatball recipe to be split four ways and frozen.  When ready, each of the four have separate recipes for sauerbraten meatballs, Swedish meatballs, meatball soup, or an enchilada skillet casserole.
The section that captured my attention the most was cooking with almonds or almond extract, both which I love.  I decided to try the Almond Crunch Cream Pie since it used both of those ingredients.  The unusual almond crust is made from raw almonds with the skin, chopped fine and mixed with egg white, sugar, and almond extract.  It is pressed into a pie plate and baked.  The filling is simply a mixture of vanilla pudding, more almond extract, and whipped cream.  The pie is topped with more whipped cream and a sprinkling of toasted almonds, then chilled.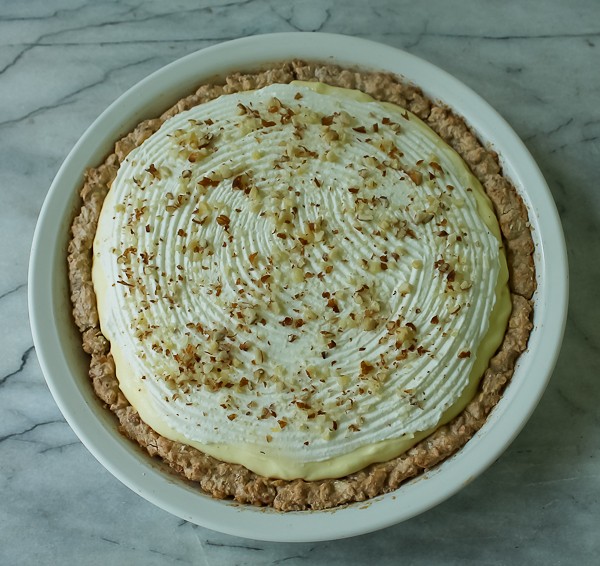 While the crust is still warm from the oven, you must take a small spatula and run it around the edges and pull up a little to loosen it.  Since it is made using an egg white, the crust is rather sticky and would be hard to cut after cooling, so don't forget this step.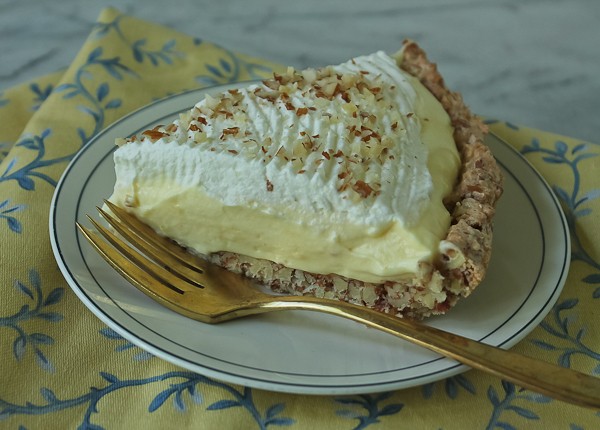 The whipped cream can either be spread all over the top or piped into dollops around the edges, whichever look you prefer.  Either way, it's a beautiful pie and so creamy and good!  Cream pies made with pudding were popular back then and still are today, but I liked that this crust was just a little bit different from a pre-made graham cracker crust that is used frequently now, and thank goodness it's real whipped cream and not the frozen stuff in the tubs.  Also, almonds are about 21% protein and contain iron, calcium, phosphorus, and B vitamins. Who would have guessed so much could be in a pudding pie?  Go a little retro and try it!

Almond Crunch Cream Pie
Author:
Sphere Magazine, September 1973
Ingredients
Almond Crust:
1-1/2 cups natural almonds (with skins)
1 egg white
¼ cup sugar
½ teaspoon almond extract
Filling:
1 small package (3-1/4 ounces) vanilla pudding and pie filling - NOT instant; use the kind that must be cooked on the stovetop
1-1/2 cups milk
1 teaspoon almond extract
1 cup chilled whipping cream
1 Tablespoon sugar
2 Tablespoons chopped almonds, toasted
Instructions
For Crust:
Heat oven to 375 degrees. Generously butter and flour a 9-inch pie plate. (use butter, not oil or Crisco).
Finely chop almonds, ½ cup at a time in blender or food processor. Do not overblend.
Beat egg white until foamy. Gradually beat in sugar and almond extract; beat until stiff. Fold in chopped nuts. Spread nut mixture carefully into prepared pie plate. Press mixture evenly with the back of a spoon up the sides and in the center.
Bake until light brown, about 15 minutes. While warm, gently and carefully loosen the edges of crust and down somewhat into center of pie with a small spatula. Cool completely in plate on wire rack before filling.
For Filling:
Whisk dry pudding mix and milk in a small saucepan, Place over medium-high heat and bring to boiling, stirring constantly until thickened. Remove from heat; stir in almond extract. Transfer to a bowl, cover with plastic wrap and refrigerate until cold, at least 1-1/2 hours.
Beat whipping cream in a chilled bowl with chilled beaters until stiff. Fold half of the whipped cream into the pudding mixture. Stir the tablespoon of sugar into the remaining whipped cream and set aside.
Spoon the pudding mixture into the pie shell and smooth the top. Either carefully spread or pipe on the whipped cream/sugar mixture around the edges. Sprinkle with the toasted almonds. Refrigerate at least 2 hours.
(Note: the recipe said to refrigerate no longer than 2 hours but I found that it was fine to chill all day!)