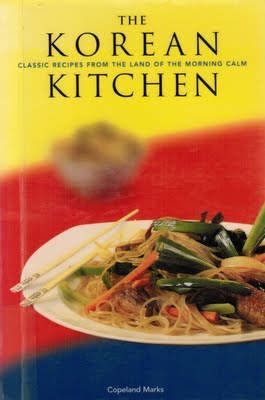 Korean food is a very relevant cuisine for our times with its emphasis on a healthy diet – greens, grains, lowcholesterol, and low fat.  Korean cuisine has abundant sources from both land and sea.  There  is a Korean attitude regarding food that defines their philosophy at the table, which is one of a good life.  Wholesomenessis represented by the food served and the treatment and respect accorded to it.  Korean city streets are linedwith one eating house after another, each serving its regional specialties.  Most dishes are abundant with garlic or Korea's beloved and indispensable hot red chili pepper.  Perhaps the most famous is kimchi, which are preserved vegetables.  There are about 200 varieties of kimchi such as the well-known cabbage or cucumber, but also eggplant, radish, or turnip.  Kimchi has been a staple of the Korean diet since ancient times. 
The development of Korea over the centuries is the story of ancient dynasties in a hereditary and aristocratic ruling structure.  It was the dynastic organization that led the country onward to its modern development.  The Koguyro dynasty (37 B.C. to 669 A. D.) probably gave Korea its name.  Silla dynasty (57 A.D. to 935 A. D.) was famous for its artistic endeavors.  Rule by the dynasties ended with the Choson or Yi dynasty (1392- 1910), when Korea became a "protectorate" of Japan.  When dynasties create such artistic masterpieces, it only makes sense that their culinary dishes reflect the categories of food – that of the peasant and that of the royal palaces.  There are substantial communities of Koreans in many cities around our country, and Korean food is enjoyed in restaurants, food shops, and supermarkets.  "Bulgogi" is the famous Korean barbecue in which very thin strips of beef, chicken, or squid, is marinated in seasonings and grilled.  I have fond memories of a fabulous Korean barbecue experience in Los Angeles with my daughter.  We ate outside on huge tables with grilling elements at the table.  Other dishes many people love is "bibimbap," a rice medley traditionally prepared in clay pots.
This has become my go-to book for Korean recipes.  It has a great glossary of Korean ingredients to help with preparation of the wonderful recipes in the book.  With each of the chapters, which include kimchi, sides dishes and vegetables, dumplings, soups, rice, noodles, fish, meat, and poultry, there is an explanation of each, with its history and how to prepare.  The recipes are easy to follow and not at all complicated.  I only wish there were photos of the dishes to see the lovely colors and appetizing appearance of the food.  Don't you love the subtitle of the book – "Classic recipes from the Land of the Morning Calm?"  It makes you want to prepare the recipes just from the sound of it.  Who doesn't want a "morning calm" to start the day?