Our heat index has been over 100 degrees for too many days lately.  My husband has been doing some of his work in the heat drinking a lot of water and Gatorade.  One day when he got home and still thirsty, he expressed an interest in some lemonade.  Not the frozen stuff, the real thing.  No prob.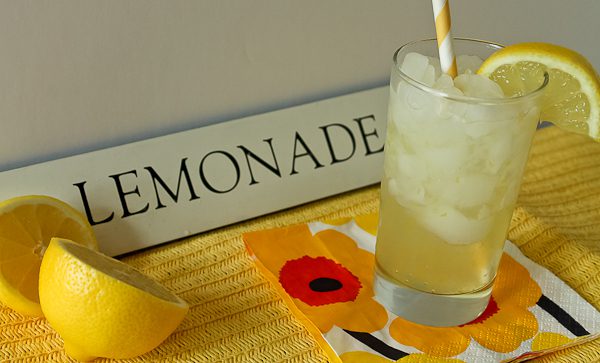 I'm not sure where I found this recipe but I've had it forever, as you can see by how yellowed and splattered it has become over the years.  I found the lemonade sign in a thrift shop and it sits on the "Beverage" shelf in my The Culinary Cellar.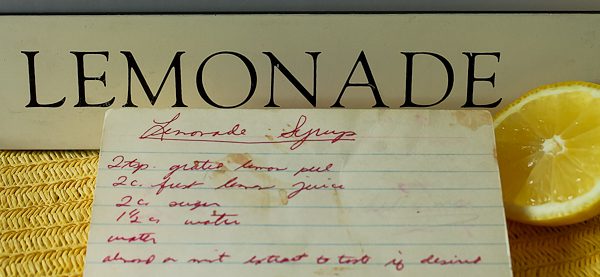 If you never indulge in sugar, then you can forget this recipe.  It's like having sweet tea in the South.  But if you want real lemonade with the juice and the peel, not the frozen glop or the powdered stuff, and don't drink the whole recipe yourself, then enjoy on a hot summer day.  It's very refreshing and very good, especially when it's over 100 degrees for days on end.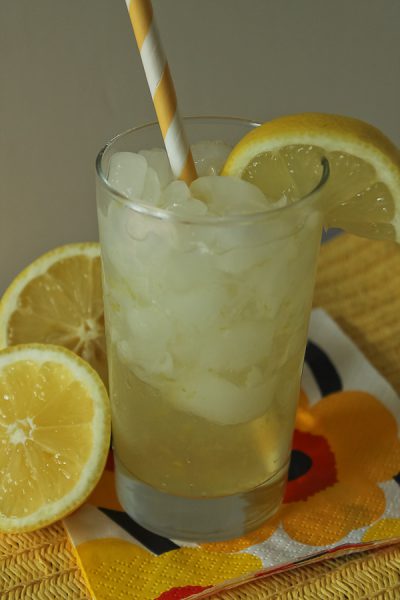 First thing you do is make a lemon syrup with the juice and peel of lemons, sugar, and some water.  The syrup is chilled and when very cold, some of the syrup is added to more cold water for each serving.  How many servings it makes depends on how sweet you like your lemonade.

Homemade Lemonade
Ingredients
2 cups freshly squeezed lemon juice
2 cups granulated white sugar
2 teaspoons freshly grated lemon peel
1-1/2 cups water
Extra cold water for serving
Lemon wedges, for garnish
Dash of mint or almond extract, if desired, optional (I have never tried this, but this is how the original recipe was written. I personally don't think it needs it!)
Instructions
Combine lemon juice, sugar, lemon peel, and 1-1/2 cups water in a container. Stir until the sugar dissolves. Cover and refrigerate until very cold.
For each serving, use a tall glass filled about ¾ full with crushed ice. Pour in about ¼ cup to ⅓ cup of the chilled lemon syrup. Fill the rest of the glass with cold water and stir well. Garnish side of glass with lemon wedge and serve.
Note: You may find that you only need a few Tablespoons of the lemon syrup to taste good to you- or you may like more! It's one of those things that you will have to experiment with and cater to your personal taste.
Stay cool!