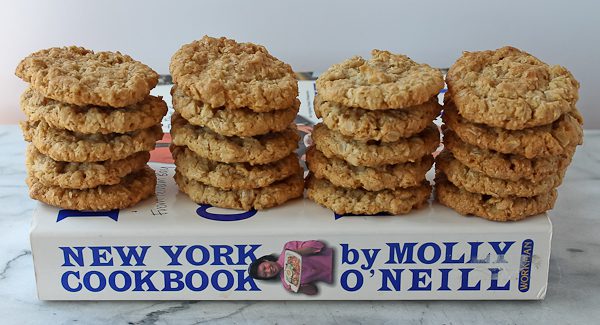 I just recently wrote about this book but my husband requested some cookies to have while working some late hours, and I knew I would find something in it.  He loves oatmeal cookies and coconut and these Oatmeal Macaroons have both.  The recipe makes about 6 dozen, they freeze well, and are nice and crispy, which makes them great with milk, which he also loves.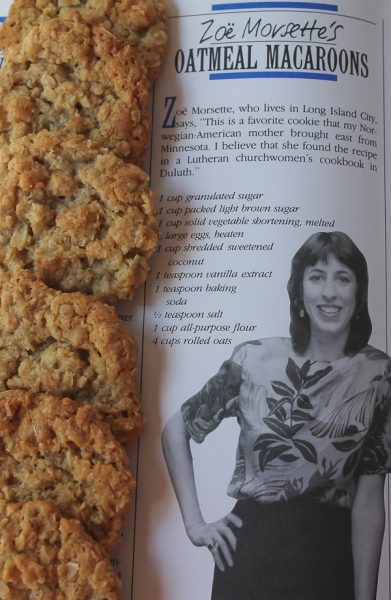 The recipe is from a New Yorker named Zoe Morsette who says, "This is a favorite cookie that my Norwegian-American mother brought east from Minnesota.  I believe that she found the recipe in a Lutheran churchwoman's cookbook in Duluth." I'm not surprised.  Old church cookbooks have some of the best recipes!

Oatmeal Macaroons
Author:
Zoe Morsette, from New York cookbook by Molly O'Neill
Ingredients
1 cup granulated sugar
1 cup packed light brown sugar
1 cup solid vegetable shortening, melted and cooled (Crisco)
2 large eggs, beaten
1 cup shredded sweetened coconut
1 teaspoon vanilla extract
1 teaspoon baking soda
½ teaspoon salt
1 cup all-purpose flour
4 cups old-fashioned rolled oats
Instructions
Preheat oven to 375 degrees F. Butter 2 baking sheets or line with parchment.
In a large bowl, blend both sugars, melted shortening, and eggs. Stir in coconut and vanilla.
In a separate bowl, mix the soda, salt, and flour. Combine both mixtures and blend. Add the rolled oats, 1 cup at a time, and mix until the batter is very stiff. Drop the batter by teaspoonfuls 2 inches apart on prepared baking sheets. Bake until lightly browned, about 10-12 minutes. Cool on wire racks. Makes about 6 dozen cookies.