I first blogged about this favorite peach cobbler back in 2011 almost to the day for my daughter Kara and her then boyfriend, Robert.  Five years later, I am still making the same peach cobbler, Kara and Robert have been married for over two years and are now expecting their first baby!  I hesitated to put this up again but it's been long enough and it's definitely good enough to repeat, plus it's a way to celebrate what's happened in life since 2011, not to mention it's peach season!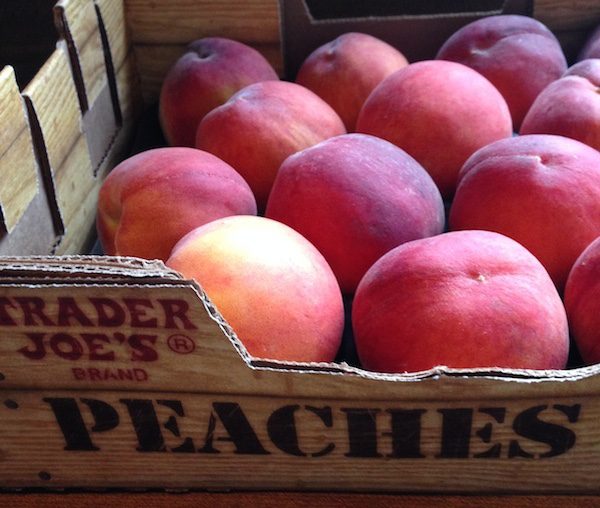 When I saw this box of peaches at Trader Joe's, I had a feeling it was going to end up as the favorite cobbler.  The peaches are peeled, pitted and sliced, then mixed with cornstarch, sugar, almond extract, and some melted butter.  After being placed in a 9-by-13-inch pan and latticed with flaky pastry strips that are then brushed with more melted butter and sprinkled with sugar, it is baked to a bubbly luscious goodness.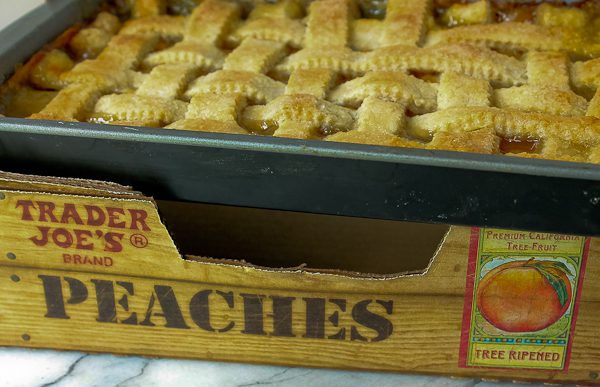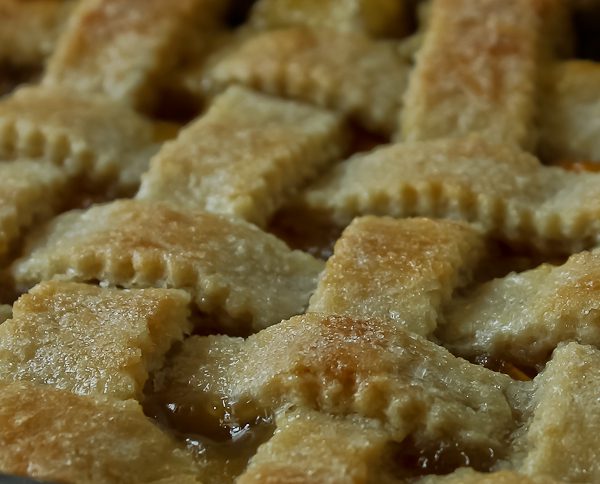 Serve the cobbler as is, or with some whipped cream or vanilla ice cream.  It's good warm, room temperature, or even cold.  Come on, take a bite; a big bite!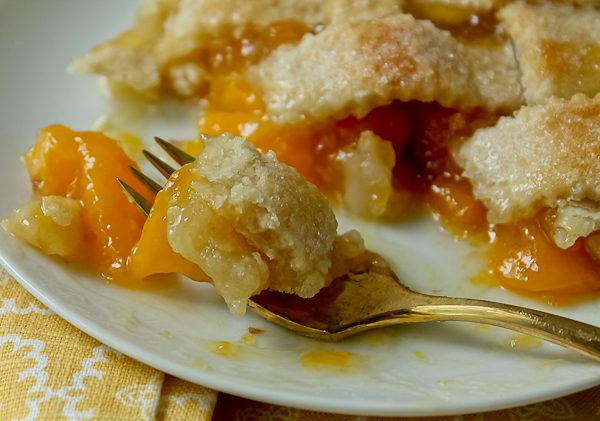 Peach Cobbler
Ingredients
Filling:
5 Tablespoons cornstarch
2 to 2-1/2 cups sugar (amount depends on tartness of peaches)
8 cups peeled sliced fresh peaches
½ teaspoon almond extract (or vanilla if you don't like almond)
¼ cup butter, melted
Pastry:
½ cup solid vegetable shortening
2 cups all-purpose flour
2 Tablespoons sugar
⅛ teaspoon salt
4 to 5 Tablespoons ice water
Topping:
3 Tablespoons butter, melted
2 Tablespoons sugar
Instructions
Heat oven to 400 degrees. Butter a 9-by-13-inch pan; set aside.
For filling: Blend cornstarch and sugar in a large bowl. Add peaches, almond extract, and ¼ cup melted butter. Toss gently to blend; set aside.
For pastry: Cut shortening into flour until it is the consistency of cornmeal. Add the 2 Tablespoons sugar and salt. Gradually add ice water until the dough holds its shape. With your hands, form it into a ball. Roll out dough on a floured work surface and cut into five 1-by-13-inch strips, and 7 1-by-9-inch strips.
Pour filling into prepared pan. Crisscross the prepared dough strips over the filling, going all the way to the edges. Brush dough with the topping of melted butter and then sprinkle with sugar. Bake at 400 degrees for 30-35 minutes or until crust is golden brown. Serve with whipped cream or vanilla ice cream if desired. Cobbler can be served warm, room, temperature, or even cold. Serves 10-12.