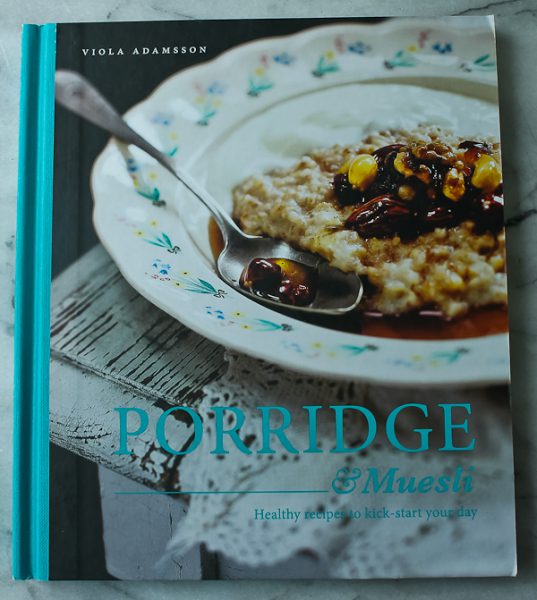 How many of you think of this Mother Goose rhyme and the clapping game when you hear the word porridge: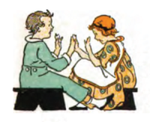 Pease-porridge hot,
Pease-porridge cold,
Pease-porridge in the pot,
Nine days old.
Porridge a very old-fashioned word for something considered so healthy.  However it wasn't always so.  If you were a peasant growing up in sixteenth century England, pease porridge actually evolved from pease pottage, a thick porridge of dried peas and other vegetables that hung over the fireplace in a large kettle.  Because few peasants could afford the luxury of meat, vegetables were the base of meals.  When the fire died down at night, whatever was left in the pot became cold.  The fire was relit the next morning and more vegetables were added to the kettle day by day, possibly extending to really being nine days old!  Doesn't sound very appetizing, does it?
Fast forward to today and porridge is not only a healthy and fiber-filled meal, but it's very trendy in chic restaurants.  Porridges can be made from oats, barley, rye, wheat, buckwheat, or a combo.  Porridge can be whisked or stirred.  The high fiber content lowers the chance of developing metabolic syndrome, type 2 diabetes, and some forms of cancer.  It reduces inflammation and the chance of developing heart and cardiovascular problems.
I found this wonderful book at Read it and Eat, a cookbook-only store in Chicago. The photos and recipes reminded me of having porridge with fresh currants while in Finland last summer.  Finns are avid porridge enthusiasts, topping it with fresh wild berries or fresh currants, both abundant in Finland.  There are so many incredible recipes in the cookbook:  baked apple porridge made with quinoa, spelt flakes, raisins, apples, and crushed cardamom seeds; an oat bran-rolled oats combo with prunes, apricots, and linseeds; a toasted flake version that combines rolled oats, rye flakes, spelt flakes, millet flakes, buckwheat flakes, pumpkin seeds, and sesame seeds.  Don't you feel healthy just reading these ingredients?  And not only that, if you have leftovers, there are "porridge bread" recipes.
Let's not forget the recipes for muesli in the book too.  Included are some with almonds, granola, melba-inspired, blueberry, raspberry, raw, and toasted muesli.  I decided to try the Bircher Museli, developed by a Swiss doctor, Maximilian Bircher-Benner (1867-1939).  It appealed to me at the moment because it was for one serving and the first step has to sit overnight, and I read it just as I was going to bed.  All you have to do first is to mix 1 Tablespoon of rolled oats with 1 Tablespoon of cold water, cover and refrigerate until morning.  When you wake up, breakfast is almost ready; just add a little cream, lemon juice, almonds, and a grated apple.  It sounded so incredibly simple, with no added sugar and no cooking.  It was all raw.  And all good.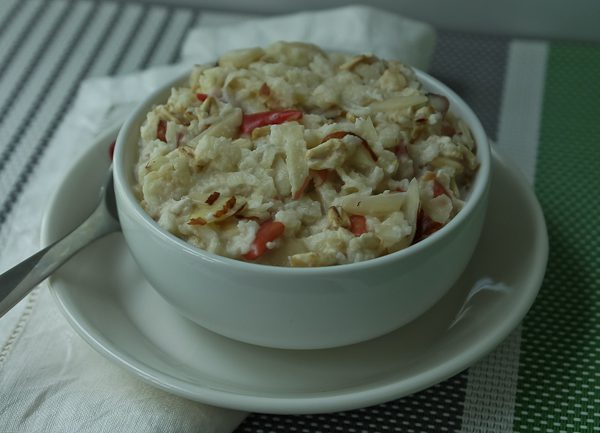 It is the perfect serving for one person and nothing else is needed.  I suppose you could add cinnamon, but I loved it as it was with its simple perfection.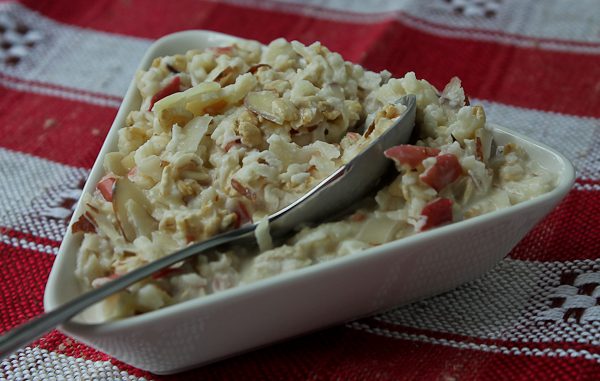 (Yes, I had to "play dishes and placemats" as my husband calls it…)
Author Viola Adamsson is a Doctor of Medical Sciences and has worked as a nutritional manager in the food industry and also has been an advisor to top athletes, including the Swedish national cross-country skiing team, so you can trust her nutritional advice on these recipes.  She has also won a cookbook award for her book, "The Best of Nordic Food," so you also know the recipes are good.

Bircher Muesli
Author:
Porridge and Muesli by Viola Adamsson
Ingredients
1 Tablespoon rolled oats
1 Tablespoon cold water
1 Tablespoon freshly squeezed lemon juice
1 Tablespoon heavy cream
1 small to medium-sized apple (your favorite variety, with skin on)
1 Tablespoon chopped almonds (or your favorite nut)
Instructions
In a small bowl, stir together the rolled oats and cold water. Cover and refrigerate overnight. The next morning, add the lemon juice and cream. Wash the apple and grate it directly into the mixture, stirring occasionally to that the apple doesn't turn brown. Finish by stirring in the chopped almonds and eat! Serves one.