Last night, my daughter Kristina returned from a 10-day trip to Finland after working once again on her upcoming Finnish cookbook.  Since she resides in New York City, I thought I would welcome her back with a New York cookbook for today.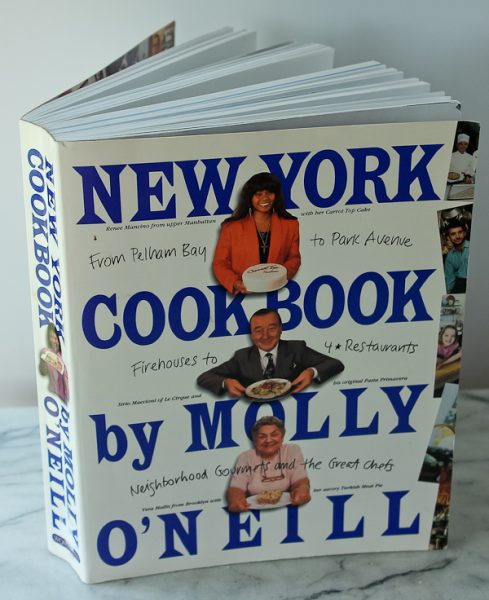 The award-winning former New York Times Food Magazine columnist Molly O'Neill spent five years working on this amazing cookbook that everyone should own.  Molly and her team spent months at places like the New York Historical Society, the Brooklyn Historical Society, the New York Public Library, records from past centuries in an attempt to find dishes from each era.  They would beg for recipes from firehouses, street vendors, butchers, bakers, chefs, and home cooks alike.  Even a celebrity or two.  The mission was accomplished.  The huge book is an encyclopedia of New York culinary history and recipes to treasure.  I have so many pages with post-it notes and didn't even know where to begin, so decided to start from the basics – street food!  New Yorkers (and tourists) love the city street food.  Besides, Kristina probably will not feel like cooking after being gone so long plus her cupboards are empty at the moment.  Why not grab some easy and good street grub?  How about an all-American hamburger?  I bet she didn't find that in the middle of Finland!
The cookbook was written in 1992 and I have no idea if these delicious hamburgers are still sold on the street in Madison Square Park, but at least we have the recipe in the cookbook.  They are called Madison Square Marinated Hamburgers and only have a few simple ingredients.  All you do is form a couple pounds of ground beef into nice-sized patties and place in a baking dish.  Sprinkle them with minced garlic, salt, and pepper; then pour white wine over them and let them marinate for several hours and cook.  The results are big fat juicy garlicky burgers served on warm soft white buns.  Add your favorite condiments, find a park bench and dig in.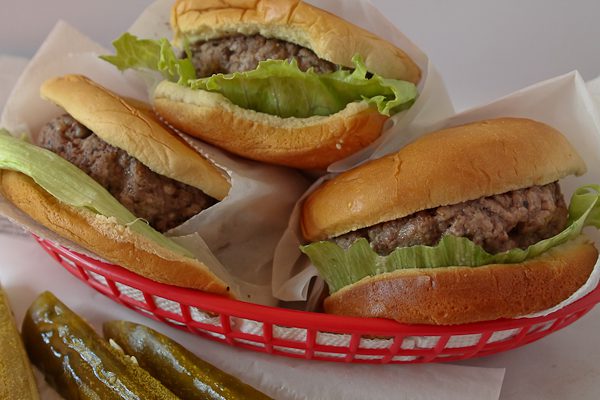 I only added lettuce for the photo, but later added sliced raw onion, ketchup, pickles, tomato, and some mayonnaise.  I also like them pink in the middle!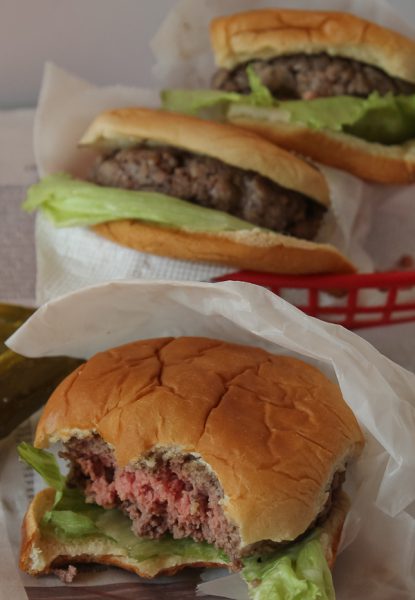 The New York Cookbook has over 500 pages of recipes and thousands were tested for the book.  It is filled with old and new photos of famous restaurants and people.  If you remember the fudge from Coney Island, it's in the book.  You will find Luchow's famous sauerbraten, Lindy's cheesecake, Zabar's Black and White Cookies, the classic Brooklyn Egg Cream, and the cake no one can seem to forget: Ebinger's Blackout Cake.  There are several pages devoted to the fascinating story of the Blackout Cake.  Since the book is so huge, I couldn't begin to tell you all that is in it.  Since it was written in 1992, there is a photo on the second page that has nothing to do with food but I had to include it.  It makes the book even more special.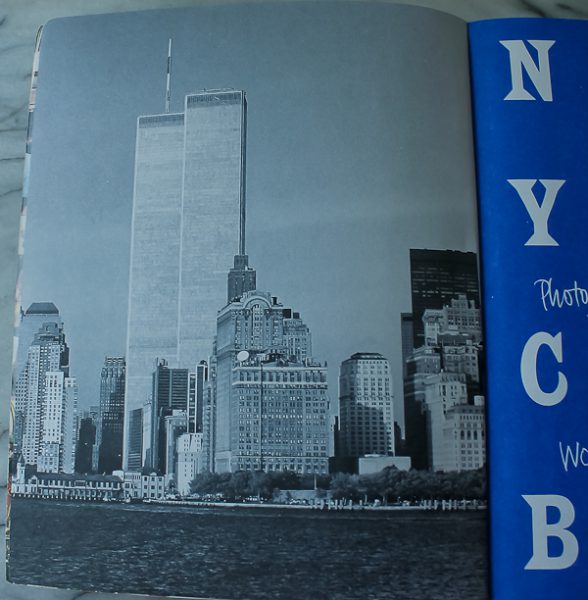 Madison Square Marinated Hamburgers
Author:
The New York Cookbook by Molly O'Neill
Cuisine:
New York City street food
These hamburgers were sold from a street cart in Madison Square Park, just north of the Flatiron Building.
Ingredients
2 pounds ground beef round
8 cloves garlic, minced
3 cups dry white wine
Salt and freshly ground pepper, to taste
Soft white burger buns
Your choice of favorite condiments
Instructions
Form the ground beef into 6 hamburgers. Place in a flat nonreactive baking dish. Sprinkle the garlic over the hamburgers, pour the wine over them, and season with salt and pepper. Cover with plastic wrap and refrigerate for 3 hours, turning the hamburgers every hour. Remove from the refrigerator 30 minutes before cooking.
Preheat a grill or broiler, or heat a seasoned cast-iron skillet over medium-high heat until very hot.
Grill, broil, or pan-fry the burgers for about 4 minutes per side for rare. Serve on soft white burger buns with your choice of condiments or even just enjoy them plain! Makes 6 burgers.