When anyone in our family travels to Finland or Finnish relatives come to visit us, it is a given that we must buy the little vials of cardamom, or kardemumma.  It isn't packaged in bottles as we find it here, but in long pencil-looking containers, which are also very easy to pack.  It is unlike any cardamom you will find in the USA.  It is much coarser and fragrant that the powdery stuff found on shelves in supermarkets here.  After tasting it, you will never want to use another kind again.  But sorry, it is not available for online mail order.  You would have to be buddies with me and I'll gladly bring you some next time I am visiting Finland!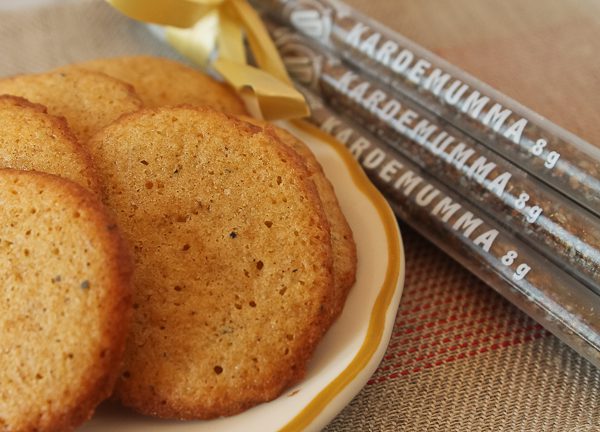 While thumbing through an old Cuisine magazine from 1982, I came across a recipe for Cardamom Spice Cookies.  Aha!  Another way to use my kardemumma.  I loved the recipe because it was super easy and only made two dozen cookies.  It is so hot in Chicago this week and I don't feel much like baking a big batch of cookies.  Anyway, they sounded like they would be a perfect accompaniment to a big scoop of ice cream.
I think I would have preferred vanilla ice cream with these cookies, but all we had in the house was chocolate.  It was good too.  As I mentioned, the recipe only makes two dozen cookies so you can make them all on one large cookie sheet and you're done.  Just a warning, it really makes exactly two dozen cookies so don't eat the dough!  Drop the dough, which is rather soft, onto the cookie sheet with a teaspoon (I lined the sheet with parchment) about 2 inches apart because they will spread.  The edges get nice and crispy and the center stays slightly soft.  Don't eat them warm either, they need to cool and crisp up.  If you want the entire cookie crisp, bake an additional 30 seconds to 1 minute, watching carefully because they are so delicate and could burn, but that little extra time will make them even crisper when they cool.  The spice flavor is very delicate but enticing, especially the cardamom of course.  You can even see the tiny spice pieces in the cookies if you look closely.
My daughter Kristina, her photographer Eric, and videographer Erin, are in Finland at the moment working on Kristina's Finnish cookbook.  I have been following them all this past week on their adventures such as foraging for wild mushrooms and berries, fly fishing, setting up photo shoots, testing family recipes from the farm, and even listening to Erin sing opera, which she does professionally in Austria.  All of this got me in the mood to make something with a Finnish ingredient since I'm not there with them enjoying wild chanterelles or cloudberries.
You can follow Kristina, Eric, and Erin on their Facebook page and Instagram.  They have posted  photos and videos of their adventures that will make you smile and want to visit beautiful Finland… and buy the cookbook when it is ready!  The recipes are fabulous and Eric's photography is stunning.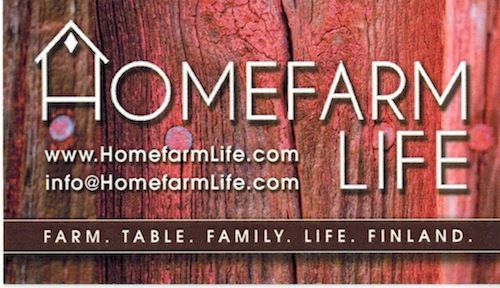 But since we all can't be in Finland, we can still make these little cookies, scoop up some ice cream, and then dream we are there instead!

Cardamom Spice Cookies
Author:
Cuisine magazine, April 1982
Ingredients
4 Tablespoons unsalted butter, room temperature
¼ cup packed dark brown sugar
1 egg
6 Tablespoons all-purpose flour
½ teaspoon baking powder
¼ teaspoon ground cardamom
¼ teaspoon ground cinnamon
⅛ teaspoon ground cloves
Good pinch of salt
Instructions
Heat oven to 375 degrees F. Line a large cookie sheet with parchment or lightly grease.
Cream butter and sugar in medium mixer bowl until light and fluffy. Beat in egg until thoroughly blended.
Combine dry ingredients; stir into butter mixture until thoroughly blended.
Drop batter by small teaspoonfuls onto prepared baking sheet, about 2 inches apart. Bake until edges are golden brown, about 9 minutes. Remove from oven and let cookies sit on sheet for 1 minute before removing with a spatula and transferring to wire rack to cool completely.
Note: The batter will be rather soft. The recipe makes exactly 2 dozen cookies so don't be tempted to eat any of the dough! I used an ice teaspoon to drop the dough, and make sure they are equal in size. The cookies crisp up as they cool.