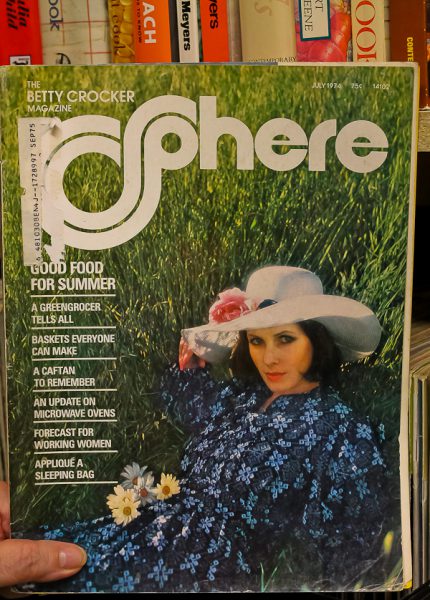 This 1974 issue is filled with summer cooking, beginning with menus for the 4th of July like potato salad, corn-on-the-cob, and a frozen lime dessert that uses Oreo cookie crumbs.  There are dozens of recipes for fruits and vegetables.  Watermelon recipes for salads, a dip, Baked Alaska, and a refreshing watermelon-strawberry ice.  A fresh Cherries Jubilee over ice cream, apricot-pineapple "right-side-up" cake, and strawberries in red wine all sound like a great way to enjoy dessert with the summer bounty.  Some of the grilled fruit and vegetable recipes include peachy-zucchini kabobs, potato-squash packets grilled in foil, and blue cheese-mushroom kabobs.
For the kids, there is an instructional article on making a successful and very decorated lemonade stand, specifically pink lemonade made with freshly squeezed lemons and a touch of maraschino cherry juice.  And for the very ambitious child, a recipe for chocolate chip cookies.  I can remember making a lemonade stand with neighborhood kids, but I think we made Kool-Aid from a packet and sold it all from our Red Flyer wagons!
I love a nice chilled pasta salad in the summer and decided to find a recipe in the article on "Summer Salads for Hearty Appetites."  There was a Walnut-Shrimp Salad, Hearty Supper Salad with strips of leftover roast beef, and an old-fashioned Country Ham Salad with a cooked buttermilk dressing, which I found intriguing so that was it.  I started out by finding my favorite vintage FiestaWare platter that belonged to my great-aunt, to display the finished salad.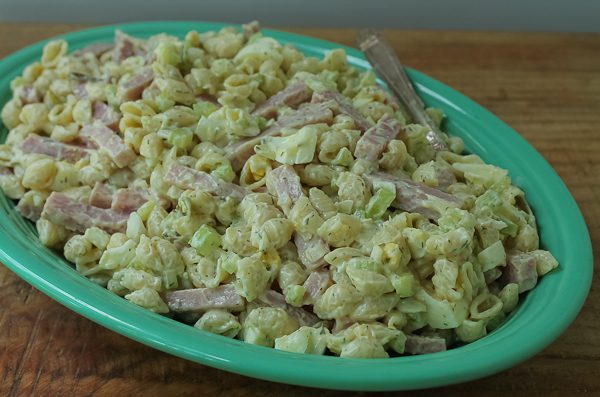 The salad is very easy with simple ingredients.  For the dressing, flour, sugar, dry mustard, and salt are mixed together in a small saucepan, then heated with an egg yolk and buttermilk.  After cooking and thickening, a little butter, mayo, vinegar, and dried dill are stirred in, then chilled while preparing the rest of the salad.  Dill weed is used, but if I had fresh dill, I would have used that instead.  I love fresh dill, but the dill weed was fine too.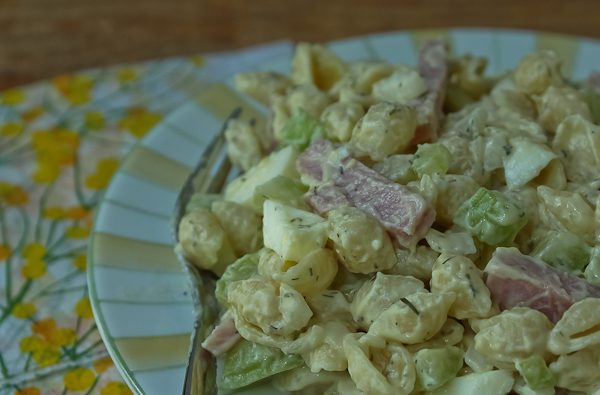 For the rest of the salad, add some chopped celery, hard-boiled eggs, onion, pickle relish, julienne strips of cooked ham, and cooked shell macaroni.  Stir in the cooled dressing, mix well, and chill for at least three hours to blend flavors.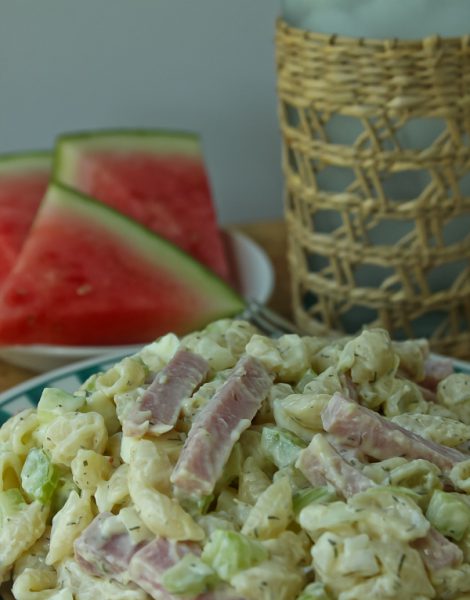 Serve chilled salad with some cold summer fruit and an ice-cold drink.  How's that for an easy lunch or dinner this summer?

Country Ham Salad
Author:
Sphere Magazine, July 1974
Ingredients
Dill Dressing:
2 Tablespoons all-purpose flour
1 Tablespoon sugar
½ teaspoon dry mustard
½ teaspoon salt
1 egg yolk, beaten
1 cup buttermilk
¼ cup mayonnaise
1 Tablespoon vinegar
1-1/2 teaspoons butter
1 teaspoon dried dill weed (or 1 Tablespoon or more fresh dill, to taste)
Salad Ingredients:
1 package (about 6-7 ounces) shell macaroni
2 cups julienne strips cooked ham
1 cup chopped celery
½ cup finely chopped onion
3 hard-cooked eggs, chopped
2 Tablespoons sweet pickle relish
½ teaspoon salt, or to taste (depends on saltiness of ham; taste first and add salt accordingly)
Instructions
For Dressing: Measure flour, sugar, mustard, and salt into small saucepan. Mix egg yolk and buttermilk; stir into flour mixture. Cook over medium heat, stirring constantly, until mixture thickens and boils. Boil and stir for 1 minute. Remove from heat and stir in remaining dressing ingredients. Place in container, cover and refrigerate while preparing salad.
For Salad: Cook macaroni according to package directions. Drain; rinse with cold water. Place in large serving bowl. All all remaining salad ingredients and mix gently. Stir in chilled dressing and toss to coat. Cover and refrigerate at least 3 hours. Serves 6.