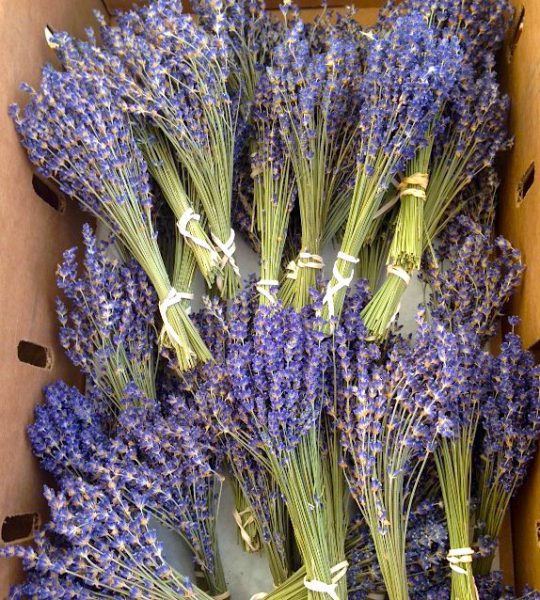 As an herb, beautiful lavender has been documented for over 2,500 years.  Long ago, people used to wear sprigs of it in their hats as it was believed to relieve tension.  Queen Elizabeth I of England enjoyed lavender tea because she claimed it helped with her migraine headaches.  As for cooking, lavender has many uses including being part of the mixture of Herbs de Provence.  However, a little bit of lavender goes a long way, and when cooking, make sure to buy culinary lavender, not ornamental lavender.  I buy dried lavender in small packets from our local spice shop for cooking.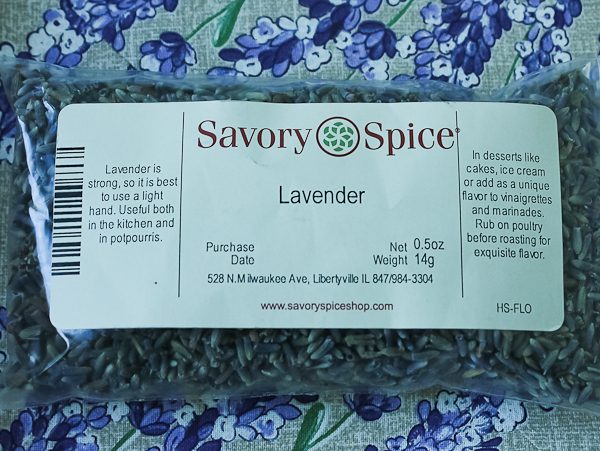 Lavender is one of my mom's favorite fragrances, so growing up I only thought of it as a perfume.  It wasn't until I tried lavender ice cream at a restaurant somewhere that I learned to love it in cooking.  I came across this recipe in a Better Homes & Gardens publication called "Our Best Recipes."  I set it aside, and about a week later my daughter Kristina gave me this set of organic preserves from the fabulous McEvoy Ranch and winery in Petaluma, California.  Lo and behold, there was a jar of lavender jelly.  It reminded me that I had to make those lavender honey scones from BHG and serve it with the jelly.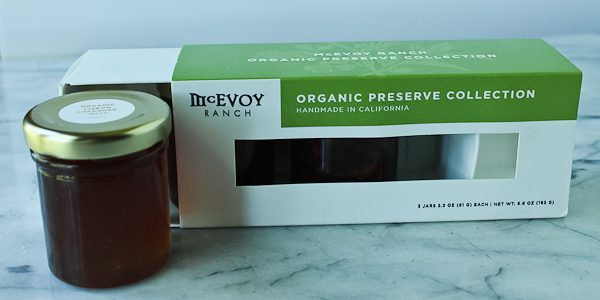 The scones are wonderful!  A mixture of heavy cream, honey, and dried lavender is heated and then chilled until cooled.  Dry ingredients are blended in a bowl, cold butter is cut in, then the cream mixture and an egg is added. The dough is kneaded slightly, patted into a rectangle, cut into squares, brushed with more cream and baked. They fill the kitchen with a delightful aroma!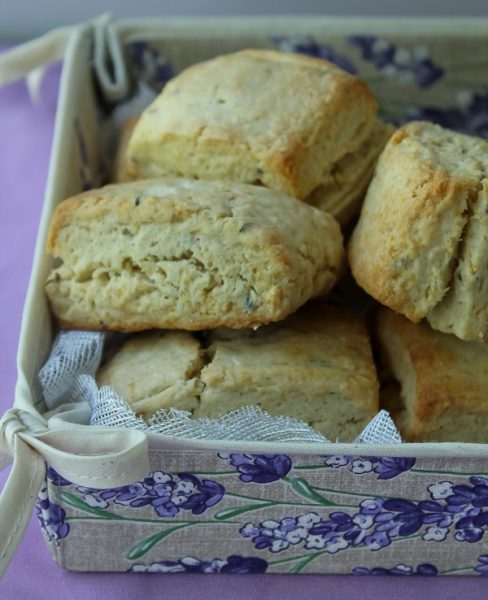 I loved serving them in this lavender fabric basket that Kristina bought for me on her last trip to France.  It's the first time I've used it!  It's perfect for these scones, don't you think?  And how about this antique  pastry server?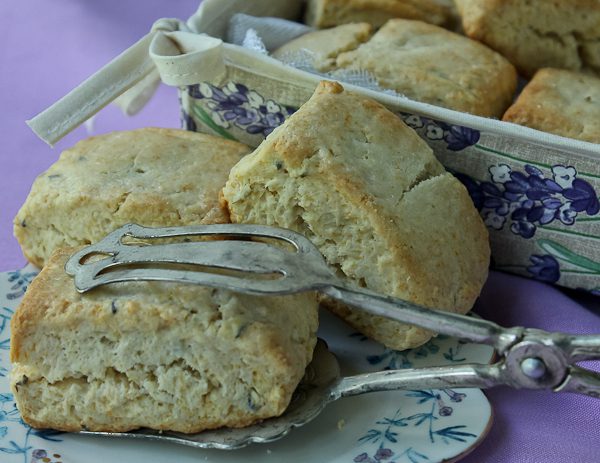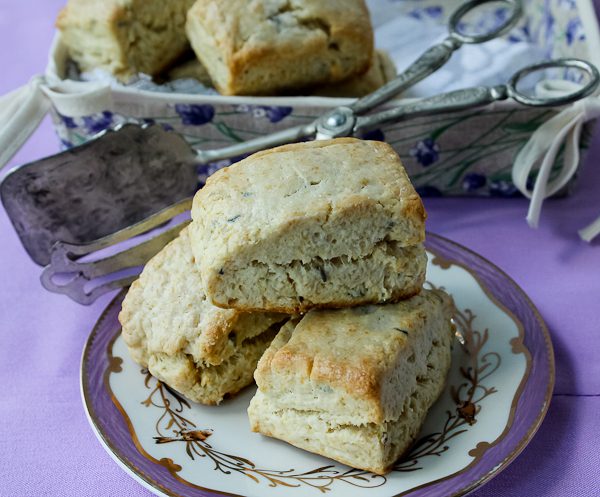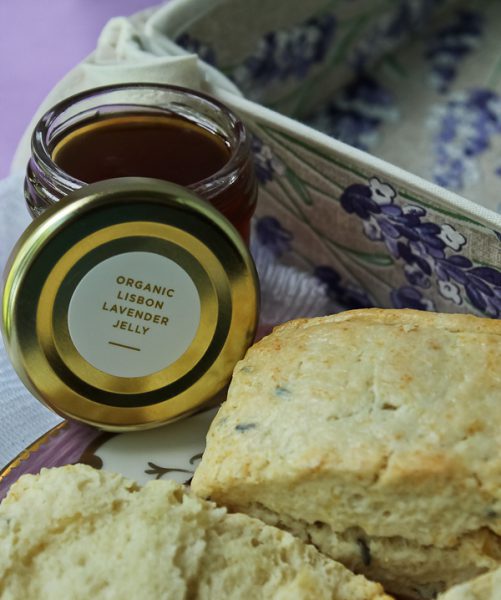 Here is the lovely lavender jelly from McEvoy Ranch.
The jelly was fabulous on the scones.  It was not lavender overload at all.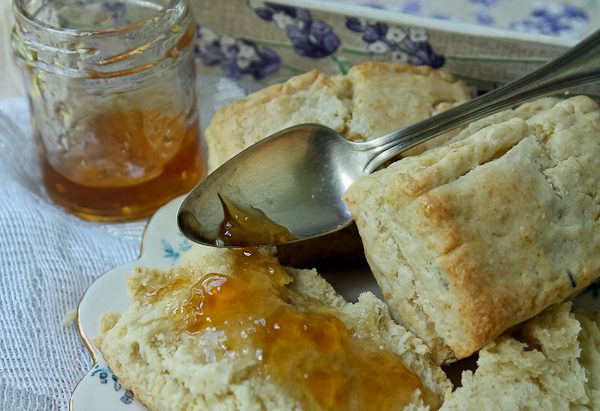 I'm sold on cooking with lavender and can't wait to find more recipes using it.  If anyone has suggestions or even some recipes, send them my way to [email protected]    I would love to see them and hear about what you like to cook with lavender.  See how you like these scones.
Lavender Honey Scones
Author:
Better Homes & Gardens
Ingredients
¾ cup heavy cream
2 Tablespoons honey
1 Tablespoon dried lavender buds
2-1/2 cups all-purpose flour
1 Tablespoon baking powder
¼ teaspoon salt
6 Tablespoons cold butter, cut into small pieces
1 egg, lightly beaten
Additional cream, to brush on scones
Instructions
In a small saucepan, combine heavy cream, honey, and lavender. Warm over medium heat until mixture begins to steam, about 8-10 minutes. Pour into a bowl and chill about 30 minutes, or until cold.
When ready to bake, heat oven to 400 degrees. Line a baking sheet with parchment paper or use an ungreased baking sheet.
In a large bowl, combine flour, baking powder, and salt. Using a pastry blender, cut in butter until mixture forms coarse crumbs. Make a well in the center.
Whisk the egg into the cooled cream mixture. Add to the flour mixture all at once and stir quickly with a fork just until moistened.
Turn dough out onto a lightly floured surface and knead dough by folding and gently pressing it 10-12 strokes or until dough is nearly smooth. Pat the dough into a 10-by-4-inch rectangle. Cut in half lengthwise, and into sixths crosswise to make 12 rectangles.
Place rectangles 2-inches apart on baking sheet. Brush each with additional heavy cream. Bake for 13 to 15 minutes or until golden brown. Remove scones from baking sheet. Serve warm with honey or butter. Makes 12 scones.