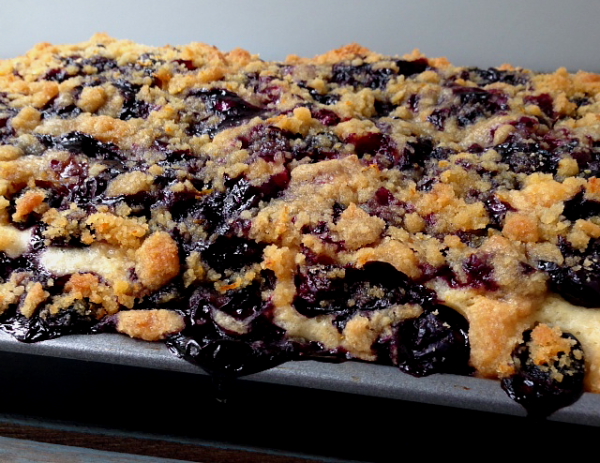 My husband Bill loves something sweet for breakfast, but most of the time that means treats that are high in sugar and fat.  I can't recall where I found this recipe, but it's one of his favorites that I have been making for a long time, and he never misses the excess of butter and sugar. ( Although, I have to say that he even likes this as a dessert and adds a big dollop of whipped cream or a scoop of ice cream!)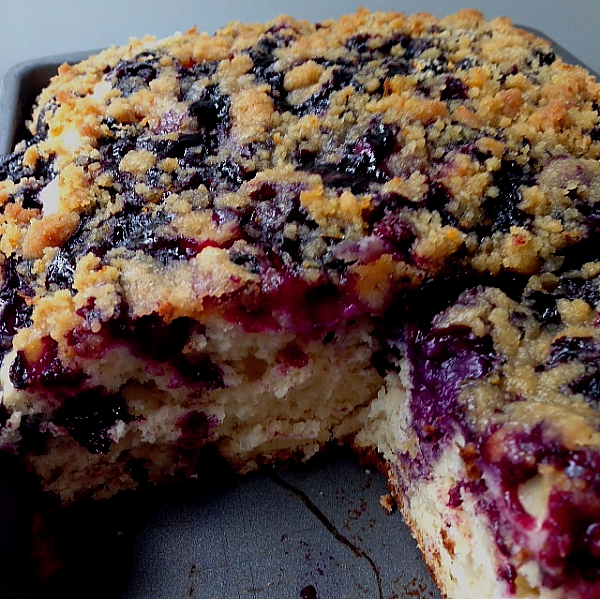 The coffee cake uses reduced fat sour cream, buttermilk, and much less sugar and butter than traditional coffee cakes.  The spice used is Five Spice Powder that is a blend of cinnamon, cloves, star anise, fennel, and black pepper, but you can also substitute just plain cinnamon.  The coffee cake is nice and moist and the streusel topping has a touch of orange zest.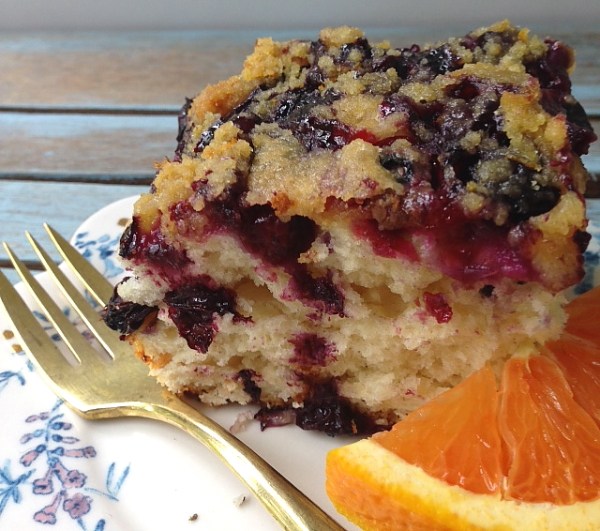 It's easy to make and is in a smaller size baking pan.  Bill loves blueberries, but I'm sure other berries would be good, too.  You can use your favorite spice and also lemon zest instead of orange zest.  It's one of those recipes that you can play around with to suit your personal taste.
Lower Fat Blueberry Coffee Cake
1 large egg
2 Tablespoons canola oil
3/4 cup granulated sugar
1/2 cup reduced fat sour cream
1/3 cup low-fat buttermilk
2-1/3 cups all-purpose flour, divided
1 Tablespoon baking powder
1/2 teaspoon Five Spice Powder (or cinnamon)
1-1/2 cups fresh blueberries
1/4 cup packed dark brown sugar
1 teaspoon grated orange zest
2 Tablespoons cold butter, cut into bits
Heat oven to 350 degrees.  Spray a 7-by-11-inch baking pan with nonstick spray.
In a mixer bowl, combine the egg, oil, and granulated sugar.  Beat until combined, then add the sour cream and buttermilk and mix until blended.  In another bowl, combine 2 cups of the flour, baking powder, and Five Spice powder.  Add to egg mixture and mix to blend.  Pour batter into prepared pan, then scatter blueberries on top.
In a small bowl, combine the brown sugar, orange zest, butter, and remaining 1/3 cup flour.  Mix with a fork or gently with your fingers until crumbly, then sprinkle over the blueberries.  Bake for 45 minutes or until a tester inserted in the center comes out clean.  Cool slightly before cutting into 12 squares.