My daughter Kristina recently returned from an adventure in Istanbul, Turkey.  I am a lucky mom, because Kristina travels a lot and always brings something back she thinks I would like for the kitchen.  Sometimes she will save items for Christmas or birthday gifts, but for this trip, Kristina decided to give me some beautiful dishes right away.  I didn't have anything like these. They are just the right size for photographing and are very bright and colorful.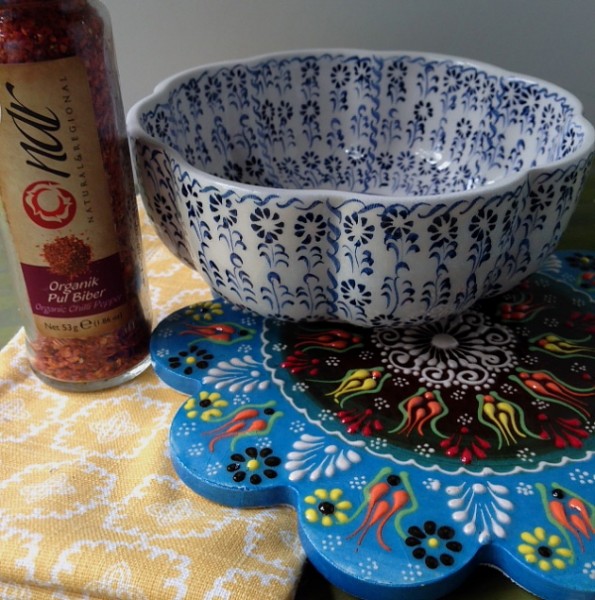 To grace these beautiful dishes, and also to use the Turkish dried red chili flakes, I decided to make a bean salad using Turkish flavors.  There is also one more dish!  Aren't they all gorgeous?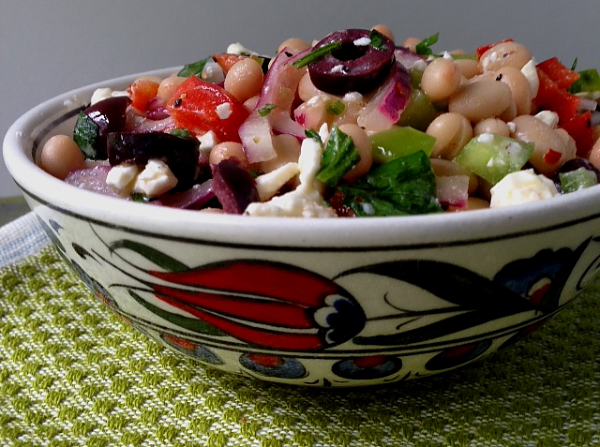 The salad is delicious and made even better with the Turkish chili flakes.  They are smaller,  hotter and brighter in color than what we are used to here in the states.  Kristina and I are dreading the day when we run out of the Turkish flakes.  We both put them on so many kinds of dishes.  I have become addicted to them!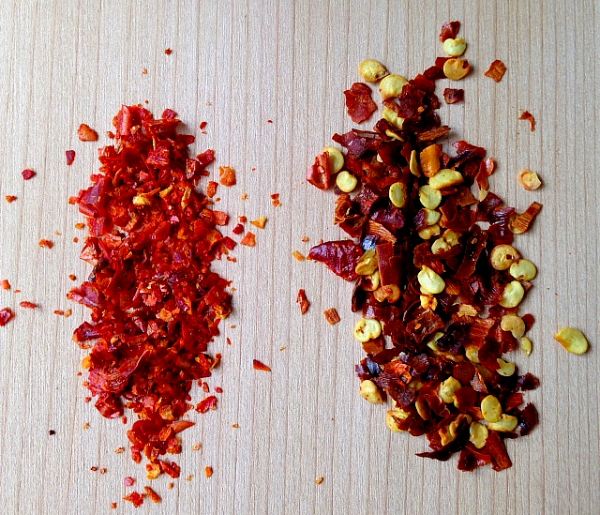 The bean salad is so good and needs to stand for at least an hour for the flavors to blend.  It's also great to have on hand the next day for a lunch dish at home or at work.  It's low in fat and calories, high in fiber, and inexpensive to make.
Turkish Bean Salad
1 can (15 ounces) small white beans, drained and well-rinsed
2/3 cup thinly sliced red onion
1/3 cup crumbled feta cheese
1/4 cup chopped red bell pepper
1/4 cup chopped green bell pepper
1/4 cup chopped fresh flat leaf parsley
1/4 cup sliced pitted kalamata olives
1-1/2 Tablespoons fresh lemon juice
1 Tablespoon olive oil
1/4 teaspoon salt, or to taste
1/4 teaspoon red pepper flakes, or to taste
Freshly ground black pepper, to taste
Combine all ingredients in a medium mixing bowl.  Cover bowl and let stand at room temperature at least one hour before serving to blend flavors, stirring several times.  The salad can also be refrigerated covered overnight, but bring to room temperature before serving. The salad can be served in a bowl, or you can line a plate with torn lettuce leaves and spoon salad on the lettuce. If desired, you can garnish with sprigs of parsley and/or fresh lemon slices.  Serves 2.
Hmmm….  I wonder where Kristina will be traveling next?  My Culinary Cellar is always ready for new things!