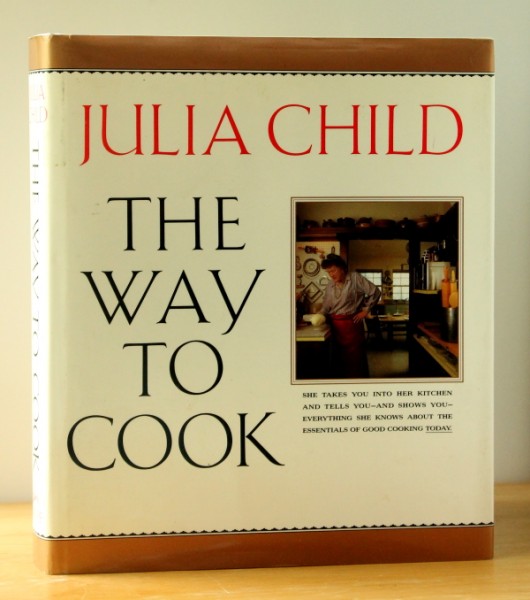 Julia Child would have been 102 years old last week.  What better time to honor her than with a giveaway of one of her greatest cookbooks!  This impressive and very large cookbook needs a good home.  Wouldn't you love to own this classic book and cook incredible (yet surprisingly easy) dishes for your family?  Julia's goal for this book was to be instructive and precise, blending classic techniques with American cooking, yet leaving you feeling that you can have fun improvising and creating your own special touches after learning the basics.  If you have ever felt you could never cook a Julia Child recipe, you will be able to with this book.
Julia will take you through soups, breads, eggs, fish, poultry, meat, vegetables, salads, pastry dough, desserts, cakes, and cookies.  There are over 800 recipes and 600 photographs, all easy to follow.  The recipes will give a basic instruction such as how to saute a chicken breast, then make it into dishes such as chicken and mushrooms, chicken provencale, chicken piperade, or chicken marengo.  With one bread dough, you can make calzones, pizza, or hamburger buns.  All in all, this book is all about good home cooking.
The Way to Cook, from 1989 and Julia's 7th cookbook, weighs a little over five pounds and even back then cost $50!  It's so big, it wouldn't even fit in my scanner and most likely won't fit in any mailbox.  You will need to make room for this one!
To enter this once-in-a-lifetime giveaway (for Continental USA only), all you have to do is make a comment right here on the blog of your favorite Julia recipe or why you would like to own this book, and you are entered.  That's it!  You can start entering right this minute.  Entries will be accepted from now until Saturday, August 23rd at 11:59 pm.  The winner will be selected using random.org and will be notified by email and the winner will also be posted on next Monday's giveaway blog.
Good luck, everyone!  This one is a jewel of a giveaway.  Don't miss out on a chance to win!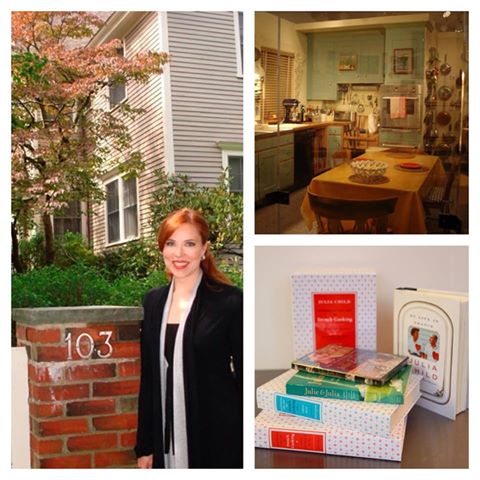 This is my daughter Kristina in front of Julia's house in Cambridge, Massachusetts.  The kitchen photo is from the Smithsonian exhibit of Julia's kitchen and other items.  The pile of books are more Julia treasures!
And now for the winner of last week's giveaway of the Small Batch Preserving and America's Best Vegetable Recipes:
Michelle Wiederhold!  Congratulations, Michelle.  Enjoy the books!