Who doesn't love to grill in the summer?  Here are a couple easy side dishes to serve with grilled steaks, chicken, or fish.  I love homegrown cucumbers especially paired with fresh dill and a touch of lemon.  This refreshing cucumber salad is great with lemony fish or chicken.  You can even make it early in the day so it's ready for dinner.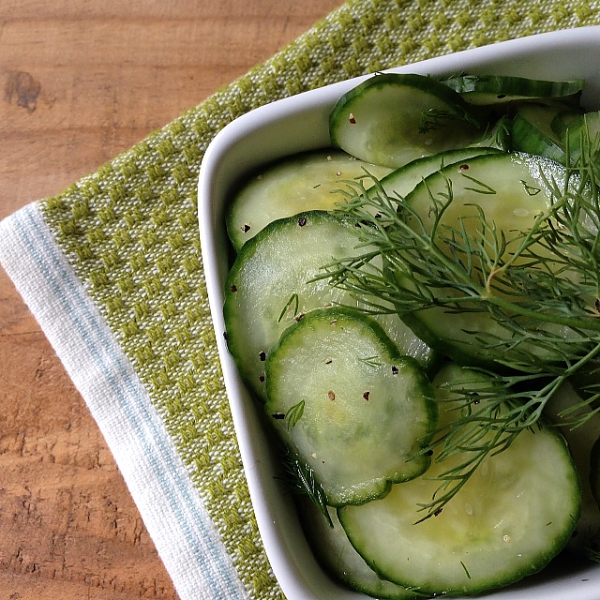 Cucumber-Dill Salad
3 cups thinly sliced cucumbers
1/2 teaspoon salt
1/4 cup fresh lemon juice
1 Tablespoon minced fresh dill (or to taste; I like a little more!)
2 teaspoons granulated sugar
1/4 teaspoon freshly ground black pepper
In a medium bowl, combine cucumbers and salt, tossing to combine.  Let stand for 15 minutes.  Drain accumulated liquid from cucumbers, pressing down to release as much water as possible.  Add the lemon juice, dill, sugar, and pepper; toss to combine. Refrigerated, covered, until chilled.  Just before serving, toss again.  Serves 4.
I love this next salad with teriyaki steak or chicken.  The carrots and radishes are enhanced with an interesting combo of lime, cilantro, jalapeno, ginger, sesame oil, and honey.  It's so bright and colorful, too, just like summer.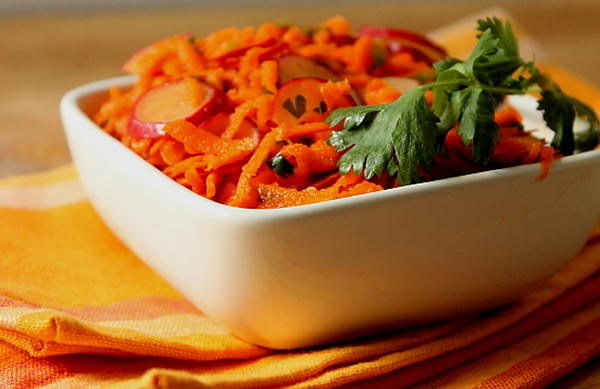 Carrot Radish Salad
2 cups freshly shredded carrots (not those pre-shredded packaged ones!)
2/3 cup sliced radishes
1-1/2 Tablespoons fresh lime juice
2 Tablespoons finely chopped cilantro (or flat leaf parsley if you don't like cilantro)
2 teaspoons seeded and finely chopped jalapeno or chili pepper
1-1/2 teaspoons finely chopped pared ginger root
1 teaspoon sesame oil
1/2 teaspoon honey
In a glass bowl, combine all ingredients and stir to combine.  Cover with plastic wrap and refrigerate at least 30 minutes for flavors to blend.  Stir salad before serving.  Serves 2.