The first bite of these cookies reminded me of Keebler Pecan Sandies that I haven't had in ages, but it brought back memories of them.  These cookies are wonderful and make a great treat for the fall season.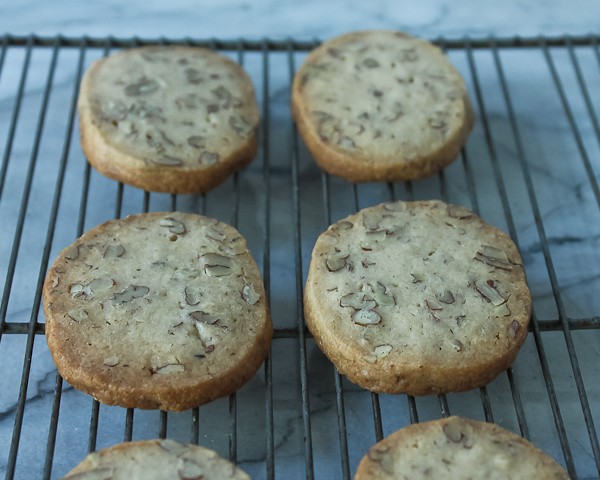 They even resemble how I remember the Pecan Sandies.  All I know is, these will now be a staple in my recipe box.  I made the dough two days earlier as it will keep well.  Since it is a refrigerator cookie made into logs and sliced when very cold, it's the perfect cookie to make ahead and bake when ready.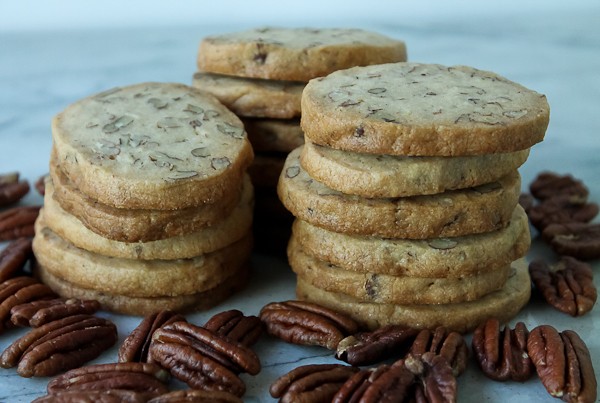 I follow the Dorie Greenspan advice on baking, especially cookies and pies.  She says to bake them a bit extra time to develop a more golden color as it adds to the flavor, advice that truly works with these cookies.  I purposely made a couple more pale ones and compared to the rest that were a deep golden color around the edges.  The taste difference of that extra minute or so was amazing!  You truly can tell the difference.  They are buttery, crunchy, and melt in your mouth.  Make some to share!

Maple Pecan Butter Cookies
Ingredients
2 sticks (8 ounces) butter, softened (no substitutes!)
½ cup granulated white sugar
1 large egg yolk
3 Tablespoons pure maple syrup (not the fake stuff)
½ teaspoon vanilla extract
2 cups all-purpose flour
1-1/4 cup pecans, coarsely chopped (not finely chopped or the pecans won't show through enough)
Instructions
In bowl of electric mixer, beat the butter until pale and creamy, about 3-4 minutes, scraping bowl frequently. Gradually add sugar and beat until well-blended. Add the maple syrup, egg yolk, and vanilla and mix until blended. Mix in the flour and pecans until blended.
Divide the dough in half and shape each into two logs, 8-inches long. Wrap each tightly in plastic wrap, being careful to keep the shape and size. Refrigerate until very cold and firm, at least 4 hours, or as long as a couple days.
Heat oven to 350 degrees. Line a cookie sheet with parchment paper, or use an ungreased cookie sheet. Take the dough, one log at a time, out of the refrigerator. Unwrap the log and using a very sharp knife, slice the dough about ½-inch thick. (measure it - it's thicker than you think!). Place the disks on the cookie sheet and bake for about 20 minutes or until deep golden around the edges, watching carefully the last couple minutes. Remove cookies from oven and let sit on cookie sheet for a minute before removing to wire rack to cool completely. Store in an airtight container. Makes about 3-1/2 dozen cookies.