It's autumn, and time for heartier foods to warm our bellies.  An Oktoberfest menu would fit that bill, not to mention a great party to go along with it.  In the USA, Oktoberfest celebrations commemorate the world-famous 200-year-old Oktoberfest in Munich by offering German food, music, beer, and lots of merry-making.  Oktoberfest has now been declared as the largest public festival in the world.
A typical Oktoberfest menu would include items such as sausages of all kinds, beer, dark rye bread, sauerkraut, Black Forest Cake, pretzels, mustard, and my favorite, Hot German Potato Salad.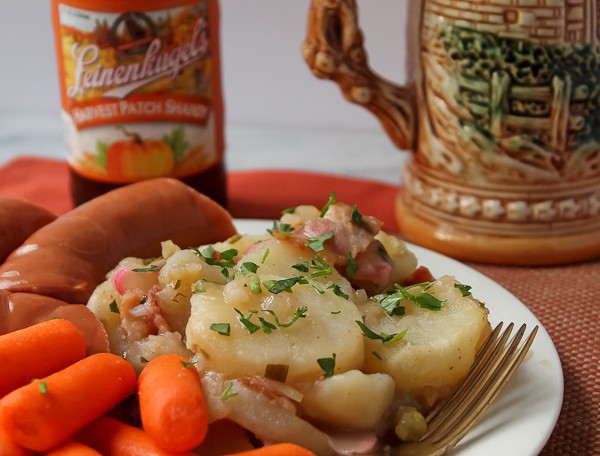 I have experimented with all kinds of recipes for this dish over the years and this is one of my all-time favorites. I only discovered this recipe a couple weeks ago when I wrote my blog about the monthly report of my favorite vintage Sphere magazine, the October 1973 issue.  It caught my attention because it used one ingredient I had never used before in a hot potato salad – radishes!  The hot salad is baked and right after it is pulled from the oven, sliced radishes are stirred in just before serving.  It sounded odd, but not only was it wonderful, it added a nice crunch and color.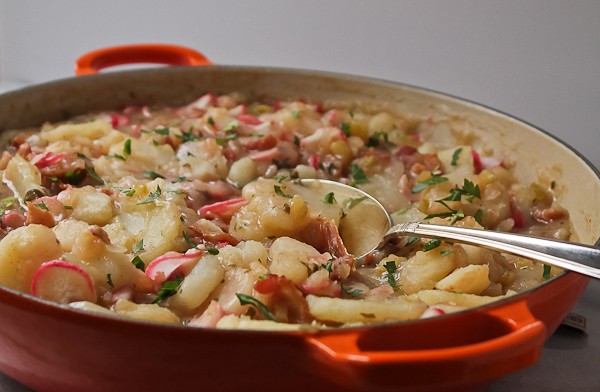 The potatoes are first pared and simmered gently in one layer, in a small amount of salt water.  Not much water is used to boil the potatoes because you want to keep the shape.  If the pared potatoes are covered with water, they will get mushy and won't slice well.  Bacon is fried up until crispy, then celery and onion are cooked in the bacon drippings.  Flour and salt are stirred in for thickening, then water, cider vinegar, and sugar are added to  make that wonderful sweet-sour flavor.  Everything is mixed together and baked, then the radishes are stirred in at the last minute and it's ready to enjoy with some hot cooked sausage, rye or pretzel bread, sauerkraut, and any other German dishes for the occasion.
When I visited Finland this past summer, I learned that Finns also love sausages.  I bought this beautiful sausage holder and slicer and was looking for an excuse to use it.  Turns out it's also perfect for Oktoberfest!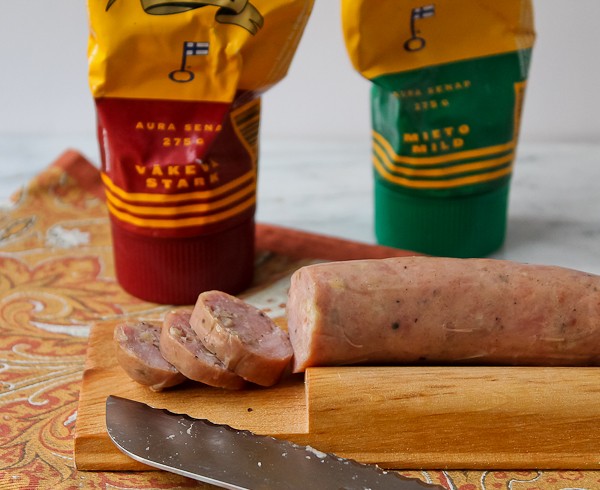 That's authentic Finnish mustard in the photo, but of course for Oktoberfest use some great German mustards.  The sausage board is very long, about a foot and a half.  It's all hand-carved and beautiful.  It would also look great with the sliced sausage pieces along the whole length of it for serving.
This recipe makes a lot and will serve about twelve hungry people, even if they are not dressed in the traditional Lederhosen or Dirndl dresses!

Hot German Potato Salad
Author:
Sphere Magazine, October 1973
Ingredients
4-1/2 pounds potatoes (about 12 medium)
9 slices bacon, diced
1-1/2 cups chopped onion
¾ cup chopped celery
3 Tablespoons all-purpose flour
1 Tablespoon plus 1 teaspoon salt
1-1/2 cups water
1 cup apple cider vinegar
1 cup sugar
⅓ cup snipped parsley
1-1/2 cups sliced radishes
Instructions
Peel potatoes. Place potatoes, in one layer, in a large (12-inch) skillet with lid. The potatoes must not be on top of each other. Add only about 1 inch of water and ½ teaspoon of salt to pan. The water will barely come halfway up the potatoes. Bring to a boil, then turn heat to very low. Cover pan tightly and simmer gently until potatoes are just tender when pierced with a knife, about 30 to 35 minutes. Check occasionally to make sure the heat is not too high and the water has not boiled away. Add more water if needed. The potatoes are basically steamed so they retain their shape in order to slice nicely. When done, drain potatoes and set aside.
Heat oven to 350 degrees.
Using the same skillet, fry the bacon until crisp. Remove with a slotted spoon and drain on paper towels; set aside. To the drippings in pan, saute the onion and celery until tender. Stir in the flour and salt. Cook over low heat, stirring constantly, until bubbly. Remove from heat and stir in the water, vinegar, and sugar. Return to heat, and heat to boiling, stirring constantly. Boil and stir for 1 minute. Stir in bacon and parsley; remove from heat.
Cut potatoes into slices and stir gently into mixture in pan; mix well. Transfer potato mixture to a 3-1/2 to 4-quart casserole dish. Cover dish and bake at 350 degrees for 30 minutes. Remove from oven and stir in the radishes. Serve immediately, sprinkled with more chopped parsley if desired. Makes 12 servings.