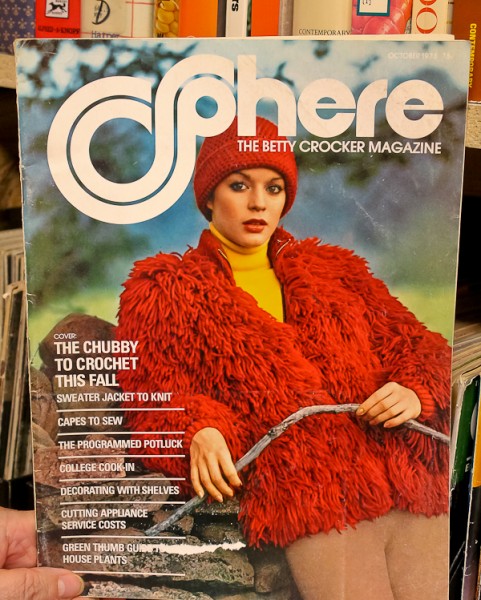 Who remembers these crocheted jackets from the early '70's called "Chubbies?"  What was someone thinking with that name?  Doubt that would go over very well these days.  I always thought they looked like shag rugs, but a lot of people loved them.  In addition to some great recipes, this October 1973 Sphere magazine issue is filled with '70's fashion ideas, most with the patterns either included in the magazine or by mail order for $2 or less. Capes were also big in 1973.
I think the gorgeous black and white one looks like something that could be worn now!
Also popular were embroidered items, from aprons to shirts, to wall hangings.  In this issue it was a peasant apron.  It's adorable but I would never cook in it.  I would get it all splattered.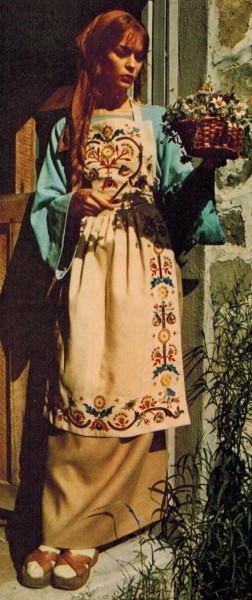 Seeing this made me remember a shirt my mom embroidered for me back in the early '70's.  I loved that shirt.  I loved it so much that I still have it.  And here it is, still in perfect condition, and by the way, it was once worn by one of my girls for a Halloween costume as a hippie!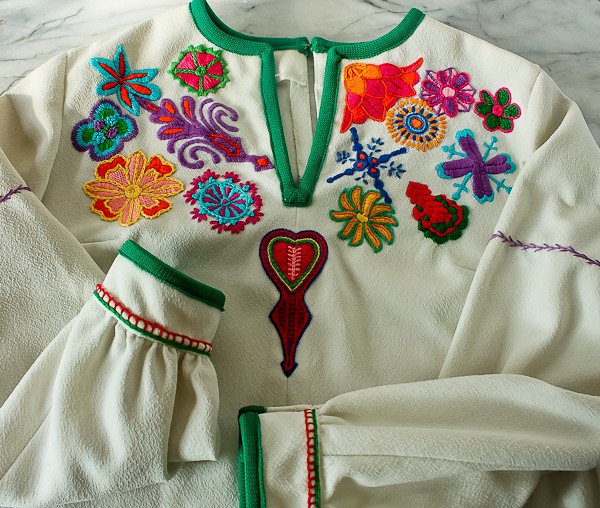 Food was as much fun as the fashion in this issue.  Since it was October, the first article was all about soups: Swiss Cheese and Ham; Mushroom; Chicken with Rice and Avocado, and Tomato with Tortilla strips.  A potluck dinner menu included hot spiced cider, a marinated beef roast, Hot German Potato Salad, bean salad, and a pineapple cheese cake.  I love Hot German Potato Salad and this one has radishes in it, which I have never seen before.  It's on my list to try this month.  Since students are back in college at this time of year, there are recipes for cooking in dorm rooms or small apartments.  Granola was big back then.  Other recipes included in this issue are chocolate-caramel apples that kids can make, and a recipe from the section called "His Dish" that is a hearty and meaty family sauce topped with cauliflower and served on spaghetti with the interesting name of "Eat a Million Flowers."
One of the most requested recipes I receive from readers who are Sphere magazine enthusiasts is for a beautiful and unusual wedding cake from 1972 that you can read on my blog about that issue.  Over the next year, the cake proved to be so popular that readers asked for a recipe to make the wedding cake on a smaller level.  Instead of a tiered cake, Sphere offered a square version.  You will find the recipe in this October 19783 issue.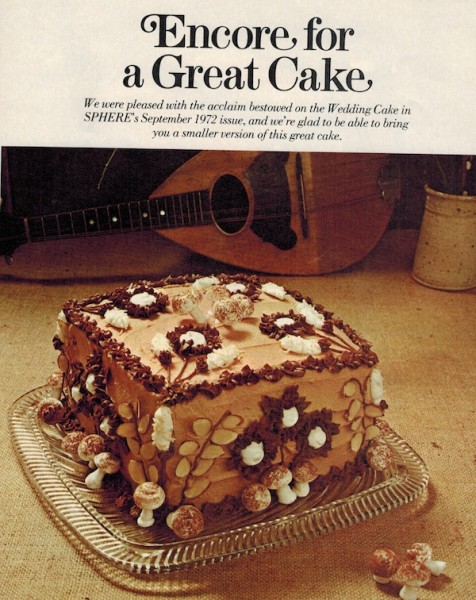 Even though this issue is filled with all kinds of great crafts and recipes on every page, my favorite article turned out to be the one on pumpkin and squash recipes.  You can make gingerbread with a pumpkin topping; pumpkin butter; pickled pumpkin; tapioca pudding baked in a pumpkin; squash soup; lamb and squash; and my favorite, a pumpkin raisin yeast bread with a pumpkin pie spice-infused drizzle on top of the loaf.
The bread contains pumpkin, raisins, and all the fragrant pumpkin spices.  Here is the finished bread about one minute after I took it out of the oven: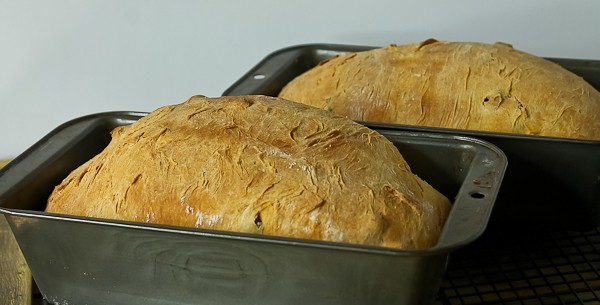 After the bread is removed from the pans and cooled, a confectioner's sugar icing with pumpkin pie spice is drizzled over the loaves and left on the wire rack until set.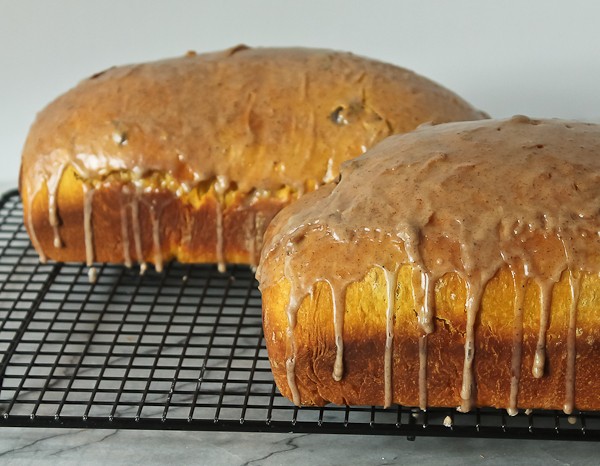 The thin icing adds a wonderful flavor and extra fun bites of sweetness to the incredibly moist bread.  This is so good and a lovely color.  I'm already looking forward to having more for breakfast tomorrow.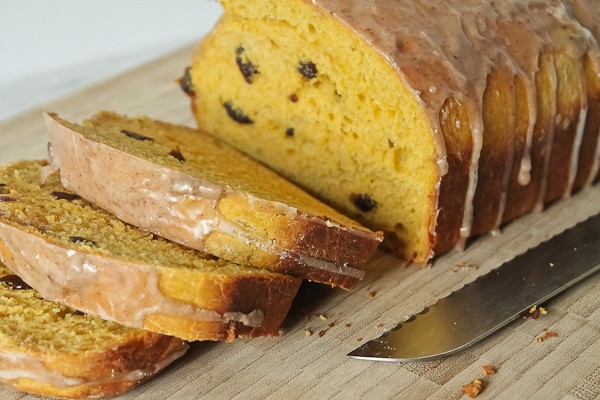 It makes great toast too, and I imagine would make good French toast but I haven't tried that yet.  Plain and simple oversized slices with butter melting into it suits me fine.
Pumpkin Raisin Bread
Author:
Sphere Magazine, October 1973
Ingredients
1 packet active dry yeast (not quick-rise)
1-1/2 cups warm water (105-115 degrees F)
⅔ cup sugar
1-1/2 teaspoons salt
⅔ cup solid vegetable shortening - (Crisco plain, not butter flavor)
2 eggs
1 cup canned pumpkin
1 teaspoon ground cinnamon
½ teaspoon ground ginger
⅛ teaspoon ground cloves
7 to 7-1/2 cups all-purpose flour
½ cup dark raisins
Softened butter for brushing on loaves
1 cup powdered sugar
5 to 6 teaspoons water
½ teaspoon ground pumpkin pie spice
Instructions
In large bowl of electric mixer, dissolve yeast in the warm water. Stir in the sugar, salt, shortening, eggs, pumpkin, cinnamon, ginger, cloves, and 3 cups of the flour. Beat until smooth. Mix in raisins and enough remaining flour to make dough easy to handle but still soft.
Turn dough out onto lightly floured board. Knead until smooth and elastic, about 5 minutes. Place in a greased bowl; turn greased side up. Cover bowl with a tea towel and let rise in a warm place until doubled in bulk, about 1-1/2 hours. Dough is ready if impression remains when pressed with fingers.
Punch dough down and divide evenly in half. Roll each half into a rectangle, 18-by-9 inches. Roll up, beginning at short side. Press each end to seal. Fold ends under loaf. Place each loaf seam side down in two greased loaf pans, 9-by-5-by-3-inches. Brush loaves lightly with softened butter. Let rise until double, about 1 hour.
Heat oven to 375 degrees. Adjust racks in oven so that tops of loaves are in center of oven. Pans should not touch each other or the sides of the oven. Bake until deep golden brown and loaves sound hollow when tapped, 40 to 45 minutes. Remove from pans and cool on wire rack.
Mix powdered sugar with water and pumpkin pie spice. (start with 5 teaspoons; add another if needed). Drizzle over loaves.