You know how some mornings turn out; no time for breakfast, much less time to get dressed.  Then you get to work and all you see is a table of doughnuts and other sweets in the lunch room.  While these cookies won't take the place of a hot breakfast, they definitely aren't a cream-filled doughnut either, so why not have at least something on hand to grab on those hectic mornings that will not only taste wonderful and satisfying but keep you away from the mega-sweets.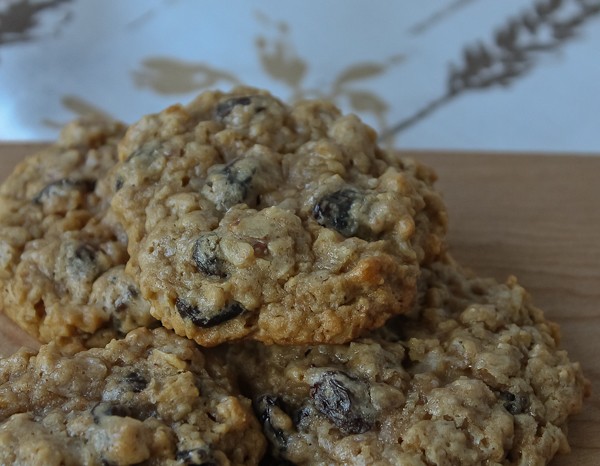 The recipe makes about 4 dozen cookies. They can be stored in an airtight container in the refrigerator or at room temperature for up to three weeks, ready to grab for busy mornings. The cookies can also be great on road trips, or an after school snack for the kids with a glass of milk.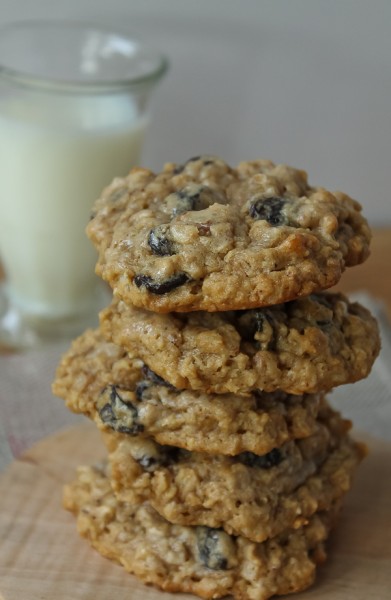 You can even have them staying home for breakfast with a cup of tea, which is what I did.  Well, actually, I only did that as an excuse to show you this beautiful tea cup and plate I bought in Finland this summer.  Isn't it lovely?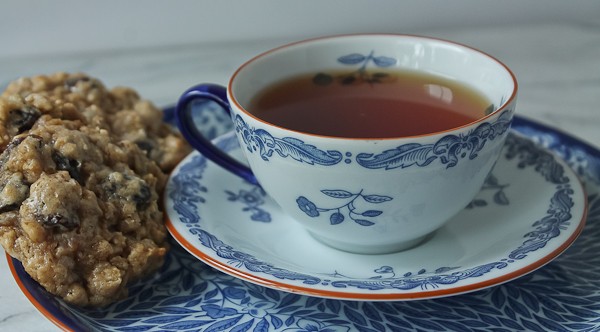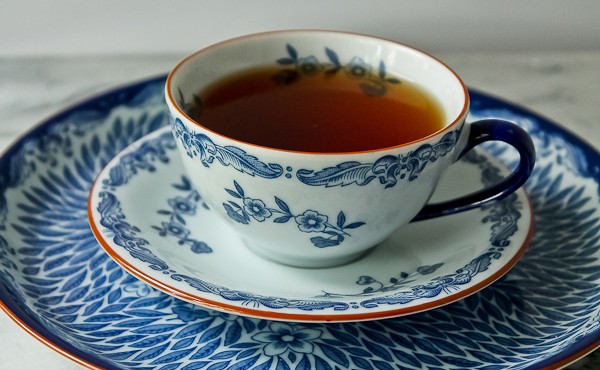 No matter how you eat these cookies, I think you will like them!

Oatmeal Raisin Breakfast Cookies
Ingredients
3 cups rolled oats
2 cups all-purpose flour
1 cup whole wheat flour
2 cups packed light or dark brown sugar
2 teaspoons ground nutmeg
1-1/2 teaspoons baking soda
1-1/2 teaspoons salt
1 cup unsalted butter, room temperature
1 cup buttermilk
1 cup dark raisins (or your favorite moist dried fruit)
½ cup chopped walnuts (or your favorite nut)
Additional buttermilk to brush on cookies
Instructions
Heat oven to 375 degrees. Line large cookie sheets with parchment paper or lightly grease.
In a large mixing bowl, combine rolled oats, flours, brown sugar, nutmeg, baking soda, and salt; mix well. Using a pastry blender or fork, cut in the butter until mixture is moist and crumbly. Stir in the buttermilk, then raisins and nuts until well mixed.
Drop by heaping tablespoonfuls onto prepared baking sheets 1-inch apart. Lightly brush each cookie with buttermilk. Bake for 10 to 11 minutes or until the edges are lightly browned. Remove from oven and let cookies sit on cookie sheet for a minute or two before removing to wire rack to cool completely.