Those of you who live in the Midwest and remember walking home from grade school for lunch, might also remember that mom would have a hot bowl of soup waiting for you, especially in the winter.  Wow, does that sentence ever show my age.  I don't know of anywhere where kids are allowed to walk home from school for lunch anymore, and most moms are out working so no one is home to make a hot bowl of soup.  Anyway, I loved those days and enjoyed trudging back in the snow those few blocks to school with a belly full of hot soup to last the rest of the day.  This soup would have fit the bill.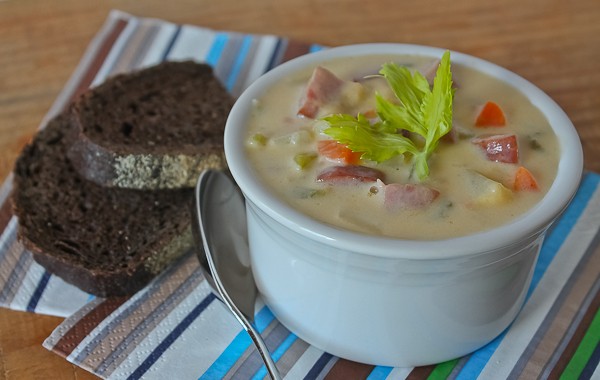 My grandmother lived with us when I was growing up and she loved making meals where she would saute onions, celery, and carrots together in butter and use it in a variety of ways.  In fact, sometimes I used to ask her if I could just have a bowl of those vegetables for a snack.  I thought of my grandma as I was making this soup because it contains those three ingredients, along with potatoes, kielbasa, cheese, milk, and spices.  It's a real Midwest comfort meal.

Midwest Kielbasa Cheesy Potato Soup
Ingredients
1 large onion, halved lengthwise and thinly sliced
1 cup sliced celery
¼ cup butter
¼ cup all-purpose flour
2 teaspoons Worcestershire sauce
¾ teaspoon dry mustard
1 can (14-1/2 ounces) chicken broth
3 cups peeled and cubed potatoes
1 cup chopped carrots
8 ounces fully cooked kielbasa, halved and sliced ¼-inch thick
3 cups whole or 2% milk
3 cups shredded sharp cheddar cheese (about 12 ounces)
Salt and freshly ground black pepper to taste
Crushed red pepper flakes to taste (optional)
Parsley sprigs or celery leaves for garnish (optional)
Instructions
In a Dutch oven cook onion and celery in butter over medium heat until tender. Stir in flour, Worcestershire sauce and dry mustard. Cook and stir for 2 minutes. Gradually stir in chicken broth until blended.
Add potatoes, carrots, and kielbasa. Bring to boiling; reduce heat and simmer, covered, for 15-20 minutes or until potatoes are tender.
Gradually stir in milk. Heat and stir until mixture almost comes to a boil. Reduce heat and gradually add cheese, stirring after each addition until cheese is melted. Taste for salt, pepper, and red pepper flakes, if using. Ladle soup into bowls and garnish if desired. Serves 6-8.