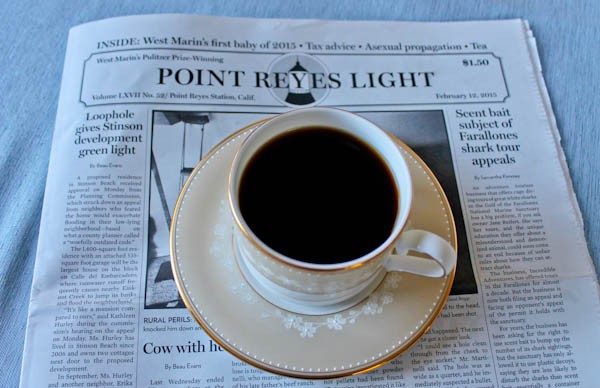 It was a beautiful morning today in Point Reyes, California.  We finally woke up fully rested after a rather exhausting beginning.  My flight was on time Saturday night, but my girls flying in from New York City and meeting me in San Francisco were delayed four hours.  I had to go pick up the rental car as they closed at midnight and the girls were not expected to land until about 1:00 am.  Four hours alone at SFO with everything closed tends to make one's mind wander.  I started out people watching, then suddenly almost everyone disappeared.  Reading a book on my iPad became boring, nothing was open, and it was too late to call anyone to say hi.  So I started singing songs in my head.  Then I imagined that video of the teacher from Texas doing Uptown Funk through the school, except I figured out his route through the airport instead.  After that I started making up recipes in my head but then I got hungry thinking about them so I quit.  Finally I heard someone yell MOMMA!!
We hopped in the rental car for the hour-long drive to Point Reyes from SFO.  We crossed the Golden Gate, passed my old stomping grounds of Larkspur, got off at Lucas Valley Road, and then it was off to the middle of nowhere in total darkness on twisty winding roads.  We almost hit a jack rabbit, a cat, and a possum, but luckily their lives were spared.  Finally we made it to mom's, fell into bed after 3:00 am and slept until 11:30 the next day.  Except for Kara.  She woke up at 8:00, walked into town, had breakfast at the little place called The Pine Cone Diner and made some new friends who she chatted with for two hours.  We all spent the rest of the day relaxing.  Kristina and Kara made a delicious soup for dinner, an Italian sausage soup with zucchini, tomatoes, garbanzo beans, and topped with grated Parmesan.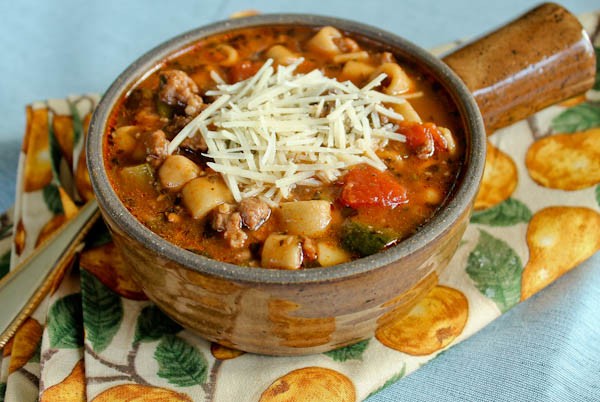 This morning we woke up anticipating a visit from our relatives Sara and Montana for lunch.  Sara brought a beautiful salad, focaccia bread, and some dark chocolate with almonds.  We made some broccoli-cheddar soup and the girls found some bite-sized goodies in town; citrus bars and sesame cookies.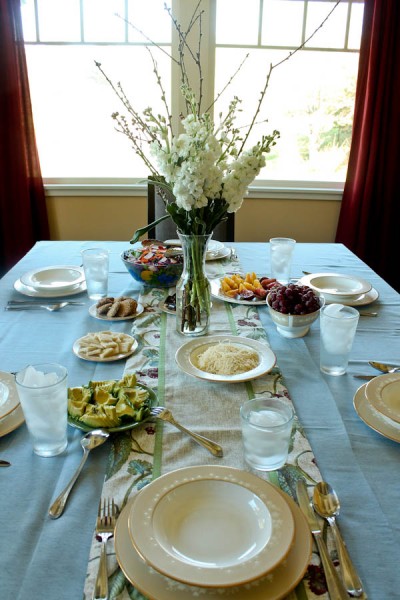 Sara and Montana also brought some beautiful flowers that we placed on the table along with my mom's china.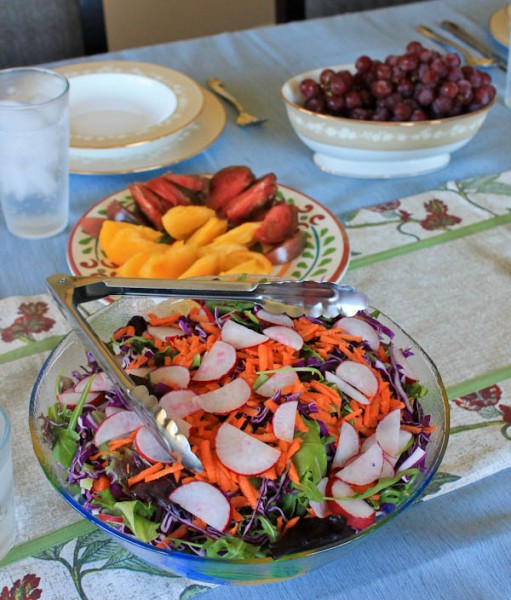 Sara's beautiful salad and heirloom tomatoes.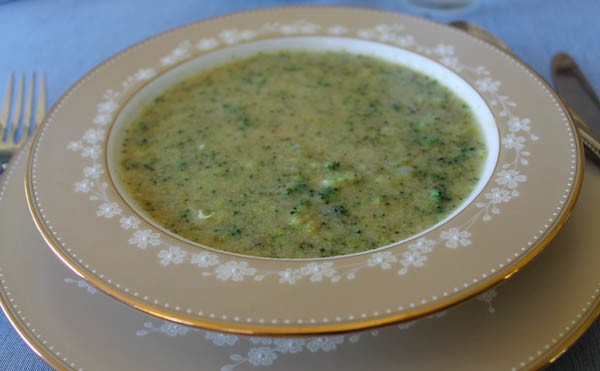 Broccoli-Cheddar Soup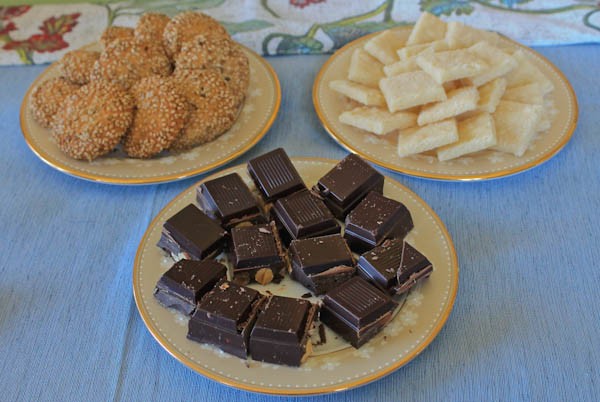 The yummy bite-sized treats.
We sat around the table and chatted for a couple hours.  Not only was the company enjoyable, this is our view out the window while eating and talking.  Not too hard to take.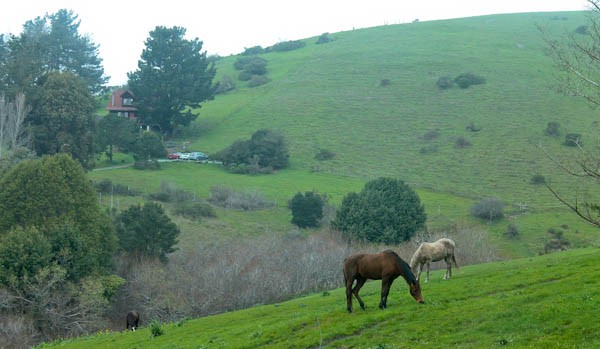 I think it will be a relaxing week, don't you think?  Come back tomorrow and see what we will be cooking up at mom's.  Don't be surprised if you see a lot of soup recipes this week.  Mom is the soup queen.

Broccoli Cheddar Soup
Ingredients
1 Tablespoon butter
1 cup chopped onion
1 clove garlic, minced
4 cups chopped fresh broccoli, divided
2 cups peeled diced red potato
2- ⅔ cups chicken broth
1 bay leaf
1 cup shredded reduced fat sharp cheddar cheese
1 can (12 ounces) evaporated fat-free or 2% milk
Salt and pepper, to taste
Instructions
Melt butter in a Dutch oven over medium heat. Add onion and garlic; saute until onion is softened, about 4-5 minutes. Add 2 cups of the broccoli, potatoes, chicken broth, and bay leaf. Bring to a boil. Reduce heat, cover, and simmer for 20 minutes or until vegetables are tender. Discard bay leaf.
Place half the broccoli mixture in a blender and process until smooth. Pour pureed mixture into a bowl. Repeat process with remaining broccoli mixture. Return puree to pan. Stir in remaining 2 cups chopped broccoli, cheese, and milk. Heat over medium heat until chopped broccoli is just tender, about 4-5 minutes, stirring frequently until very hot. Serve immediately.
Italian Sausage Soup
1 pound mild or hot Italian sausage
1 cup chopped onion
2 cloves garlic, minced
1 can (28 ounces) whole tomatoes, undrained
3 Tablespoons tomato paste
7 cups beef broth
1 cup dry red wine
2 Tablespoons dried basil
2 Tablespoons dried oregano
2 medium zucchini, diced
1/2 cup chopped parsley
1 cup any small pasta, like anelletti
1 can (16 ounces) garbanzo beans, drained
Salt and pepper, to taste
Grated Parmesan cheese, for topping
Directions:
In a Dutch oven, crumble sausage and saute until lightly browned.  Add onions and garlic and cook until onion is softened.  Add tomatoes and liquid, breaking up with a spoon, tomato paste, broth, red wine, basil, and oregano.  Cook, uncovered,  over medium heat for 30 minutes stirring occasionally.  Add zucchini, parsley, and pasta; continue cooking, stirring occasionally until pasta is tender, about 15-20 minutes.  Add garbanzo beans last 10 minutes of cooking time.  Taste for salt and pepper.  Serve hot topped with some grated Parmesan.