As you are reading this, I am in California visiting my mom along with my two daughters.  But before I left, I did my best to instruct my non-cooking husband how easy it is to cook a meal while I am gone with no recipe and no cooking skills.  If my husband can make this, anyone can!  It's only a matter of tossing everything on a roasting pan and baking it.  Really.  That's it.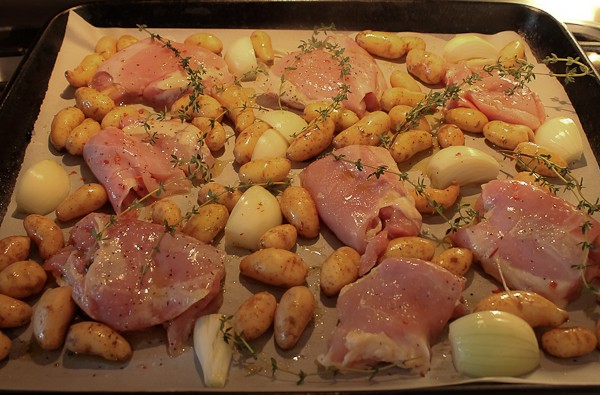 All you do is line a large roasting pan with parchment or nonstick foil and turn the oven to 450 degrees.  Toss onto the pan raw skinless boneless chicken thighs, tiny fingerling potatoes, sliced onion, and some sprigs of thyme.  Sprinkle it all with salt and pepper, then drizzle it all with olive oil and pop it in the oven for 25 minutes.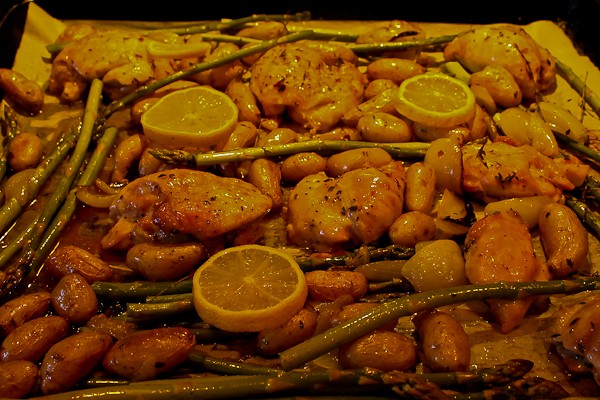 After the 25 minutes, remove from oven and add some thin asparagus spears and a few lemon slices.  Drizzle with some more olive oil if you think it needs it. Return to the oven for another 10 minutes and it's done, not to mention the kitchen smells lovely.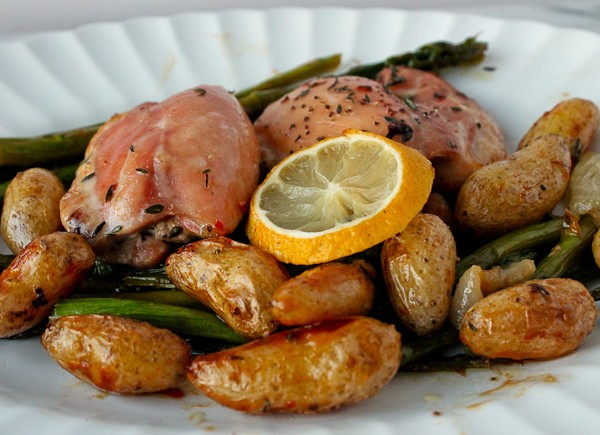 Put it all on a platter and dinner is served.  So how easy is that?  Perfect meal for a non-cook.  Even my husband. And when I get back from California, I wonder how many pizza boxes I will find in recycling bin.  Well, at least I tried…