Happy birthday to all the Leap Year babies today!  I couldn't find any specific Leap Day food, so I asked my husband what he wanted for dinner.  But since I had leftover meat from a roast chicken and also made some homemade stock, he was urged to choose from what I had.  He decided he wanted old-fashioned comfort food and settled on creamed chicken with mushrooms and peas on buttermilk biscuits.  An old-fashioned meal calls for an old-fashioned dessert.  "Tapioca pudding," he said.  "How about if I jazz it up, just a little," I asked.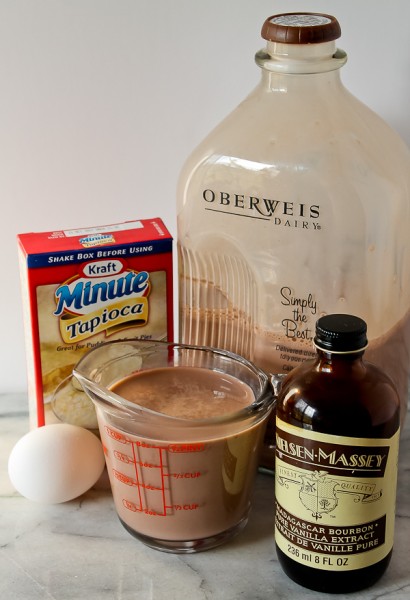 One peek into the refrigerator and I knew it would be chocolate tapioca pudding, especially since we happened to have Oberweis Dairy chocolate milk.  Oberweis products are still packaged in glass bottles and still delivered right to your door.  See?  Old-fashioned dessert in more ways than one.  And Nielsen-Massey vanilla is the best.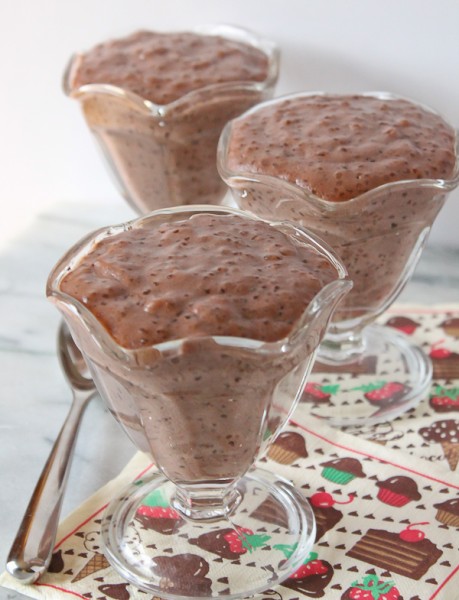 The ingredients are so simple.  There is no added sugar since the chocolate milk already has some.  We have always preferred our tapioca with no topping of any kind, but a dollop of whipped cream can be added if desired. We also like it warm or cold.  Either way, it's like eating spoonfuls of childhood memories.  We both loved it as kids and still do.  But now we like chocolate too.  See what you think!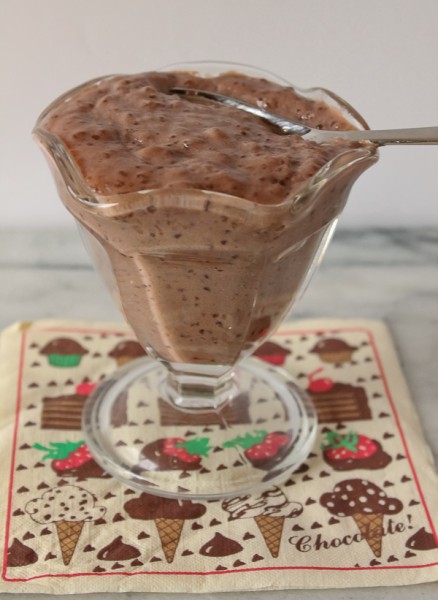 Chocolate Tapioca Pudding
Ingredients
3 Tablespoons quick-cooking Tapioca
⅛ teaspoon salt
1 egg, beaten
2-3/4 cups good quality chocolate-flavored milk
¾ teaspoon vanilla extract
Instructions
In a 2-quart saucepan, mix all ingredients except vanilla; let stand for 5 minutes.
Over medium-high heat, bring to a boil, stirring constantly.
Remove from heat and stir in vanilla; let stand for 20 minutes, then stir.
Spoon pudding into individual dessert dishes. Cover with plastic wrap and refrigerate until cold, or pudding can be eaten warm, if desired. Serves 4-6.