My husband Bill loves presidential races.  He watches any and every show about the candidates, while I listen to his comments until I have had my fill and then I need to go read a book or cook something.  When Bill watches for hours, he likes to have something to nibble on, usually sweet and usually chocolate.  One of his comments yesterday on Super Tuesday was something about how this race has been a rocky road and getting worse.  So of course that got my cooking mind thinking… rocky road…chocolate… must be something I can make to escape watching more talking heads.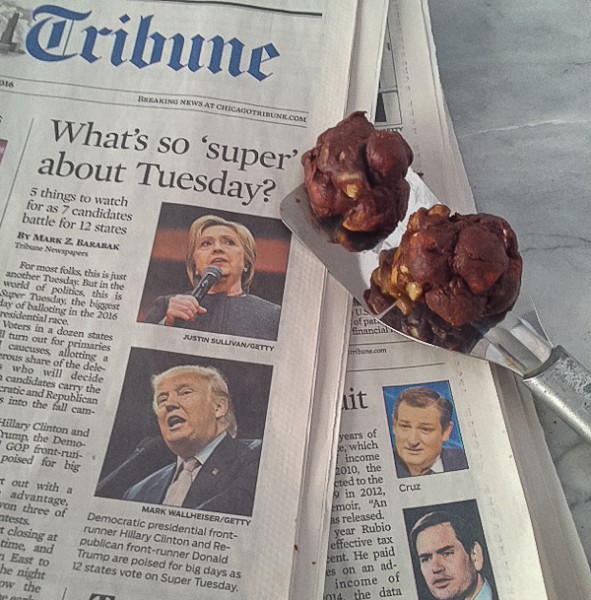 I found a recipe in one of my trusty old vintage Sphere magazines for Rocky Road Clusters, although the magazine called them "Semisweet Chocolate Clusters."  I thought Rocky Road sounded better since they have marshmallows and nuts.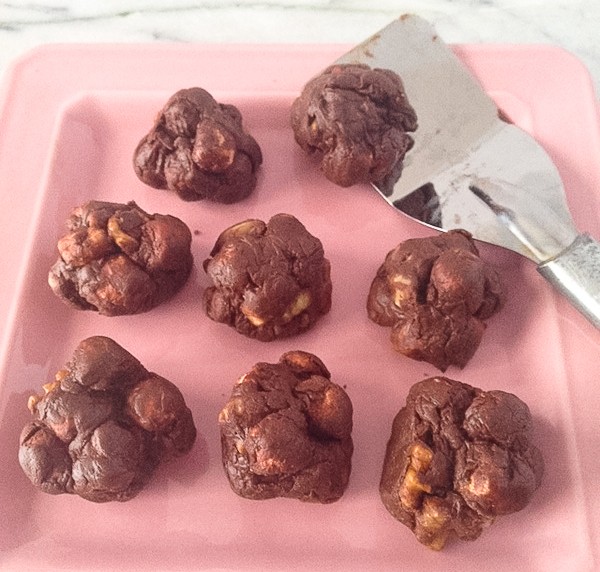 They are super easy to make, taste like a Rocky Road fudge, and Bill went crazy for them.  Now I can make them, walk away, and not have to listen to the candidates until I want to pull my hair out.  I can only take some of them for so long.
Can I just vote for another Rocky instead?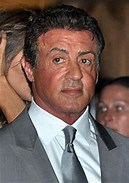 Sorry… I am just getting tired of politics…
Time for a bite of Rocky Road.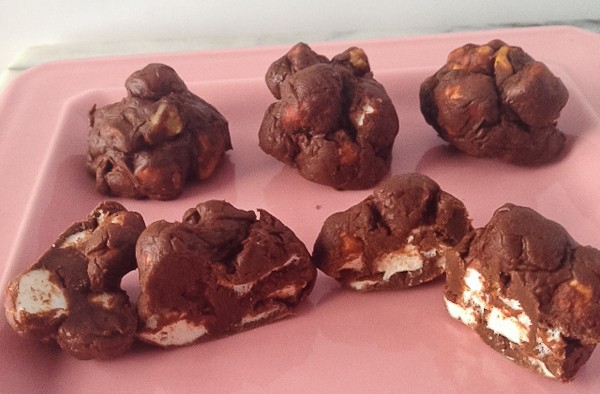 Rocky Road Clusters
Author:
Sphere Magazine, April 1974 (originally called Semisweet Chocolate Clusters)
Ingredients
1 package (12 ounces) semisweet chocolate chips
⅔ cup sweetened condensed milk
1 Tablespoon water
1 teaspoon vanilla
½ teaspoon salt
2 cups miniature marshmallows
1 cup broken walnuts
Instructions
Line a baking sheet with waxed paper or parchment paper; set aside.
In a medium saucepan, heat chocolate chips over low heat, stirring constantly until melted. Remove from heat.
Stir in condensed milk, water, vanilla, and salt until smooth and satiny. Do not beat.
Fold in marshmallows and walnuts.
Drop mixture by teaspoonfuls onto prepared baking sheet. Let stand until firm. Makes approximately 2-1/2 to 3 dozen. Store in airtight container with clusters layered with wax paper or plastic wrap.