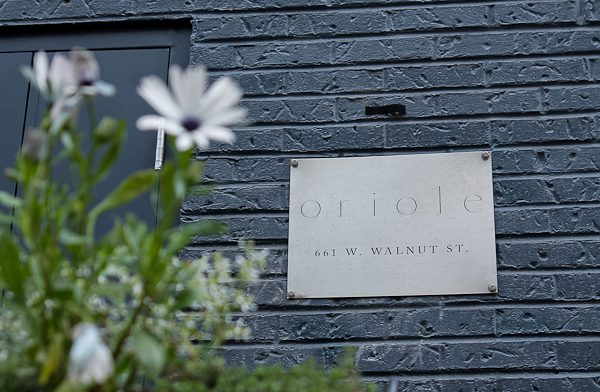 It might take driving around the block a couple of times, and turning around in the Jewel parking lot down the street and back-tracking, but when you realize the gem that is Oriole appears down this unassuming West Loop Chicago alleyway, it's like finding gold.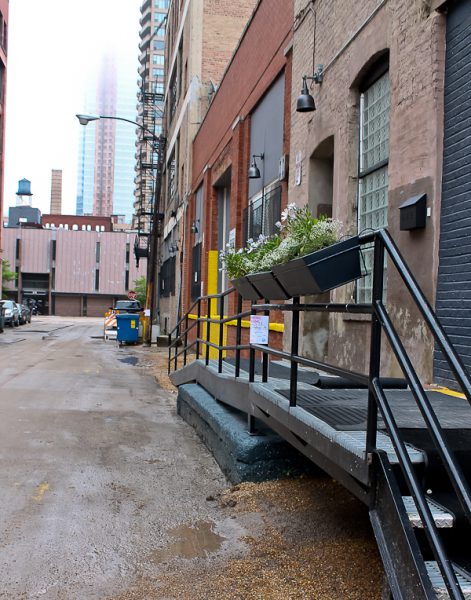 My daughter Kristina flew into town from New York City for the James Beard Awards earlier this month and was invited to many of the pre-and-post-party activities. First on the agenda was a Sunday lunch at Oriole.  Lucky for me, she could bring a guest.
The bright and cheery daisies greeted us outside, and when a friendly face opened the door, all we could see was a large freight elevator a few steps in.  The clunky old steel door was rolled open and we stepped through into another world. It was like Dorothy in The Wizard of Oz waking up and opening her door to a magic land of color.  The stunning 28-seat restaurant was right before us with beautiful lighting, brick walls, wooden beams, tables set with white linens, and many more smiling and welcoming faces to greet guests for the day.
Straight ahead we could see the kitchen.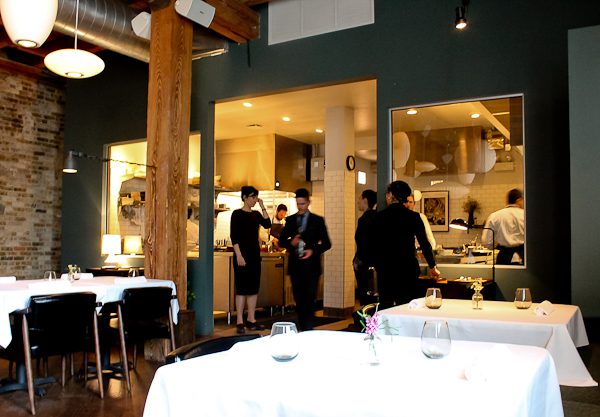 The chefs were busy at work, with savory on the right and sweet on the left.  We had our choice of tables and chose one close by one of the lovely windows so we could have natural light for photography.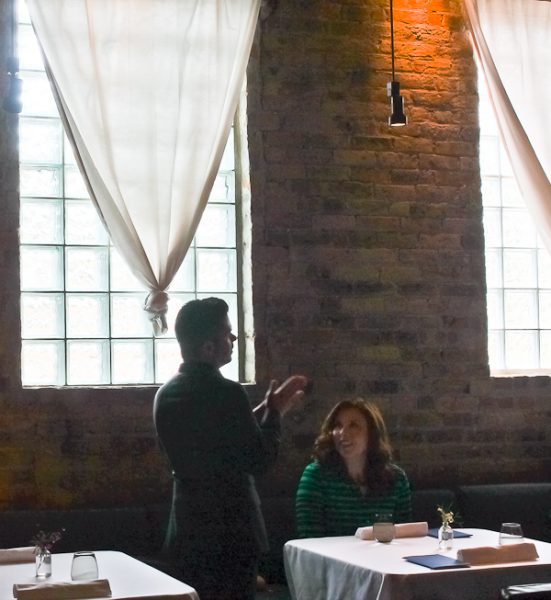 While Kristina was chatting about the menu, I took this time for a peek into the kitchen.  I was introduced and warmly greeted by Chef and owner Noah Sandoval and his wife Cara, who leads the front of the house.  Chef Sandoval had already earned a Michelin star elsewhere, so we were highly anticipating his food.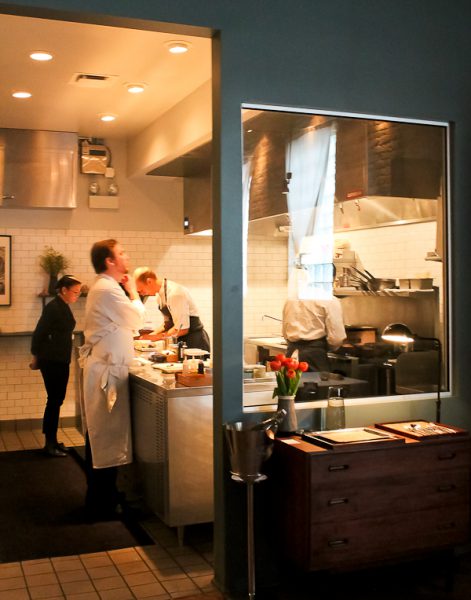 I managed to get a few shots before lunch, on both sides of the kitchen.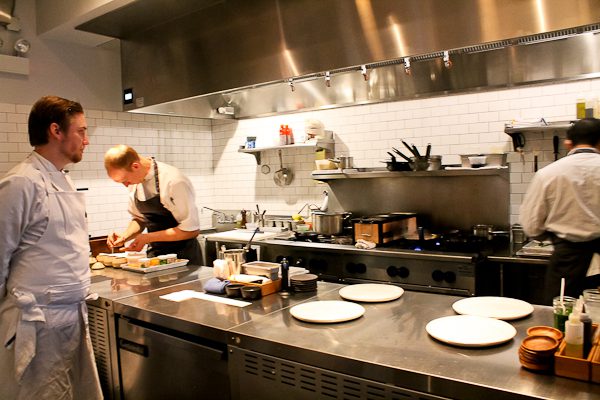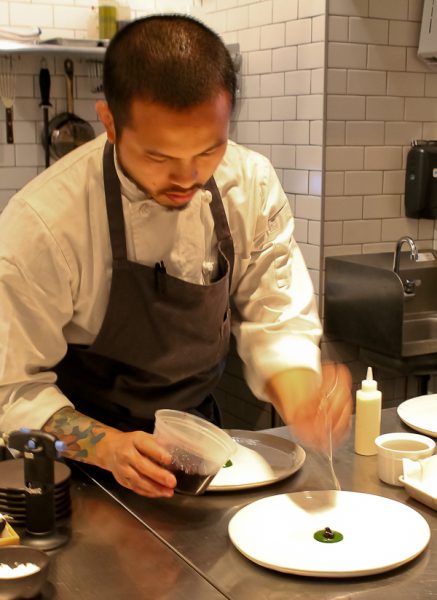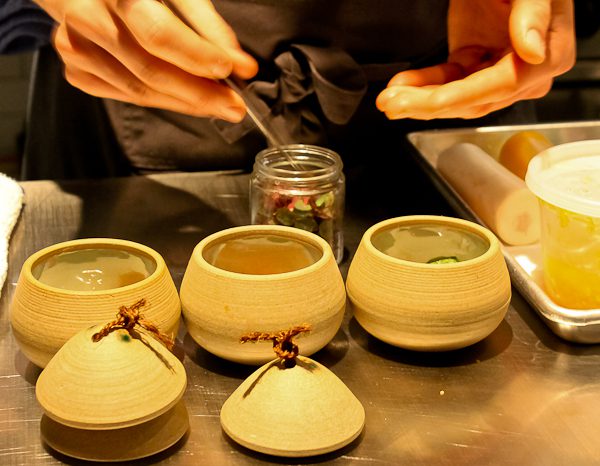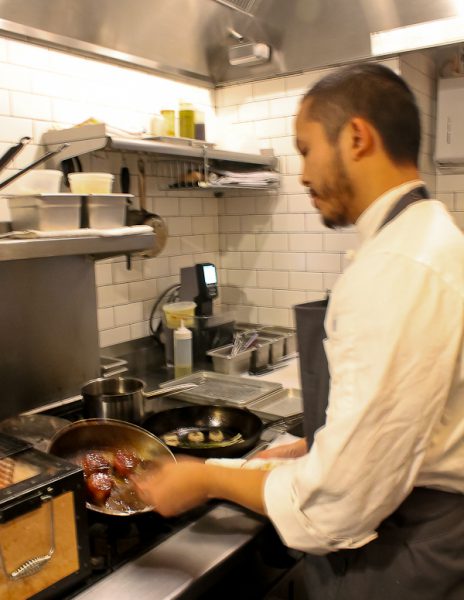 And over on the sweet side…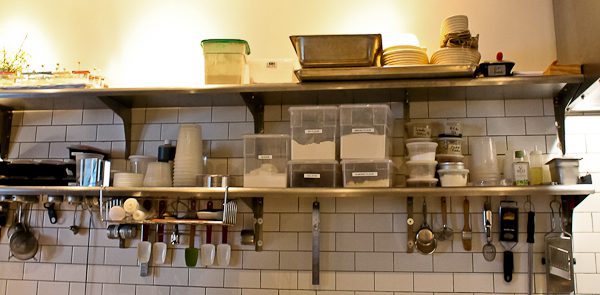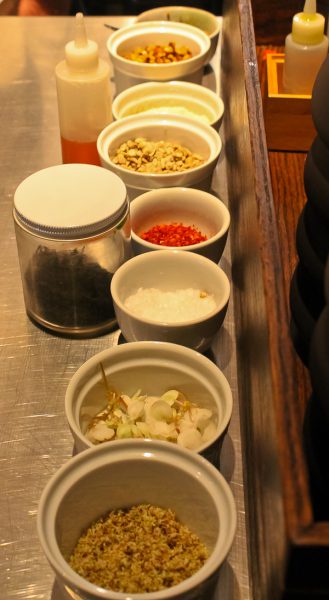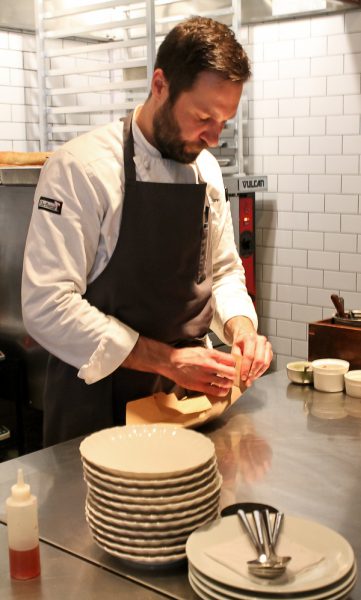 I wanted to take so many more photos, but no way was I going to disturb the masters!  It was starting to smell so heavenly in the kitchen.  I went back and joined Kristina who was looking over the champagne, cocktail, beer and cider list.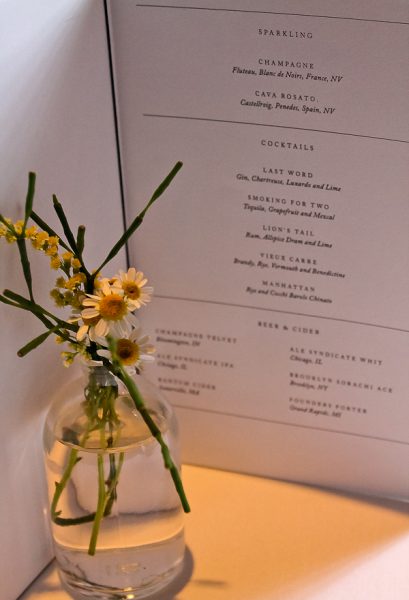 How about some beautiful Champagne to begin our adventure?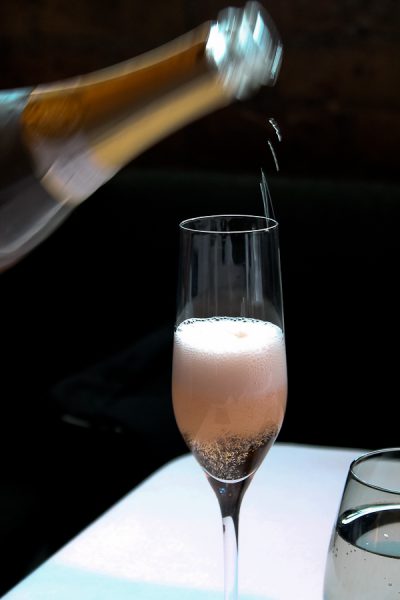 The first plate before us was a work of art.  Shio Kombu: rhubarb, coconut, and mint.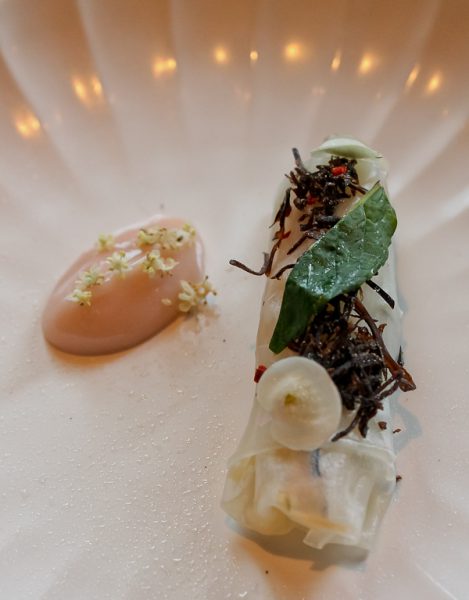 The lid of the bowl was topped with a bite of langoustine with kristal caviar, white asparagus, and saffron.  Inside the bowl was a perfect slice of Iberico ham complemented with black walnut, sweet and nutty Campo de Montalban cheese, and an egg yolk.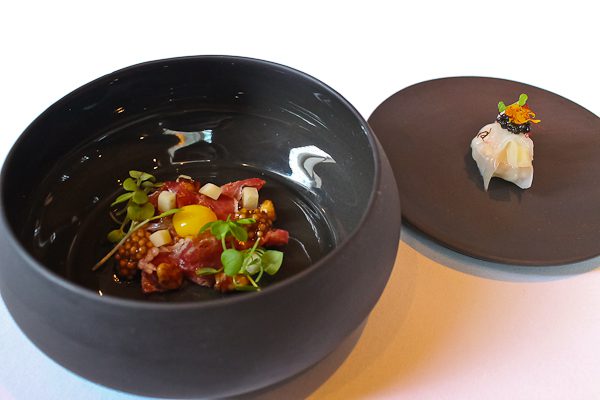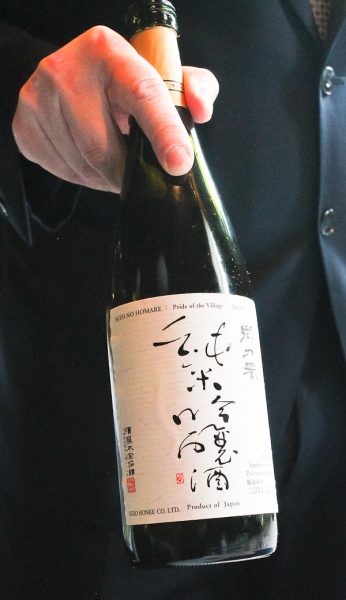 You won't find this sake anywhere else in the city except at Oriole.  Ask sommelier Aaron McManus about it.  He is proud of this sake, and should be.  It was paired with Santa Barbara Sea Urchin with yuzu kosho, a fermented citrus-chile paste, and genmai.  Sake and sea urchin were not high on my list of favorites until now.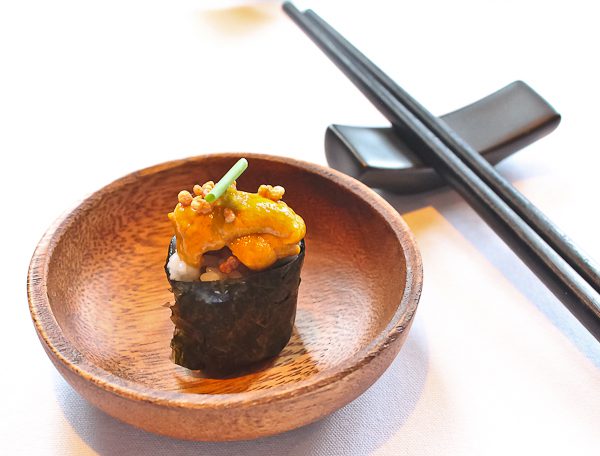 The Hudson Valley Foie Gras was one delectable bite with green strawberry and sunflower seed.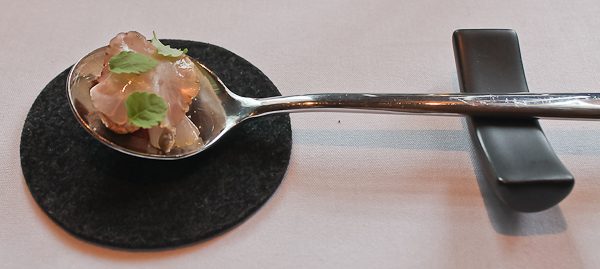 The Alaskan King Crab with cara cara orange, spring onion, and herbs was almost too pretty to eat, but a second bowl to enjoy would have been nice.  Kristina and I were getting to the point where we wished bowl-licking was in order.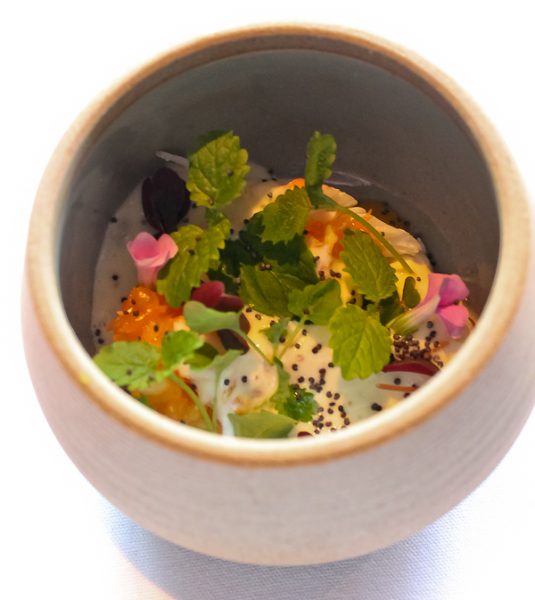 Talk about wanting more!  This single slice of sourdough bread slathered in cultured butter and topped with toasted nutty grains made us want to shamelessly beg for another slice.  Please.  I've got to try and duplicate this at home or else drive into the city every weekend just to have a slice.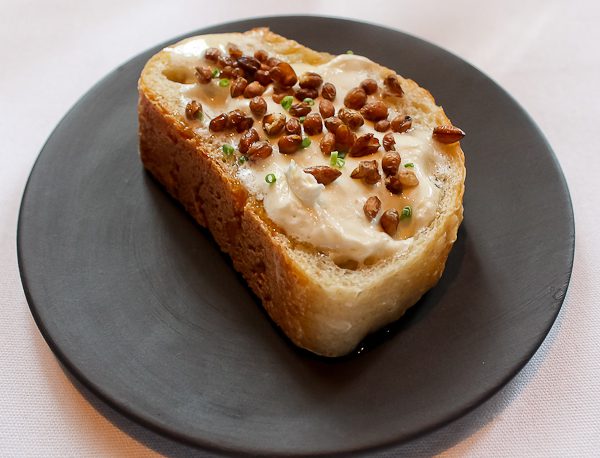 After coming out of my sourdough bread fog, Icelandic Steelhead Trout with smoked roe, artichoke, and marjoram (one of my very favorite herbs) was placed before us.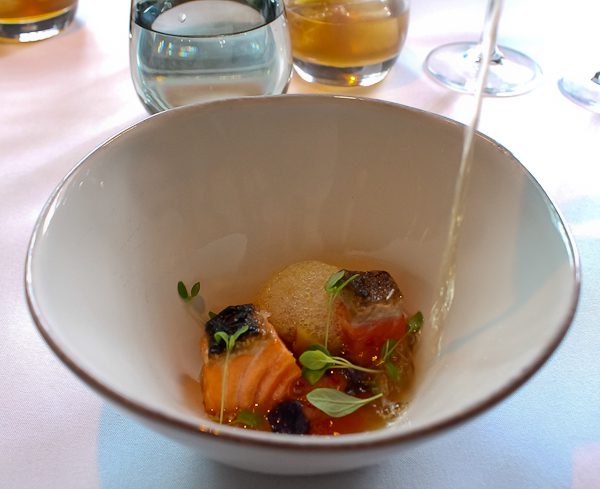 The fragrant broth was poured in at the table.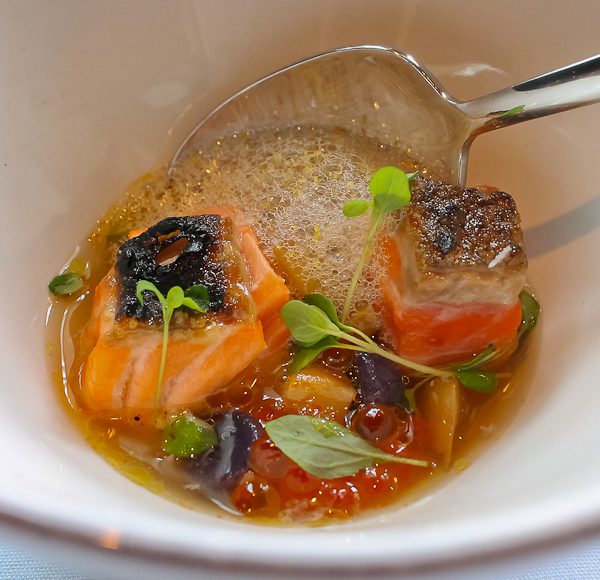 After the many fish dishes, Japanese Waygu with charred little gem lettuce, béarnaise, onion ash, and black garlic puree was a strong and powerful bite.  Again, plate-licking crossed our minds.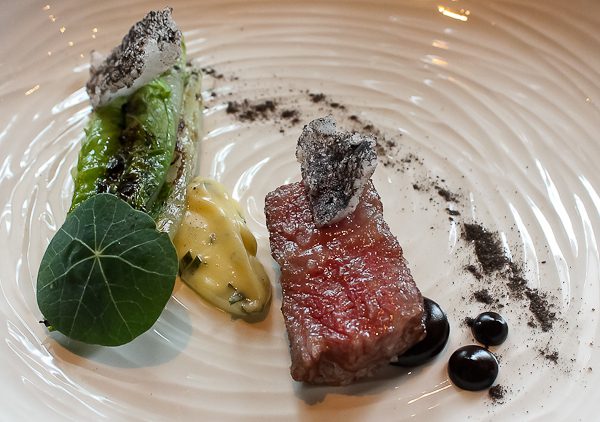 Don't you love it when the chef comes to your table and grates black truffle right onto your dish?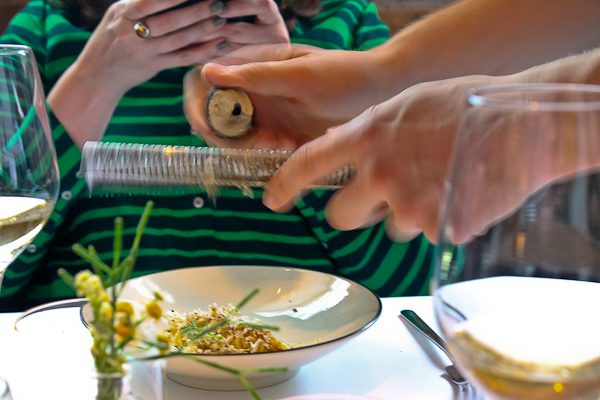 This was capellini with a cheesy, buttery sauce.  The aroma was enough to knock you over.  Heavenly.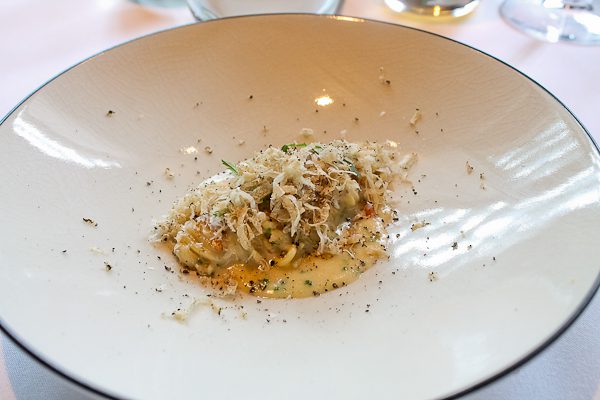 Our final savory course was lamb belly with huckleberry, and ramp leaf puree.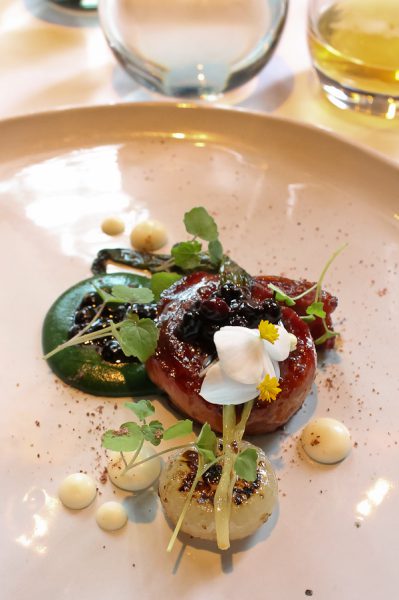 Time for the sweet side of the kitchen to shine with the art of pastry chef Genie Kwon.  Her delightful way to begin was with sorbet lollipops with coconut and white chocolate.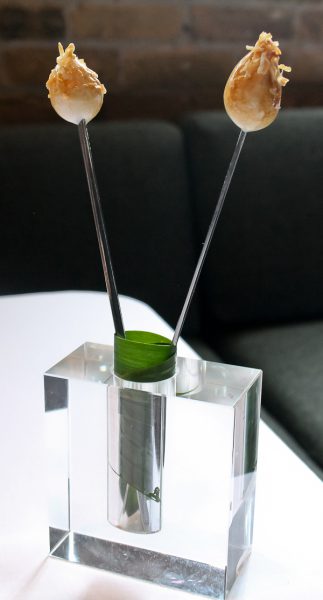 The long and intriguing pretzel lavash was dotted end-to-end with bites of fruit puree, gianduja, and raclette cheese. Each bite was different, fun, and you wanted it to go on just a little longer.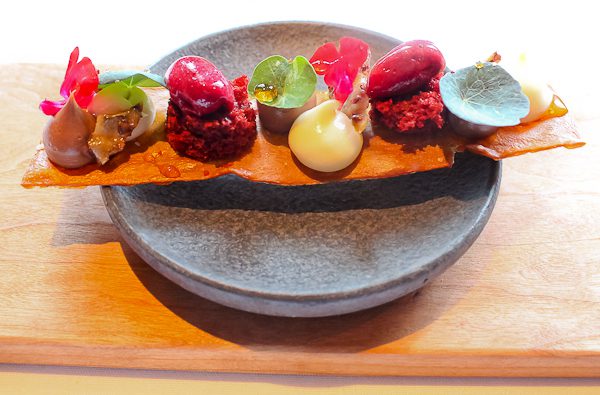 The luscious and creamy chicory custard had hints of whiskey, cinnamon, and Tahitian vanilla.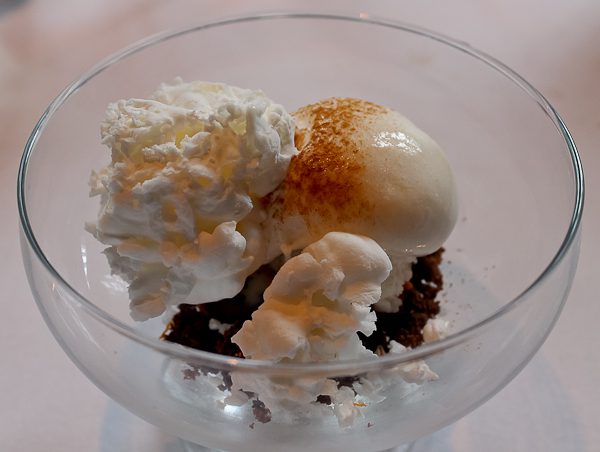 Everyone needs an apricot macaron, right? Or two.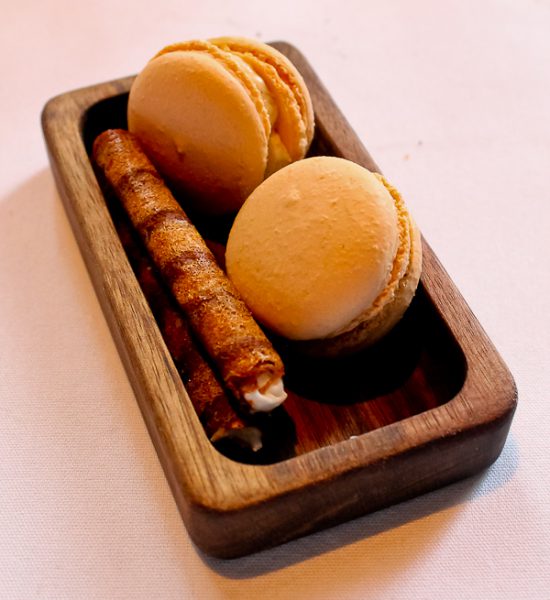 The mini almond cardamom croissant glazed with a rose-acacia honey sent us into giggle fits.  Kristina and I both adore cardamom and croissants, but put them both together and we can't take it.  I think we took a dozen photos including how to fold the little paper cones properly.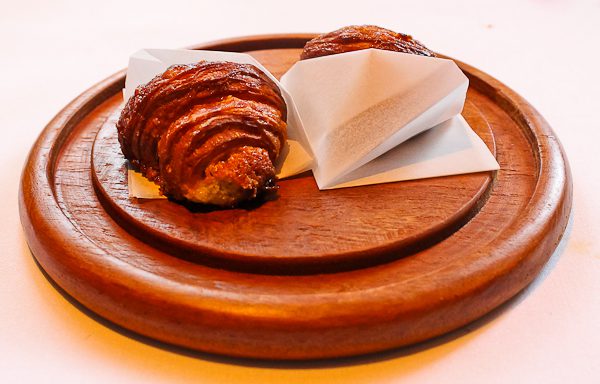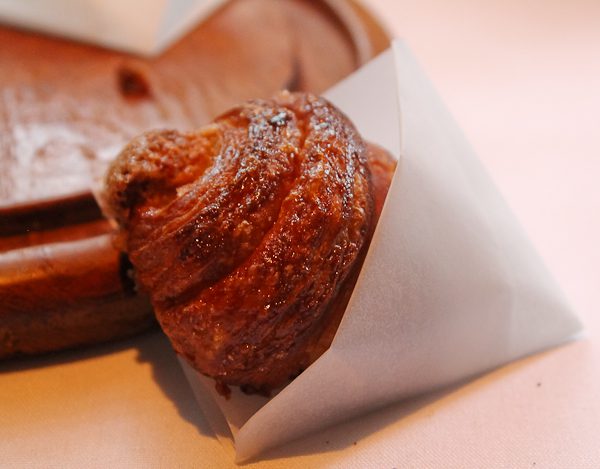 We relaxed with a warm and comforting pot of elderberry tea.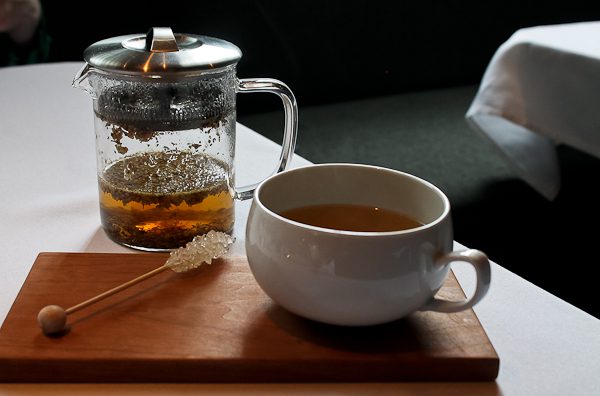 As we were (reluctantly) ready to leave, little gifts were delivered to the table for us to take home for later.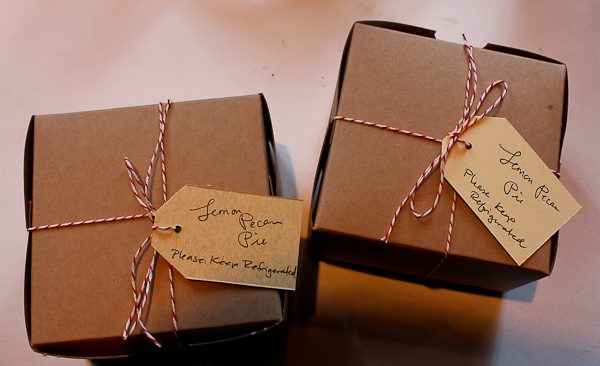 We couldn't resist opening them to take a peek.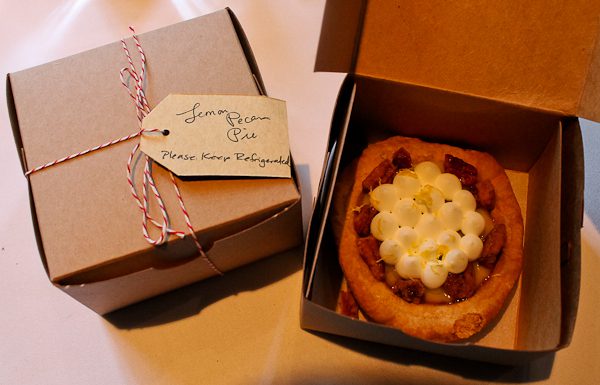 We wrapped them back up and headed home.  When you come to Oriole, because I know you want to now, don't forget to check out the bathrooms.  Really, they are stunning, like being in a spa.  The whole room literally glows with scented candles.  It's warm, cozy, and I half expected someone to walk in and hand me a robe and slippers.
As I mentioned, Kristina was in town to attend the James Beard Awards.  As we were leaving, she said, "When I come back for the awards next year, Oriole is going to be on the list."  There is no doubt.  Chicago has a new kid in town and it is already on the hallowed Hot List.  You need to come.  If you can find it, that is…