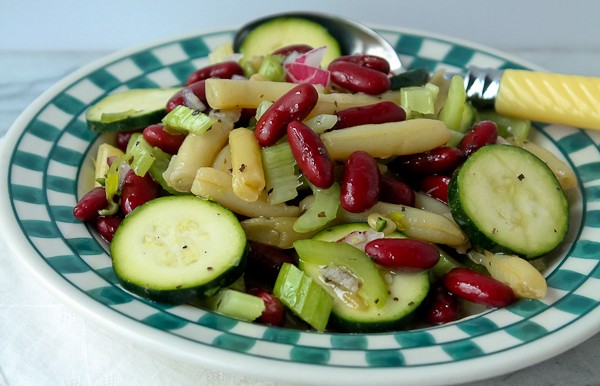 There are endless recipes for bean salads, but I have always preferred the old-fashioned ones that are a little heavy on the vinegar side and contain wax and kidney beans.  This recipe is a retro bean salad from the '60's that fit the bill.  I liked the addition of zucchini slices too.  However, it was surprising how difficult it was to find wax beans.  At one store I asked a worker about it in case my eye was missing them on the shelf.  She didn't even know what they were!  I checked two more places and they weren't carried there either.  I finally found them at my favorite grocery store that I talk about here often, Woodman's in Kenosha, Wisconsin, not far over the border from me in Illinois.  Woodman's has everything.
I have memories of bean salads on tables at church suppers, picnics, and my mom's own recipe.  Hers didn't contain zucchini but tastes a lot like this one.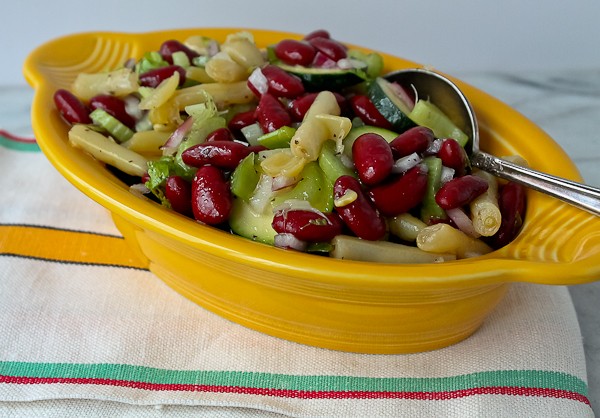 Bean salads look so colorful, taste great, are full of fiber, and can last for days in the refrigerator.  They look very appealing served in colorful dishes alongside picnic fare, a baked ham, or they can even be a meal in themselves.  This salad would be good to take along for an upcoming Memorial Day gathering.  Just be sure and let the salad marinate at least a few hours and serve it nice and cold.

Retro Bean Salad
Ingredients
¾ cup apple cider vinegar
¼ cup vegetable or canola oil
¼ cup water
2 Tablespoons sugar
½ teaspoon dried basil leaves
¼ teaspoon salt
⅛ teaspoon black pepper
2 small to medium zucchini, sliced
1 can (15 ounces) wax beans, drained
1 can (15 ounces) dark red kidney beans, drained and rinsed
1 cup sliced celery
½ cup chopped red onion
Instructions
In a large container or bowl with a lid, whisk together vinegar, oil, water, sugar, basil, salt, and pepper until sugar dissolves and mixture is well-blended.
Add all remaining ingredients and gently mix together until well-coated.
Cover with lid and refrigerate at least 3 hours or overnight, stirring occasionally.
To serve, use a slotted spoon as there will be excess liquid.